10 reasons to fall in love with an art cinema
It'll become your favourite spot in the city. Hidden behind frosty doors over a glass of black currant Pereg in winter. Or sipping from a craft beer at the terrace. Here no one seems to be a stranger anymore. Kino Úsmev has become the darling of all generations coming back primarily for the motion picture. No wonder, where else can you enjoy multigenre cinematography, top quality street food and Scandinavian beers? The director Lukáš Berberich has told us all about the cinema's characteristics. Stop by for a movie. And did you know you get free tickets to any movie completely for free with The Invisible Hotel?
---
1. Theatre
"New theatre screen, sound and projection technique were installed in accordance with current standards but all inside the original theatre. It has changed numerously and at one point was of 500 people capacity. The cinema was built in the 19th century and served as a soldier casino. The screening started in 1929 and generations came in. Nostalgic spirit has remained primarily thanks to our little changes."
2. 35-mm film projector
"The curious rarity is that we still got a 35-mm film projector which was originally set up in the cinema. DCP format of 4K quality and 7.1 sound is the equivalent we use nowadays. Because of this new technology we needed to move the old projector someplace else. The old movies need to be split with a break so that the roll can be flipped over. We use it seldom, though. It's very romantic."
3. Gallery
"Like everything else, the whole cinema project was inspired by the Aerofilms production – this distribution company's got cinemas in Hradec Králové, Brno and Prague. One of its founders has got a gallery with these posters. It's the largest collection of Czecho-Slovak movie posters in the world. Czecho-Slovak artists worked a lot in the movie poster industry during the socialist regime due to the prohibition of the originals. All of them are authorial and were of an income nature. Terryho ponožky shop works online as well, it stands right next to Světozor cinema in Prague. We decide the topic such as an Italian movie and they choose interesting posters for our collection. The cooperation is with our graphic studio 436 which takes care of the whole communication and curatorship of these expositions. We are also trying to orientate them according to our programme and to change them at least five times a year."
4. Bar
"Our concept was a modern bar with higher standards and craft products. We've managed to widen our offer to twelve beers. These come from worldwide distributors yet we also give space for the local production scene such as Padre and Opre'. What matters to me is to have Scandinavian beers like Mikkeller, Omnipollo or other independent breweries. It is important that a student can enjoy a Friday night here but also more of a picky customer looking for Japanese whisky."
5. Street food
"I'm definitely a street food fan and I had a hard time finding it in Košice. When I was in Denmark at some street food festival I got an idea of how cool it would be to have something like that in front of the cinema. It works as a marketing tool – attracting people to something they might like or just make them take it into their account. That's how Street Food Corner and Street Food Festival started. We also adjust flavours according to theme weekends or programme that we do in here. Jamaica inspired hotdog with exotic sauce or pineapple salsa in Smile's burger are just one of the examples."
6. Facade
"Well-known facade of Kino Úsmev has been recently nominated for the most prestigious architectonic prize Cézar. It has received special recognition of the Facade of the year. It was designed by studio zerozero from Prešov which also stands behind Kulturpark's model. Our assignment was the change happening here, to present something new. At the same time, it was supposed to be unforced, funky. The walls refer to heat cladding but mesmerizing is the regular dowel structure reacting to sunrays."
7. Summer ciné
"We consider our summer cinema as a continuously popular issue and a theatre addition. Our programme is divided into three lines: the first are the most influential movies from the previous season, classics which never disappoint and adequately combine with European art films. Good weather is, however, a must."
8. Interior
"We handled most sensitively with the original facility. Changes we've made were performed in order to feel better in here. Furniture, cloakroom counter and bar boards we found and re-used. The gold colour was one of the novelties we brought and frames of Czecho-Slovak actors resemble remnants of the previous life in the cinema. Neon by famous artist Svetlana Fialová from Košice has gained great popularity and I consider it somewhat another symbol of the cinema."
9. Terrace
"When we came in here it was all just a dirty corner. Due to the architectonic intervention we've made opened a spacey terrace. The authentic atmosphere is delivered through high trees, wooden benches, camp beds – all just a few metres from Main Street. During these events, we add another bar at the terrace so as to catch up on the flow of people. Our food trucks are also here."
10. Programme
"The programme is becoming more and more multidisciplinary. Our cinema works 7 days a week, all year round. We've got various events such as lecture about travelling, urbanism, smart-talks, concerts or literature&movie cycle. The author reads his book and curates the movie selection after reading. We still got a lot of plans so there's plenty to expect and get excited about Kino Úsmev in the future."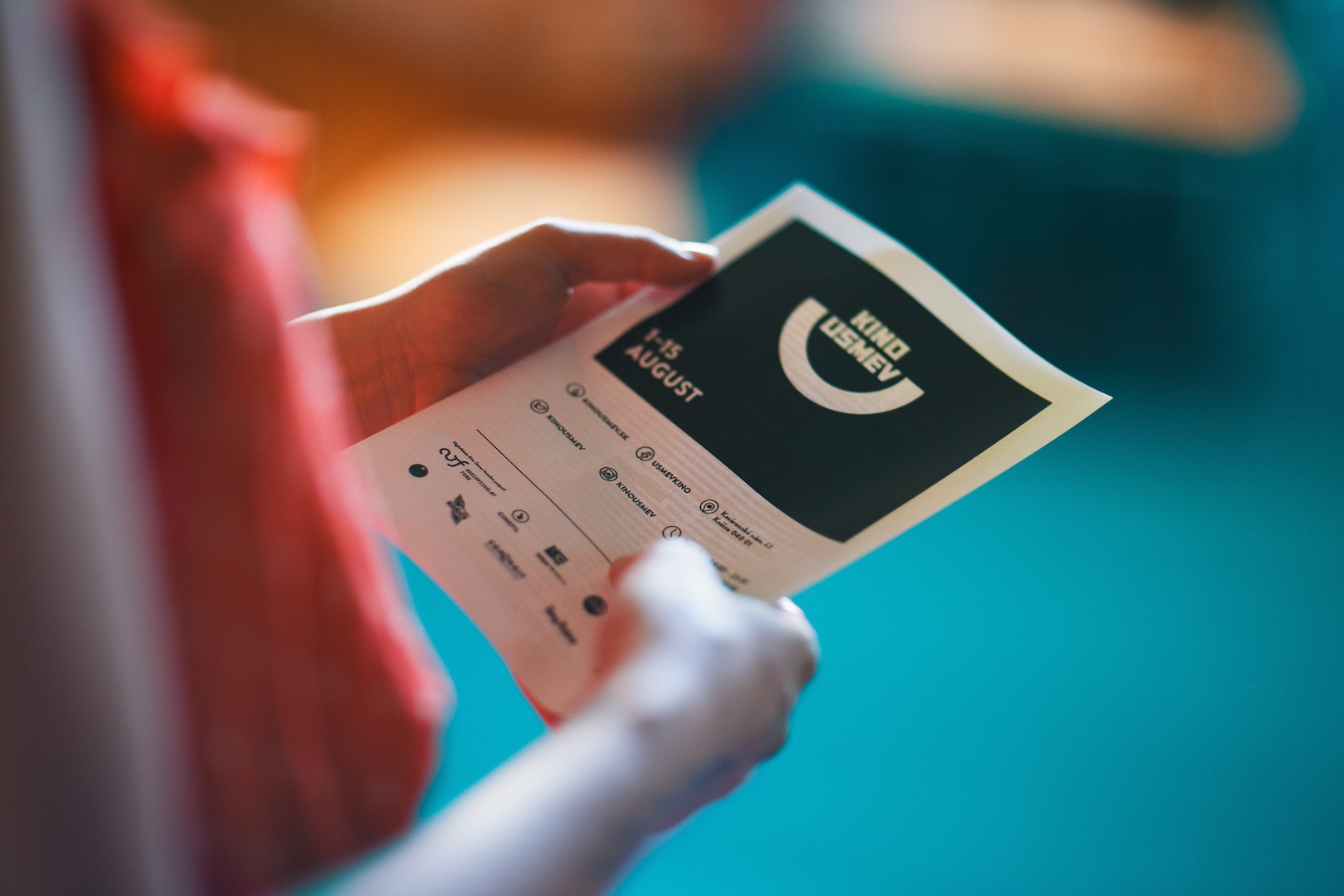 Did you get all mellowed by Kino Úsmev vibe? Summer ciné, street burger, authorial socialist gallery or 35-mm format? Come to Košice for a visit. Lukás Berberich will gladly show all the hidden secrets of the cinema as The Invisible Hotel guest. Or just stop by for a movie&beer. There are never too many.