7 authentic coffee shops in Košice you'll fall in love with this fall
Can café's atmosphere affect the ultimate taste of coffee? With The Invisible Hotel we have prepared a selection of seven amazing coffee shops. Check out these cafés of Košice and find out how their interiors work for you. All of these offer open terraces available for a visit even during the COVID-19 crisis.
Šálka kávy, Hviezdoslavova St
Book-stuffed shelves: Proust, Moravia, Mann, Zelinová. Tennis rackets on the wall. Satisfaction by Rolling Stones and American country. Wood, bricks, bikes, unmatching mugs. It's hard to describe the distinctiveness of Šálka kávy: one often gets carried away feeling as if at home. The reason is probably the staff's natural attitude thanks to which regulars keep on coming back. And imagine a hand-written list of drinks and home-made desserts – it was a bran-tangerine cake today for example. Broad-ranged Šálka kávy relates the coffee experience, unofficial study place and a concealed smoking room hidden just 4 minutes from the Košice modernism room.
Papa, Kulturpark/Kasárne
Kulturpark's complex filled with the greenness of nearby trees and freshly cut lawn: the photogenic view portrays creative space of Košice through the glass walls of Papa coffeeshop or from its terrace. Ever-present caffeine, daylight and pleasant waiters leave you to sit here for hours. Enjoy the 75% Arabica and 25% Robusta by Slovak brand Zlaté zrnko, even their decaf version.
Caffé Trieste, Uršulínska St
Comfy café on Uršulínska Street. Hidden 5 minute walk from The Golden Treasure room, Trieste is undeniably a must for a lover of petite café style. The well-prepared coffee of this stop welcomes you in a southern facility type – coffee machines on the walls, pictures and even coffee beans in vases on the table. Stable offer is shortcrust pastries as an accompaniment to your drink extracted from 100% Arabica, 100% Robusta and its mixtures, you just choose your preference. Quality coffee and simple café in its genuine sense remind of an Italian format with terrace seats in this narrow street, coffee machine sounds and fresh croissant aroma.
Mondieu, Main St
Centre of Košice, 10 minutes from the newest addition of Media Art room, french style, organic coffee and a rattling sound of pans in the open kitchen behind the counter. Inside Malá scéna building, a prestigious Mondieu attracts with combinations of coffee and two-coloured chocolate, 100% cocoa, or freshly roasted nuts; inverse cold cappuccino or seasonal Irish coffee. Get all the drinks as decaf, or with lactose-free, almond and soy milk if you wish. If you want to try a healthy daily menu there is definitely what to choose from – fig marmalade salad, asparagus-walnut quiche or mango millet. The best at the end, though: summer special is a self-made chocolate ice-cream of your choice topped by sugary coverings.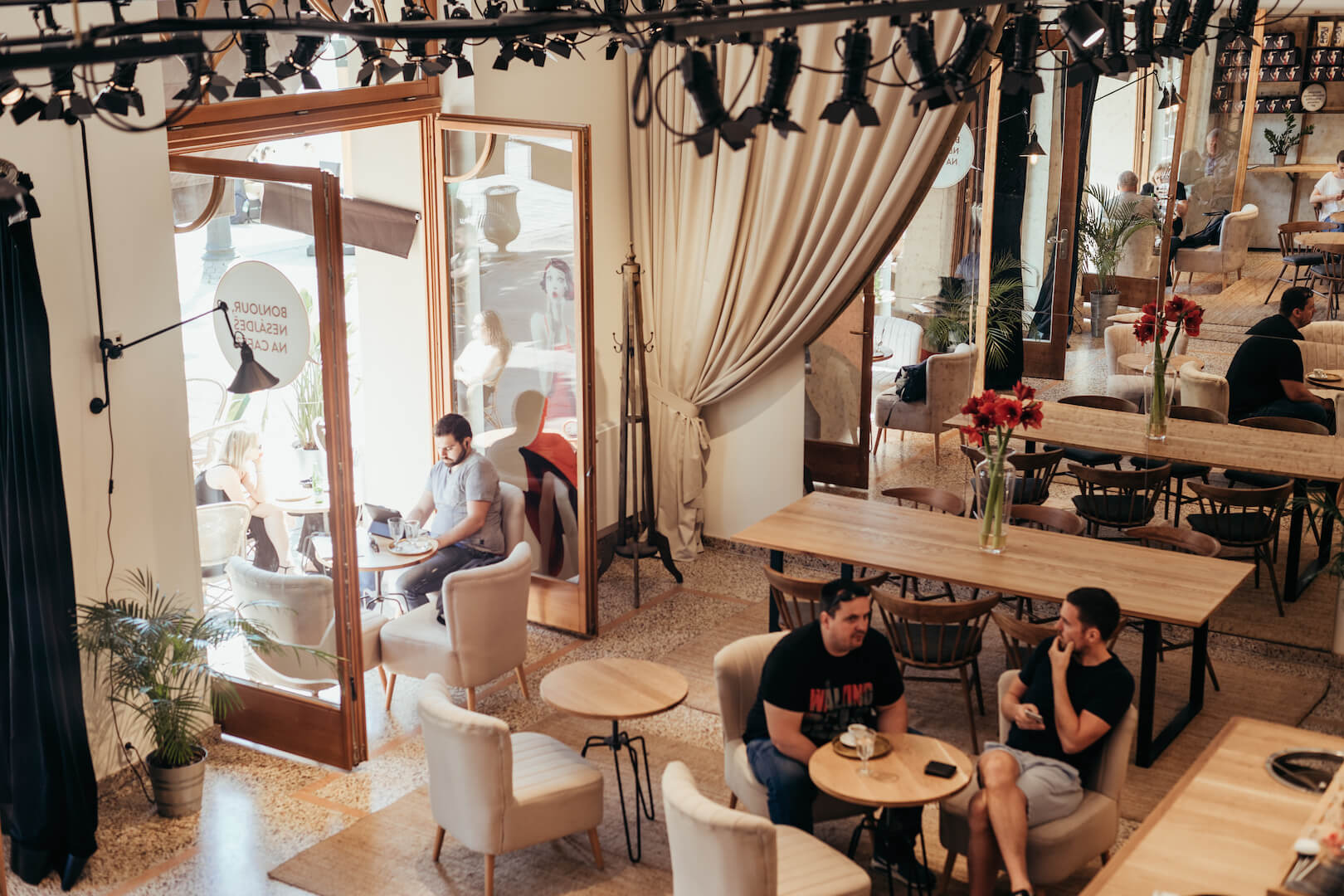 San Domenico, Dominican Square
The Dominican Square is a great stop for buying fresh ingredients and flowers at the Old Town Market, looking at the highest church tower of the Dominican Cloister (68 meters), as well as professionally prepared coffee by the young clever barista in San Domenico. You can follow his extraordinary creations on social networks.
Kávy sveta, Main St
Nothing tastes so good after a good Hungarian lunch but a coffee in Kávy sveta (Coffees of the World). A cosy café, where you can easily start a friendly talk in Hungarian. Find pictures, exhibitions or a library with Hungarian literature on the walls. You can even spot a painting of Sándor Márai.
Read also: Explore the Hungarian side of the second largest city of Slovakia: Košice
Fabbrica Café, OC Galéria
A cafe with its own roaster seen through the glass wall? No problem! Stop by and you can watch the long-lasting process of roasting coffee live from your chair. Visit the well-known Fabbrica Café network with seven branches in Košice and one in Michalovce. Here, you will find professionally prepared single-type coffees from all over the world – there are plenty options to choose from (even to purchase directly) such as Colombia, Brazil, India, the Dominican Republic or Cuba. Homemade cakes and panini are also available.
Fabbrica Café has recently become a member of The Invisible Hotel's Welcome Pack, which offers craft products and tickets to various institutions in the city to expand the horizons of tourists and business travellers. When staying at The Invisible Hotel, you will receive an 80-gram pack of Ethiopia! Stocks are running low, so book your room here as soon as possible.
We found out that the best coffee experience of coffeeshops in Košice seems inherently connected to the magic of the premises and kindness of its staff. That's how almost identical coffee in a way always tastes differently in each of them. Nevertheless, we've managed to discover an utter contrast with world-known coffee specials and that in the middle of the historical court.
Stay at The Invisible Hotel and try the mentioned coffee shops without rushing. You will surely appreciate not only their creativeness but a vast variety of free tickets and local brand products which are waiting in the rooms. Book here.