5 Tokaj winemakers you must meet in person. Get to know them at the Košice Wine Festival 2019
Green plains, sharp hills, Bodrog and endless hectares of vines. At the end of the summer, an annual festival of the oldest beverage in history is going to be held in Košice – this year the Košice Wine Festival will take place from 12 to 14 September. The following article introduces the personalities who have been present at the festival for several years. You will find among them small-scale growers, long-time winemakers, internationally recognized brands and also newcomers with a strong vision for Tokaj tourism. One day at Tokaj with five winemakers sounds crazy, but it looks like this:
---
Badian, coffee and paprikash wine / Jozef Krajnyik
Historically, Svätuše is not just a village with a Romanesque reformed church: the village has been full of winemaking families for centuries. Jozef Krajnyik moved here in 1982 from nearby Streda nad Bodrogom. His wife Maria took care of his lifelong and unplanned pilgrimage to the role of a small winegrower. She gave him a pair of scissors for trimming the vines for his name-day – he had been a complete novice of this craft before that. His father-in-law allegedly taught Jozef to cut the grapes within a single day, literally "till evening". The Krajnyik family embodies modesty, original Slovak hospitality and authentic joy for work: "We never divide work according to whether it is suitable for a woman or a man. We do all the tasks together and with pleasure. When we began to introduce our wine to our supporters, we got their opinion and learned to work even better. It helped us to think of something else, to come up with something interesting. My wife brought up an idea of flavoured and fruit wines exclusively from fresh fruit without adding aroma," says Jozef.
The 37-year-old winemaker estimates the age of his cellar behind the house for nearly 300 years – the romantic atmosphere is complemented by lighted candles and Jozef claims that in the past, people were hiding in the cellar from the bombing during the war. The entire winemaker's story once again refers to his wife's kindness – there are also Maria's hand-braided demijohns and wine flavours designed by her. The tasting combinations available are orange, coffee, elderberry or even paprikash (Hungarian dish with spicy pepper). Among the red wines, Bányai Fekete is certainly an interesting choice, in which Krajnyik fans literally feel the berries of grapes. Exquisite fruit combinations are for example mulberry, doula, peach or strawberry.
TIP for Košice Wine Festival: Spicy Paprikash wine
A bottle with a midnight whirlpool is an obligation / Ostrožovič
Everybody should experience an authentic boss and determined icon of a leading Tokaj company, Jaroslav Ostrožovič, personally. He and his wife founded a brand with the same name Ostrožovič in 1990 as the first private company in the Slovak Tokaj. They work on 58 hectares of their own vineyards in the form of integrated production which is considered a pre-stage of organic cultivation of yearly production up to 250,000 litres. Jaroslav has been strongly focused on the quality of his wine for three decades, which has brought him international awards from countries such as Brazil, the United States and even the South African Republic. The head of one of the most famous wine brands in Slovakia claims that the local wines have grown rapidly in quality over the last fifteen years and are worthy of a world scale like any other wine from neighbouring countries.
Ostrožovič also focuses on wine tourism, which includes relaxing stays in a guesthouse with fourteen tasteful rooms, a swimming pool and a whirlpool: "Our customers enjoy visiting vineyards and cellars, winetasting or traditional Zemplín cuisine. At the end of the day, you sit at midnight in the Jacuzzi with warm water and a bottle of great wine in your hand. You can't experience this anywhere else just in the company Ostrožovič. Whilst in other hotels a bottle in the pool is a faux pas, it is an obligation here," says Jaroslav. According to him, the source of success is also the ability to endure all obstacles, remain serious and concentrate on education in the field, but also in other sectors.
Ostrožovič brand proudly stands out from the crowd with rarities such as straw or ice wine. While in the first type, the grapes are being dried, evaporating up to 50% of the water and only 2 DCL are withdrawn from 1 kg of raisins; ice wine is typical for countries near the Alps. The frozen grapes are pressed until the water in the form of ice crystals is left in the press – this separates the concentrated grape juice. Ostrožovič managed to prepare ice wine in 2005, 2007 and 2018, so you can enjoy it at the Košice Wine Festival this year!
Jaroslav Ostrožovič is a great inspiration for a full conversation not only about wine – visiting his vineyards with the guesthouse is a fabulous form of enjoying this ancient drink, but also drawing from his wisdom on how to run a business.
TIP for Košice Wine Festival: Ice wine 2018
Luxury hacienda & 60 ha white wine / Chateau GRAND BARI
It soars high up on the hill and almost blinds your eyesight. Since March 2019, Chateau GRAND BARI has been the newest and most spectacular attraction in the Slovak Toka region. Its local owners wanted to present the complex as a unique area in this area, with a focus on the traditional wine culture brought by the Italians. This should also be depicted through the chosen architecture of Chateau GRAND BARI. For its visitors, it offers several types of tours of the Tokaj exposition, tasting rooms, hundreds of meters of publicly available tuff cellars, 12 luxury suites, conference facilities, a restaurant with a terrific terrace or a belfry view. With this program, guests will learn about Tokaj history and understand wine craft quite in-depth.
Chateau GRAND BARI was founded in 2011 and entered the wine market five years later. Their marketing and PR manager Pavol Krištín will impress anyone with the perfect explanation of the total process of annual processing of nearly 300,000 litres of wine from the Tokaj varieties: Furmint, Lipovina and Yellow Muscat. Some of them can be stored in this complex underground: "Our customers may store wines with archival potential in cubicle cubicles. There is a traditional environment with 10°C and 90 degrees of humidity to achieve the highest bottle maturity. These bottles can be kept here until the time our customer determines. We have about 15 types of wine from our own vineyards with an area of ​​60 hectares. In the past, we donated 1 hectare to the city of Košice – from these grapes, we prepare the type under the brand CASSAVITA, which is distributed in several restaurants and bars in Košice and from the sale of each piece we give €1 for the restoration of Urban Tower," explains Pavol.
TIP at Košice Wine Festival: 2019 CASSAVITA with a new taste
600-year-old cellars & medals from Malý Horeš / Pavol Géreši
An exceptional stop across the Tokaj region is clearly the village of Malý Horeš (region of Kráľovský Chlmec), which dates back to the 13th century in historical contexts. The age of one of his three cellars is therefore estimated by the well-known small wine producer, Pavol Géreši, for more than 500 years. He and his wife, Katarína, began to work in wine-making sphere after their wedding in 1986 and have since appeared in many Slovak and foreign media. They are also a popular stay for wine tastings and tours. Their work focuses on non-chemically overload grapes, which are primarily processed mechanically, which they either mow or hoe with a rotator – they do not use artificial fertilizer and spray the weeds only 6 times.
The Géreši family enjoys an infinite number of diplomas, medals and awards for quality grapes, including altogether 50 varieties with table ones: "We grow several lessers known types such as Malverína, Zengő, Chrupka, Medovec, Zweigeltrebe, Dornfelder or very sensitive variety Blauburger, as the only ones in this area. Very rare is also the first red wine Gamay which the first one during Beaujolais period. We have only 13 roots of this type, but due to its strong colouring, it can be used to prepare uncoloured real red stum at the beginning of the season. Last year we also reached a record with a sugar level of 26 degrees," explains Pavol. Polyhos, which is historically considered very old, is a typical variety of the whole village of Malý Horeš and was probably brought into Carpathian valley by Avars. When visiting these centuries-old vineyards, the Géreši family provides its guests with a complete explanation of their 15 wines and cultivation, home-made cakes with cabbage or cottage cheese and, at the end of the day, a natural beef neck with cabbage. Getting to know the cellar of a one-meter altitude is an experience definitely worth trying out.
TIP for Košice Wine Festival: Polyhos variety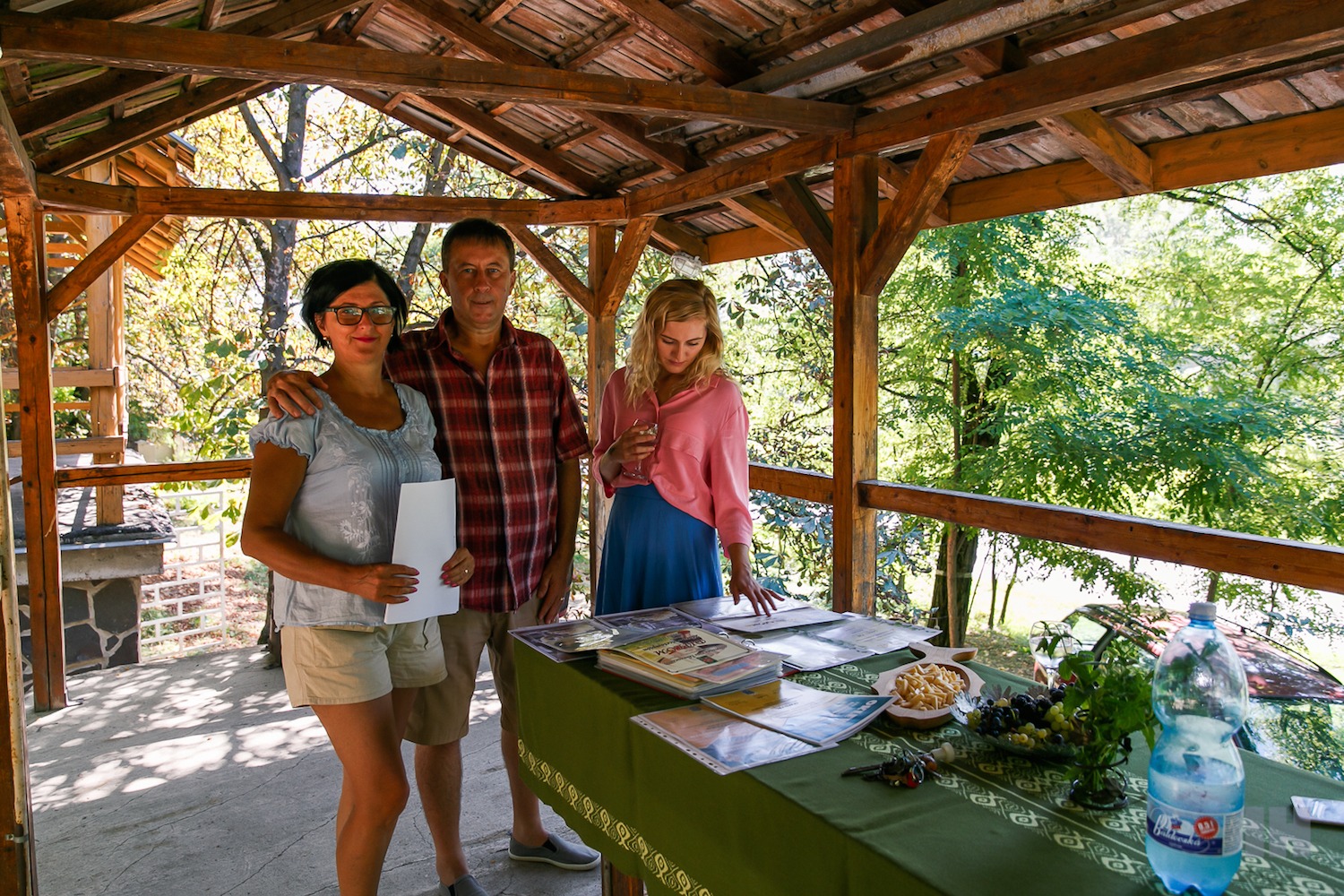 Tokaj tourism and trip wine tastings / Kvietok
The Marko family is quite clear in their goals – since 2016 they have been engaged in wine growing and production in the village of Veľký Kamenec with an original 50-year-old cellar and a new vineyard. As a bride, Valeria got into this circle because of her family; they attended wine studies in Lednice, South Moravia, Czech Republic. Here they identified with the process they also work in their winery Kvietok – it is a more modern reductive method with stainless steel containers without the use of oxygen (opposite of the oxidative method).
The Tokaj region and wine persuaded the couple to return to live in eastern Slovakia from Prague, as Valéria says: "One of the main reasons we moved here was to work on local tourism in Tokaj. We wanted to attract people to this area, to spend time and explore this part of the country. We help our visitors to organize several-day trips, which include wine tasting, a boat trip on the Bodrog river (with the cooperation of LumixTrade company) from Viničky to Sárospatak with a tour of the castle and a program of our visitors' choice."
Kvietok winery works with basic Tokaj varieties such as Lipovina, Yellow Muscat and Furmint. As their position is not within the legal Tokaj region, it helps them to work with traditional wine types with alternative ways. At the same time, the common ones are also present in their vineyard such as Rízling vlašský. Marko family cooperate with their neighbours so as to involve them in the process of registered winemakers. The Marko family is primarily concerned with the promotion of the region and they plan to follow this priority in all their activities.
TIP for Košice Wine Festival: Furmint 2016
White, rosé or red? Try all the mentioned varieties at the Košice Wine Festival on the 12th – 14th September 2019! Although you already know which winemakers you will find, there will be many more. Such an ancient drink deserves a three-day celebration. Find out more on the web.