Behind the scenes of Košice street food – 5 stories for a cool food startup
Street food stalls in Košice are continuously increasing. Rapidly. What are the stories of those who decided to do business in this gastronomic industry even though the restaurants are almost glued to each other here? What is their product secret? This article unveils the long journey of Grange, Smile, Robin, Mishte and Ranchero street foods.
The best burger in town / Grange
"I wanted to do business in something I wouldn't have to be ashamed of. I liked eating a burger, but I was never completely satisfied with its quality or taste."
Richard Šolc stands behind one of the city's most famous street food brands in Košice – in 2015, together with two associates, they opened a small street food stall called Grange. The idea of ​​the brand refers to the archaic name of the large estate manor 'granica'. Moreover, after the Civil War at the end of the 19th century, the American national organization The Grange supported farmers' families and their efforts to raise the economic and political situation of agriculture.
The idea of ​​Košice's Grange is to offer a burger containing at least 75% of Slovak ingredients of the highest possible quality. What you get here in eco-friendly packaging is a long-term method of processing ingredients into the most perfect form possible. Nice photogenic buns, for example, are baked in Čaňa and include a special flour ratio so that even when pressed, they return to their original position. First-class meat comes from KRAVA & CO. In a new street-food stop in Kraľovský Dvor, Richard is enjoying a record of 1264 burgers in the first five days of its opening. He claims that Grange's customers are loyal because its value has not changed after nearly 4 years: "All this time we tried to give people only the same quality or better. In the future, I would like to have a separate space with a greenhouse, which would be able to supply the kitchen with Slovak-grown ingredients even in low season. We do not use plastic and the wood-straw interior refers to the initial idea of ​​our concept and the 'granica' designation," explains Richard.
TIP: Caprese burger with homemade pesto
Deep-fried French fries on beef fat / Smile Street Food
"We wanted to offer something that was not in Košice before. We noticed a strong demand for street food. So we decided on homemade fries that no one offered back then."
Lacko is a well-known name in Košice gastronomy – this family has been preparing food in this town for years. Daniel chose to go his own way with the Smile food truck next to Kino Úsmev. Their innovation in 2016, when they first attended the Street Food Festival, became homemade fries on beef fat. The fries are prepared only from fresh potatoes, are cut by hand, ideally coming from Slovakia or the Netherlands. When asked, Daniel mentions a long process of mastering the right preparation, while he, his team and girlfriend Miriama arrived at a perfectly balanced taste: "Our fries are fried 2 times, at a lower and higher temperature. We serve them with our shredded meat and homemade barbeque sauce. This is the third season Košice customers have been enjoying them," says Daniel.
Even though Smile did not initially intend to make burgers, in the end, they met the expectations of their clients. Today, you can enjoy natural beef from Slovak supplier Krava & CO without chemical feed or antibiotics served with daily fresh bread from Barca. Vegetarian burgers are combined with local cheese, for example from Čečejovce. Smile has also participated in the gastronomic offer of Slovak festivals such as Pohoda and Grape, where they sold a record 1900 kg of potatoes in 4 days this year. You can order chocolate brownies from the production of Red Velvet Cakes here as well.
TIP: French fries with lemon-basil mayonnaise
Get your cool street food also at La Playa and Pastores in front of Kino Úsmev!
Perfectly balanced sandwiches / Mishte
"Turning a great ingredient into a fabulous product is a form of art to us. We are guided by the motto that business does not fall because of people, but due to management that directs these people and the brand itself."
Tomáš Mikita and Peter Čonka lead the Mishte sandwiches at Laco Novomeský Square in Košice. Tomáš says that the food industry was close to him since a young age as his father has been a head chef of several restaurants in the city. In addition to working in a corporation, Tomáš rented a space which was considered 'cursed' and where gastronomy was essentially never served. A 10-month renovation at an own expense from bank and family loans and the endless struggle to get out of the disastrous-looking complex is what you can find at this city corner today. Tomáš says that Mishte aims to introduce not only the product itself but also the friendly atmosphere of the staff which is involved in the process of communication with management and understands the overall business goal.
The food offered at Mishte is linked to Tomáš's memory from his childhood since he liked to fill bread in various ways. In his words, their sandwiches are characterized by their simplicity and a perfectly balanced amount of properly cut ingredients: "About 100 sandwiches we prepare each day are based on the speed, freshness and consistency with which we make them. Every morning our staff prepares fresh sauces, cut the meat into thin slices and, for example, tomatoes on precise millimetres. These are the little details that our customers will subconsciously appreciate and what makes Mishte their favourite stop in this neighbourhood. That is precisely the reason why three tons of potatoes and 20,000 sandwiches have been sold in this 'cursed' place in six months," says Tomáš. Mishte works with beef from local suppliers and their sandwiches are made from quality rye flour whose recipe has been developing for six months. The herb mix of spices on their deep-fried potatoes and BBQ sauce is from their own recipe and they stand firm to maintain the same quality even when a higher number of orders comes.
TIP: Chilli beef sandwich & curry sauce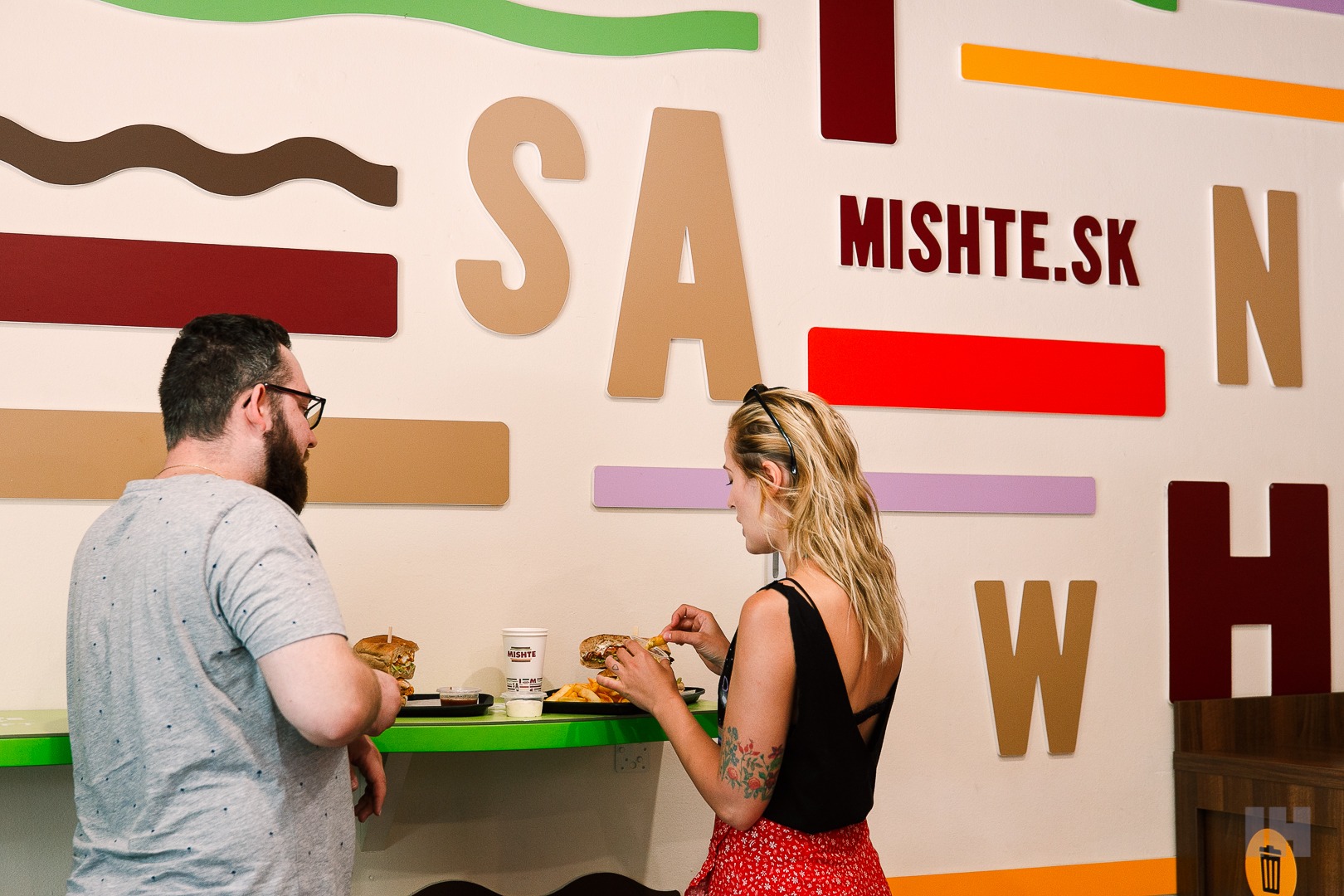 Honey hot dogs from a horse trailer / Robin Street Food
"I see food as an effective tool to improve mood, break away from the stereotype and connect people. It's also a form of social change for me."
Danka Oprendek (Bodnárová), after completing her studies in architecture, devoted herself to design and urban planning. She thought about doing business with food and making something on her own. She claims that if a person has a bad day, looking at the buildings in Košice will not help for a better mood and needs to something good into a stomach. Danka was intrigued by the idea of ​​street food when visiting a friend in Thailand, where street food is so widespread that cooking at home is simply not worth it: "This food culture in Thailand seemed very open, loose and unregulated to me. The food there is a means of social change – it is thanks to it that you can earn a living and grow higher," says Danka.
Danka resorted to her own food truck because of the limited budget for a real restaurant space. The home of Robin hot dogs became a horse trailer, in which twenty years earlier horses were transported around the Domaša water reservoir. She and her colleagues dismantled it themselves and converted it into a modern food truck with pieces of completely new equipment such as floor, tiles, walls, sinks and grill. It has been preparing various flavours of extraordinary hot dogs in front of Kino Úsmev for the fourth year. Danka claims that hot dogs were a pragmatic decision for her, inspired by her visiting mentor during the Erasmus for Young Entrepreneurs program through Creative Industry Košice. They were a simple choice that people still love and with which combinations they could always experiment: "In addition to our classic Robinček menu with cheddar, bacon and spring onion, we also present people wilder seasonal flavours such as spring hot dog with sheep cheese and radishes whilst in summer, it is ricotta, feta cheese and cherry tomatoes. Another speciality was the combo sweet caramel & popcorn for the Gurmán fest in Košice. In the past, we also designed a hot dog sprinkled with poppy seed sauce, strawberries and black currant. Although someone may find our combinations peculiar, we are 100% confident about their perfect taste. "
TIP: Hot dog Surf with honey and grapefruit
Home-made sauces from 17 kinds of tomatoes / Bistro Ranchero
"Even though I'm not a big travel fan, I like world cuisine. I wanted to link my own farming to street food, which was missing in Košice."
Ľubomír Fedor is the kind of person who likes to grow his own ingredients. Even for Mexican cuisine in eastern Slovakia. Already in the past, after seven years of experience in the financial advisory sector, he opened a hamburger operation at Terasa neighbourhood. Later, at the age of 30, he decided to make an apprenticeship certificate at a secondary school so that he could pursue the new profession with all the legal requirements needed. Based on the general impulses of his pals, he realized how much the taste of Mexico was missing in the city. Therefore, in 2018 he began to prepare his tortillas at the 'cursed' stall on Štúrova Street. The invisible story of Ľubomír is his own garden in Svätá Mária, from where he commutes each day 80 kilometres to Košice: "It took me many years to adapt my garden to my own permaculture image. In an area of ​​¾ ha, I grow most of the ingredients I use in Ranchero. I have 17 types of tomatoes, different kinds of beans, pumpkin and corn. In recent years I have been seeding Mexican seeds and trying to grow Habanero, Hibiscus or Tomatillo. I prepare all my sauces myself as well as wine or apple vinegar," explains Ľubomír. Today, you'll find Bistro Ranchero at Floriánska 17.
Rich corn flour tortillas are combined with Ranchero, Hawaiana guacamole, Mayo Ranchero or Pico de gallo sauces with quality beef from supplier Krava & CO without GMO, antibiotics or other chemicals. Former financial advisor and everyday commuter to Košice will prepare delicious tortillas, burritos, burgers or quesadillas and make you laugh every time you visit.
TIP: Tacos Blue mountains with onion jam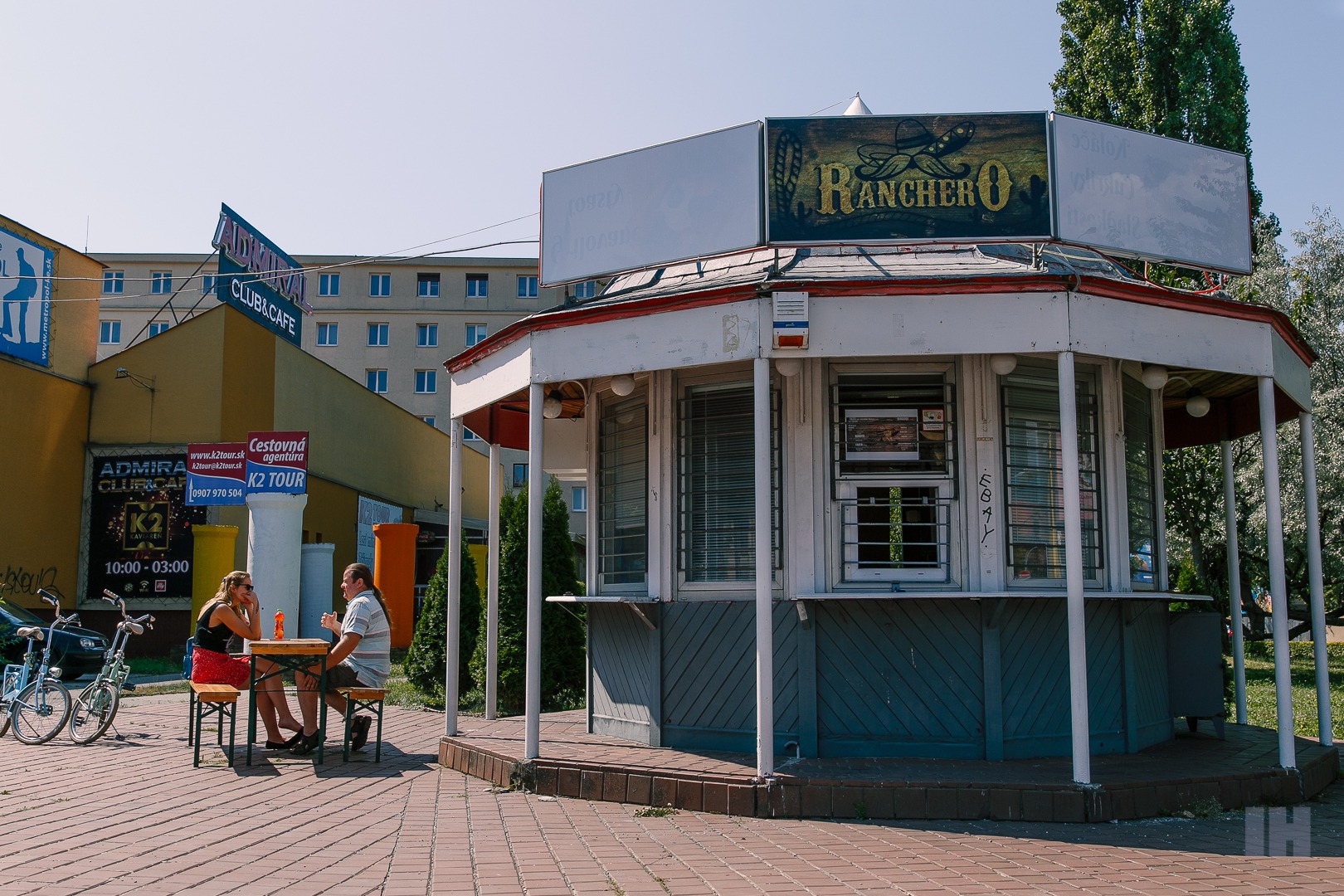 Come and stay in a room in a street art theme and discover the gastronomic sphere of Košice outside the first-class restaurants.