Duo Mitríková & Demjanovič – from Ruthenian superstitions to communist visual culture
The mythology of Ruthenian superstitions, ethnographic literature, surreal depictions of utopian communism. The artistic duo, Jarmila Mitríková and Dávid Demjanovič, are among the few who work with pyrography; soldering technique into the wood. Through a given technique, they create images that are characterized by supernaturalness, mysticism and, as they say, the phenomenon of "timelessness" – the inability to place particular works within a specific time period.
Who are Mitríková & Demjanovič?
Jarmila comes from Košice, Dávid from Hažlín near Bardejov. They met at the School of Applied Art in Košice, where they studied ceramics and stone sculpture. Their studies continued at the VŠVU in Bratislava with the programme of ceramics and painting (Jarmila), sculpture and intermedia (Dávid). Both claim that their studies were crucial in becoming acquainted with the technique they started to work with later and they recall only positive memories of the regime and enthusiasm of the artistic community back at school.
"We worked at the school from Monday to Friday, as well as during weekends – we spent all our free time in the studio. Each of us tried to have the studio at least for a moment to ourselves, preferably at night when there were no classmates there – we just really enjoyed creating our artworks. Today, it seems to us that this creative enthusiasm is not so common among contemporary art students. We returned to Košice after a long time spent studying and working in Bratislava and Prague; we even tried to live in Banská Štiavnica for half a year. BANSKÁ ST A NICA Contemporary played in an important role there," says Jarmila.
Archetypal images
The work of the art duo is characterized by the use of a traditional technique called pyrography and modelled ceramic sculpture. Specifically, pyrography means burning lines into wood or leather using hot objects. In the last century, this technique was typical for do-it-yourselfers for decorating huts or making folklore souvenirs. Dávid and Jarmila have been fascinated by the world of folk culture, its visuals, customs, traditions, which they have seen on television, in books and during visits to various folklore festivals. According to them, folklore was often used by political representations during various regimes in our territory.
"Nowadays, we can see the traditional construction of May pillars, a historical Labour Day custom, by politicians during election campaigns, even though the meaning of this tradition was originally about something else. After 1948, many new ensembles were formed, as well as our most famous folklore festivals, which operated under state organizations. The composition of blue-collar songs, or at least blue-collar lyrics for traditional folklore melodies, was supported. Interesting films on the subject from this period are Rodná zem (1953) and Zítra se bude tančit všude (1952). We try to transform these motifs into some of our works as well – they are not only our art history, but also posters, old films, music and everything that has shaped us, Slovaks, and is often still present in a certain form," says Dávid.
Visual culture means
Through ethnographic texts and the pyrographic technique, the couple began to have an interest in visual culture starting from the 1950s, displayed in old posters, postcards, architecture, films, music and television. Such examples include Karel Zeman's Cesta do pravěku (1953), which also served to spread awareness of evolution and to push out religious attitudes about the creation of the world and to popularize science among the general public.
Other films that inspire them are Upír z Feratu (1981), Valerie a týden divů (1970), Zítra vstanu a opařím se čajem (1977), Perinbaba (1985), Vianočné oblátky (1978) or children's series Spadla z oblakov (1978) and Piesočná potvorka (1985). Mitríková & Demjanovič also gain inspiration from elsewhere, outside the territory of former Czechoslovakia – they are interested in everything from Japanese sci-fi kaiju films, films by Quentin Tarantino to traditional masks of various cultures around the world.
Apart from the actual creation of artworks, their profession includes hours of research in libraries, visiting book bazaars and studying books not only on the visual culture of the last century, such as Súdružka moja vlasť: Vizuálna kultúra obdobia stalinizmu na Slovensku by Zora Rusinová.
"Our paintings connect a huge number of motifs that have shaped us throughout our lives – the contrast of the natural with the supernatural, superstition and religion so as to present a rational scientific approach as the official doctrine of communism. For example, for decades we have been watching the same classic movies on television during the holidays, such as the Russian fairy tale Mrázik. It seems as if the visual culture of the last century has somehow transferred into the present. It is similar when we travel to the countryside – it is sometimes difficult to determine the exact period we are in, as the village does not change as dynamically as the city. The links and motifs in our works are easier for people from the countries of the former Eastern bloc to decode. The Dutch or Italians see something else there, our works appear a little unknown and slightly exotic to them," explains Jarmila.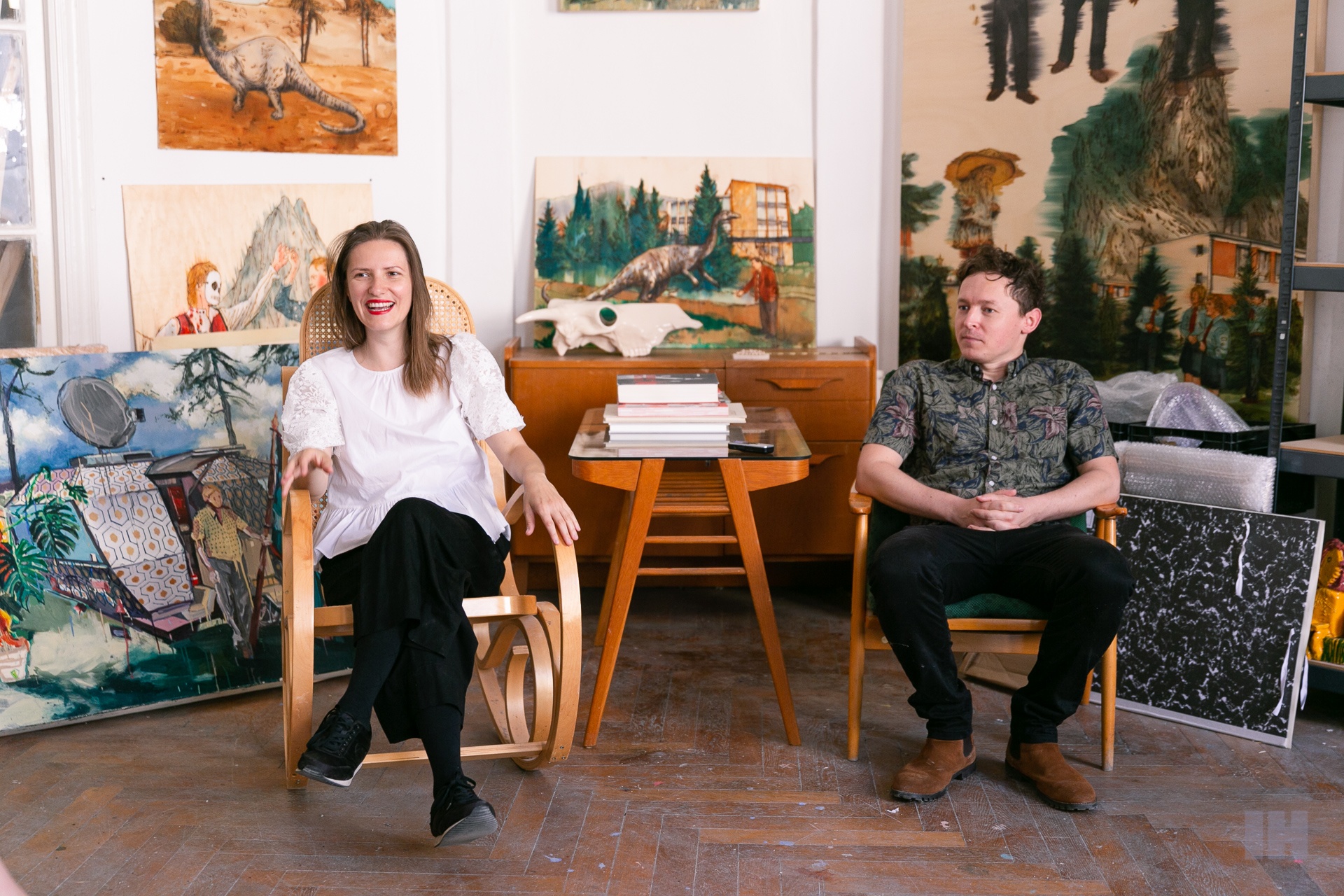 "We are fascinated by a surreal combination of things, historical events or mythological characters, which fuse together in a specific constellation and in a certain place only in our paintings – it's a kind of mythological-utopian timelessness."
Funeral rituals of the Ruthenian world
In addition to portraying references to visual culture, Mitríková & Demjanovič also explore forgotten superstitions or customs of the Ruthenian ethnicity. For example, various traditional funeral rituals to prevent the return of the dead in the form of a revenant, which sometimes seem unbelievable to today's viewer.
"I grew up in a village where it was a common thing to say that Death or other supernatural apparitions were seen by someone. I remember when the Virgin Mary appeared in Litmanová near Stará Ľubovňa in the early '90s. I got my first Ninja turtle T-shirt in the market at that place. All these images were mixing together and I was heavily influenced by observing the contrast of the pop culture I saw on television and the spirituality of the environment where I was growing up," says David.
"That is why we look at superstitions as a very driving and influential external force in the thought-shaping process. Rituals such as digging out people from the ground, cleaning the house with holy water, or the face of a young bride who has been visited by her husband's ghost smeared with excrements can today seem just too crazy to understand. But our ancestors strongly believed in them and this was later reflected in future generations. Connections with nature and multi-generational family houses played a significant role in this. These practices disappeared with the gradual industrialization and extinction of generations born at the end of the 19th century," adds Jarmila.
Jarmila Mitríková and Dávid Demjanovič have been collaborating as a duo since 2009. They studied at the School of Applied Art in Košice. They continued at The Academy of Fine Arts and Design (VŠVU) in Bratislava, Jarmila in the programme of ceramics and painting, and David in sculpture and intermedia. They graduated from the VŠVU in 2011 and since then they have been fully engaged in art practice, exhibiting at home and abroad, and graduating from several artistic residencies in the Netherlands, Switzerland and the Czech Republic. Their works can be found in the collections of several institutions, including the Slovak National Gallery in Bratislava, the East Slovak Gallery in Košice and the collection of the Bavarian Duke Franz von Bayern at Rosenthal Castle. They collaborate with the Italian gallery Studio d'Arte Raffaelli and last year they realized the painting of St. Agatha, patron saint of San Marino to the collection of their national gallery.
They currently live and work in Košice where Dávid works as an assistant professor in the ASK 3D studio at the Faculty of Arts of the Technical University of Košice and Jarmila will begin her external doctoral studies in the Graphics and Experimental Creation Studio there starting from September 2020.
Visit the latest exhibition of the duo Mitríková & Demjanovič called Tatra Futurism until September 4, 2020, in the VUNU Gallery! Check out their Instagram to learn more.