Free tour of sculptures & mosaics in Košice. Part 2 – the Centre 1/2
Constantly looking for outdoor sculptures and mosaics? Enjoy a grand artsy tour in the centre of the city and its outskirts every day. Explore the Centre of Košice and its gems with the illustrated guide book Atlas sôch – Povojnové umenie v uliciach mesta Košice / Atlas of Sculptures – Post-war Art in the streets of Košice. In the following article, you will find a unique photo report of publicly exhibited works, but you will also learn remarkable information and stories from the lives of the authors who have dedicated their lives to art.
Ján Mathé (1922 – 2012)
A native of Košice and one of the most represented artists on the grounds of Košice neighbourhoods. Ján Mathé devoted most of his life to abstract form, gradually emerging in his own conception thanks to the studies of a realistic statue. His statues express motives, they do not describe them. The basic pillar of Mathé's oeuvre is the theme of life – the celebration of being, self-pondering, progeny, family. You may find tens of Mathé's sculptures situated in the public space of the city. Find Vzlet VII. (Rozlet) / Take-off VII. (Flight), 1968 right behind the legendary Dargov department store.
More at: World-class artist – the life of a sculpture legend Ján Mathé from Košice
Herta Ondrušová-Victorinová (1912 – 1999)
A ceramist Herta Ondrušová-Victorinová is undoubtedly responsible for one of the most beautiful forms of beautification of public space in Košice. German origin, Czech and Polish studies, Prague modernism of the 1930s, anti-fascist enthusiasm, escape to Košice and her second, "mosaic" marriage to Karol Ondruš. Both partners loved and shared the eagerness to cover Košice suburbia with large-scaled mosaics: small, playful, hand-made patterns from a wide range of colours and shapes. Herta even earned a witty nickname thanks to her work – "mosaic lady".
Some of Herta's mosaics were placed in the original Košice swimming pool, current Kunsthalle, which survived its great reconstruction during Košice – European Capital of Culture title in 2013. When on a stroll along Mlynská St, take a look at her stone relief Rozkvet / Bloom, 1974 as one of few atypical examples of her designs.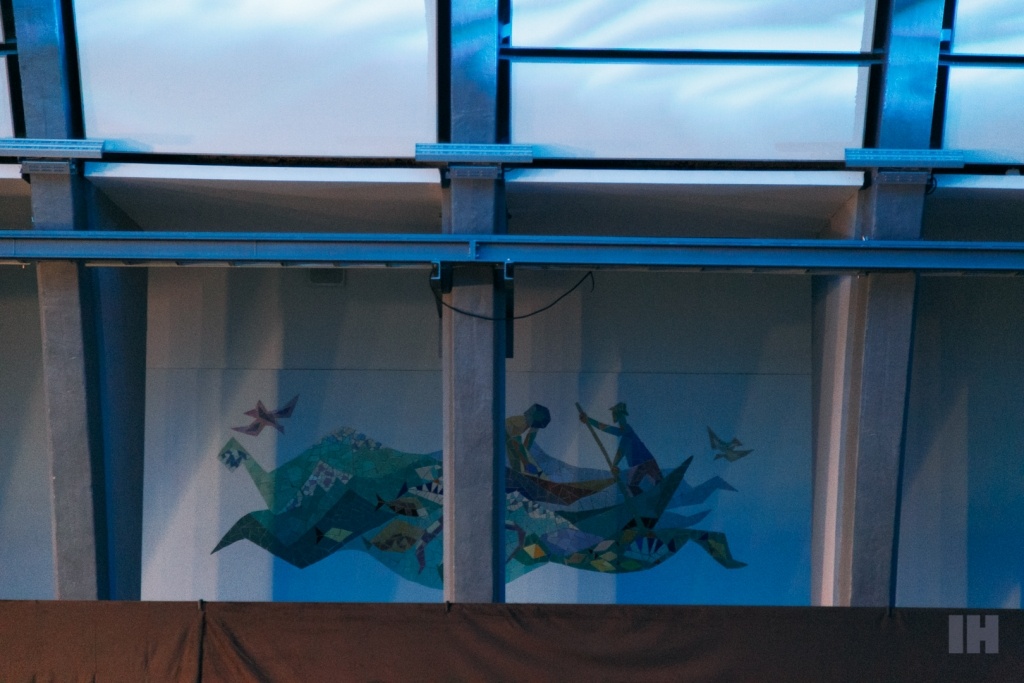 Imrich Vanek (1931 – 2015)
Imrich Vanek – a name that resonates when visiting several parts of the city. An interesting fact is that Vanek was not a Košice born citizen. This ceramic artist came from Nové Zámky. He got to the clay and the ceramics by chance during recovery from a severe accident in the Modra majolica pottery. Vanek became an academic sculptor during his studies at the Academy of Applied Arts in Prague.
Košice is adorned with several of Vanek's majestic ceramics from the 1960s and 1970s, which repeatedly use sharp colour tones enhanced by glaze. Consequently, the shades of yellow and orange shine so vividly after almost 40 years of installation in this area of the city. A large part of Vanek's works was produced in the Czech Republic – it was the Rakovník Ceramic Works where the artist created his design piece of tile with a semicircular pattern. In the later period of his life, he started with the creation of futuristic cups, which are nowadays stored in the depository of the Slovak Museum of Design.
Two of Vanek's mosaics are close to the entrance of the Dargov department store, the first (1986) at the door, slowly disappearing thanks to the number of advertisement tags and posters. The second (1985) hangs above the escalator leading to the underground grocery store. Moreover, find the third one in a few minutes distance on Fejova St.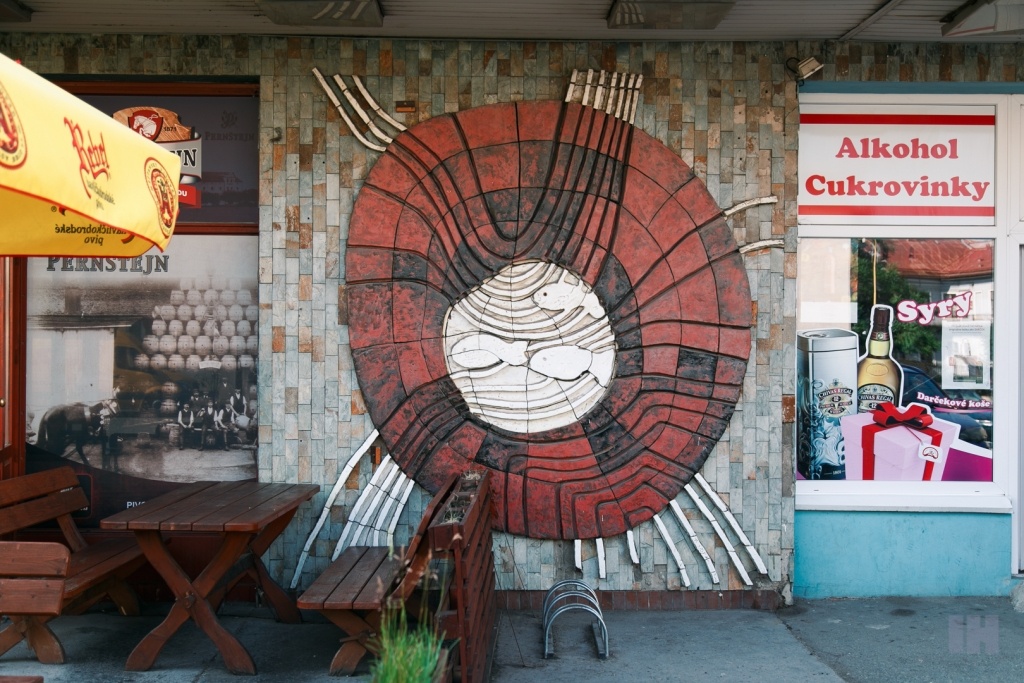 Maria Bartuszová (1936 – 1996)
Maria Vnoučková was a Czech sculptress who married another famous artist Juraj Bartusz after finishing her studies at the Academy of Arts, Architecture and Design in Prague. The couple moved to Košice where they worked on their art pieces for the rest of their lives. Maria gained her recognition mostly posthumously and had only three solo exhibitions during her life. She was a member of the Concretists' Club.
She worked with her signature technique of pneumatic shaping, placing balloons into plaster and reacted to nature she observed. Maria also helped visually impaired children to identify forms and shapes with her sculptures and improve their haptic skills. Her artworks are displayed in Slovak National Gallery, East Slovak Gallery, Tate Modern in London, Museum of Modern Art in Warsaw and even Centre Pompidou in Paris. Fontána (Klíčenie) / Fountain (Germination), 1986 is placed behind the Dargov department store.
Juraj Bartusz (1933 – )
Juraj Bartusz was born on the 23rd of October 1933 in a South Slovak village Kamenín which belonged to the area that suffered one of the worst WW2 casualties. Juraj studied for the next few years at UMPRUM – Academy of Arts, Architecture and Design (1954 – 1958) and at the Academy of Visual Arts (1958 – 1961) to become an academic sculptor. He married his classmate Maria Vnoučková and moved to Košice to work in East Slovakian Steelworks and later as a freelance artist.
Juraj Bartusz was the first professor with the academic degree who founded the Faculty of Arts at Technical University in Košice. He led the Studio of Free Creativity at the Academy of Fine Arts & Architecture in Bratislava and he was a member of the Concretists' Club and the Association of Hungarian artists in Czechoslovakia. His art pieces are displayed in the National Gallery in Prague, East Slovak Gallery in Košice, Slovak National Gallery in Bratislava. Find his Symbolika železníc / Symbolics of Railway Stations (1974) next to Košice Railway Station and Composition close to Jakab's Palace.
Read also: Gem of the Slovak sculpture scene – Juraj Bartusz in his art studio above Košice about life, war & art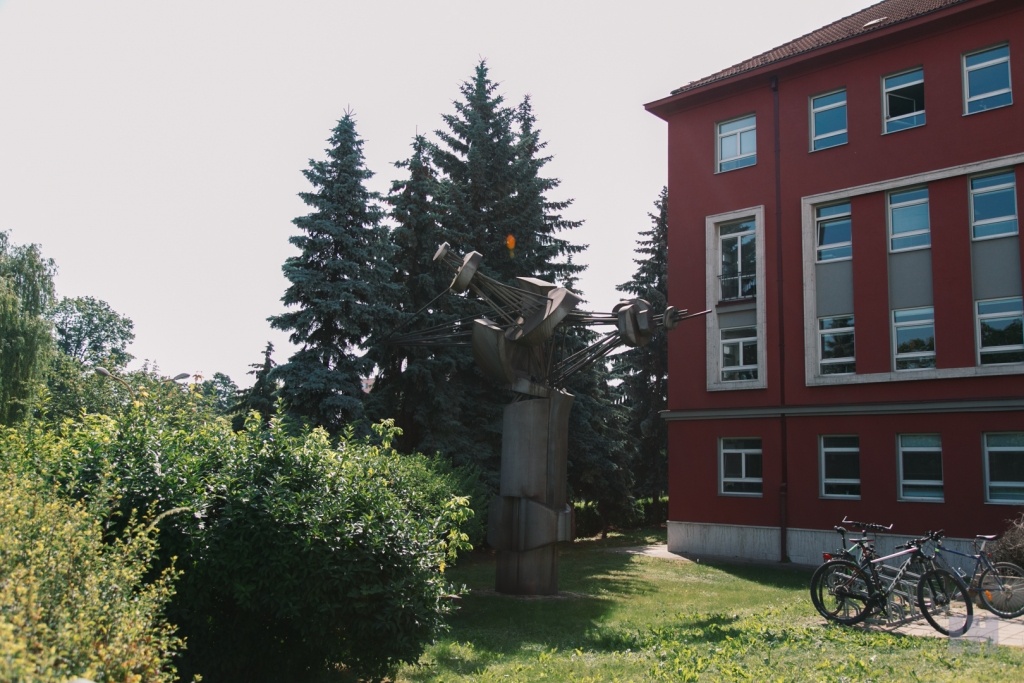 Get your copy of Atlas sôch – Povojnové umenie v uliciach mesta Košice / Atlas of Sculptures – Post-war Art in the streets of Košice in Artforum Košice. If you liked the article, don't miss its first part – Sever. Stay tuned for some more episodes and follow our website.