From chef to your table. Who prepares healthy food in creative kitchens of Košice?
Where for creative food? We've chosen 6 restaurants of Košice which you wouldn't even want to go home from. Meals they serve represent a lighter style of cooking without meat. That's exactly the reason why we desired to know the chefs' vision and attitude standing behind their key to success. Read and learn who knows it good – to cook both healthy and tasty in the city of Košice. Beware, though. You'll definitely wish to try some of these six restaurants on your own. Post-reading hunger guaranteed.

1. Dobré Bistro / Matej Bakoš
The youngest chef in the town, Matej Bakoš has worked at Garbiarska street for almost two years now. He claims to be fond of four principles when thinking of his food as such – namely seasonality, localness, freshness, and aesthetics.
"We try to bring simpler combinations to our customers – today's a simmered sea beam with fresh fennel and cherry tomatoes flavored by our own herbs. It's crucial for us to base our meals on freshness."
The ingredients' origin at Dobré Bistro is what makes the whole menu going as Matej himself visits local farms where he orders products from. Unless there's no other option, they strive to serve food made from ingredients from solely Slovak farms and producers. That concerns vegetables, cheese, cottage cheese or meat. The aim is to find simple flavor combinations for any customers of ours. Vegan, lactose intolerant or gluten-free meals are what we offer. Matej says that his goal is to "let the customer go home full and happy".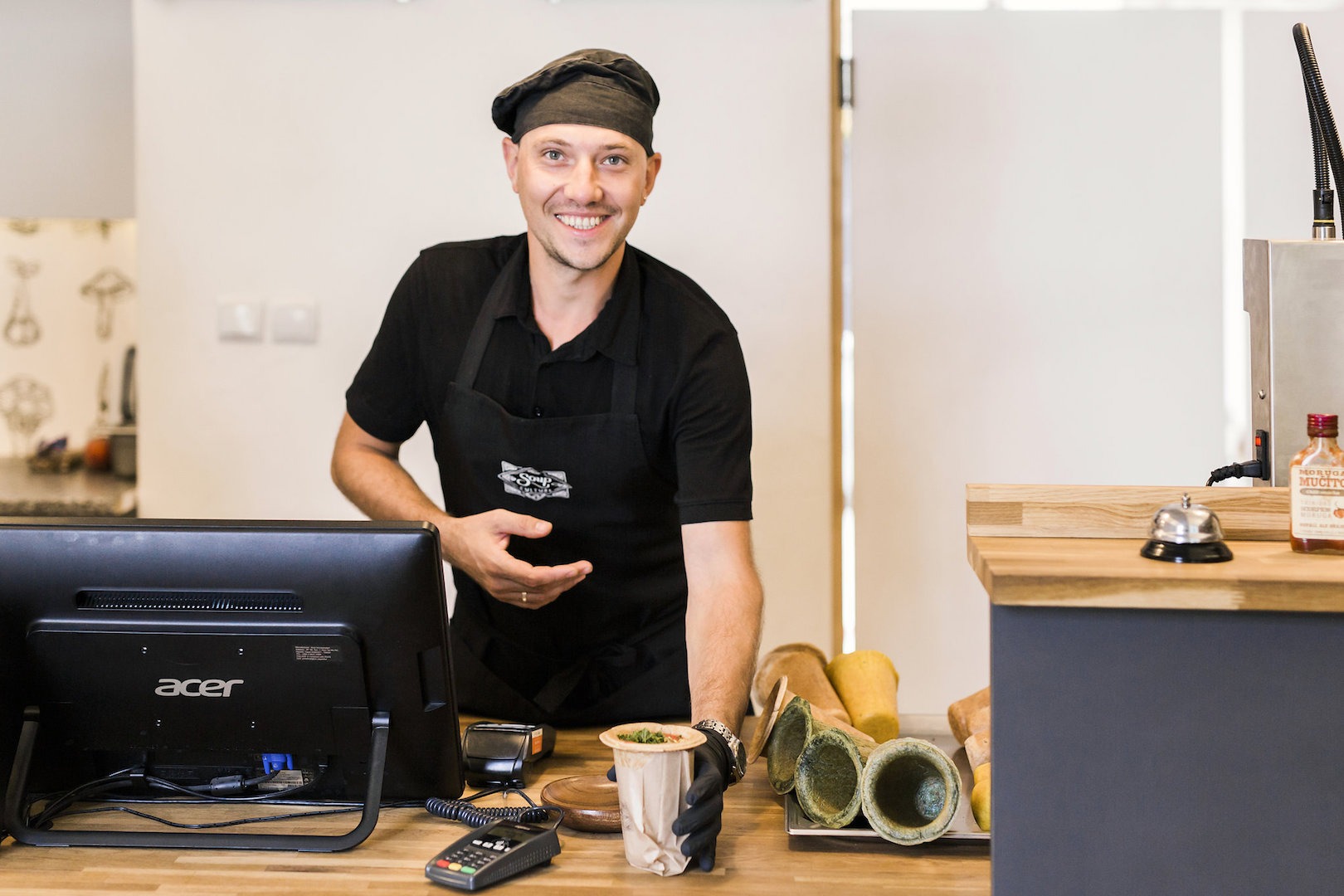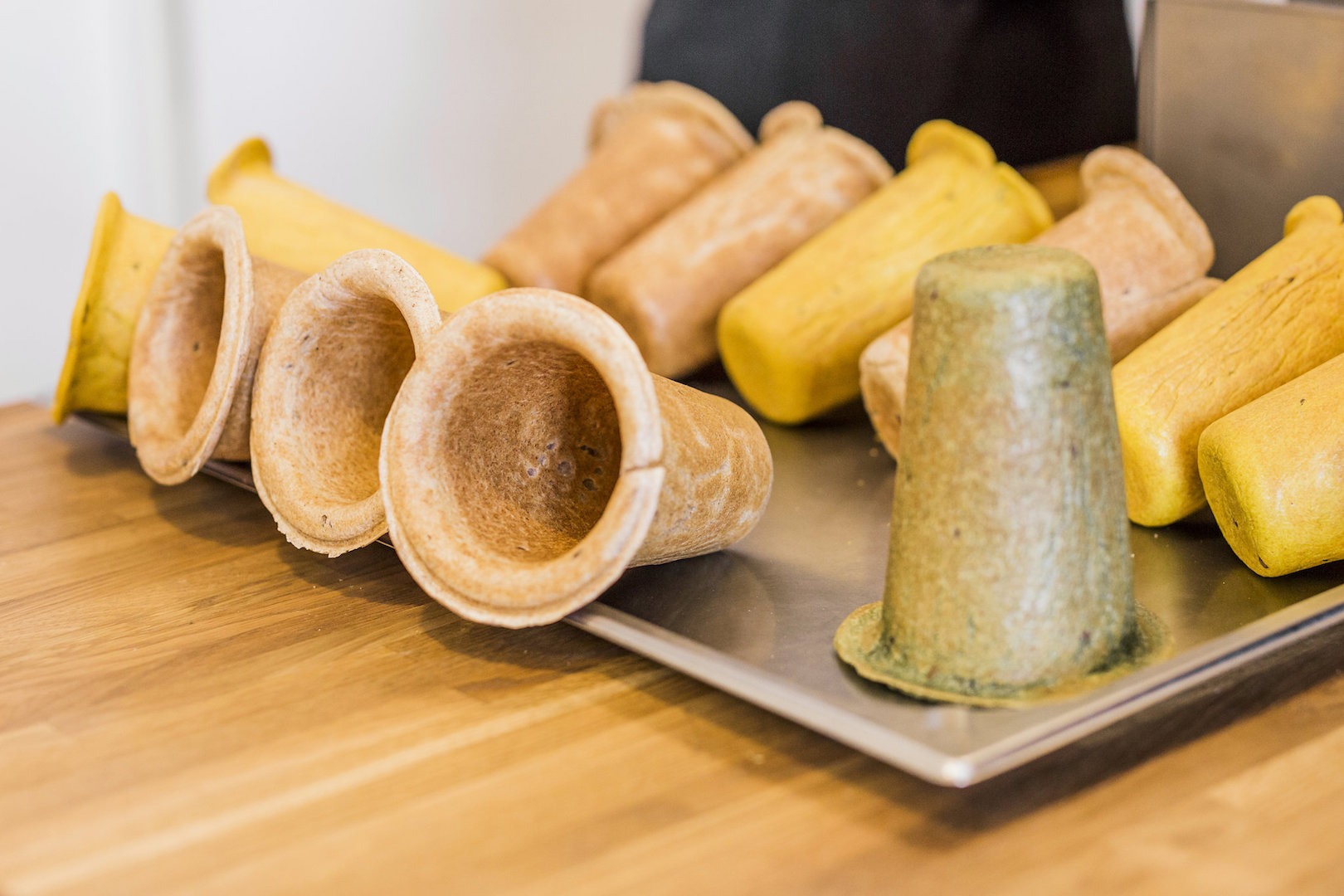 2. Soupculture / Sergii Gavrylko
Check out this healthy vegetarian/vegan soup option without flour thickening in an edible cone. The soup stop as you might call it, stands right at Maratónca Mieru in Košice and you wouldn't believe it – a State theatre musician will serve it to you. Soupculture network might seem familiar to you, it is a franchise type bistro presenting an idea of a soup as a main course, both independent and hunger-satisfying. If you're lucky you may encounter Sergii who's more than willing to tell you all about his little mélange paradise: "We've got three types of edible cones in here, regular, spirulina taste and turmeric. We sprinkle some parsley on top of each soup and customers can add extra pistachios or pumpkin seeds. There's no waste when it comes to Soupculture consumption, even the wood in here is covered with flax oil. We cook simple soups of flavors such as tomato, cheese, Hokkaido, green pea, sheep cheese. You take it away for a walk or to the park." Sergii has owned the soup venue for about a year now. Thanks to him, some Košice residents now enjoy thick soup instead of a heavy lunch. We've tried a fennel-beetroot one.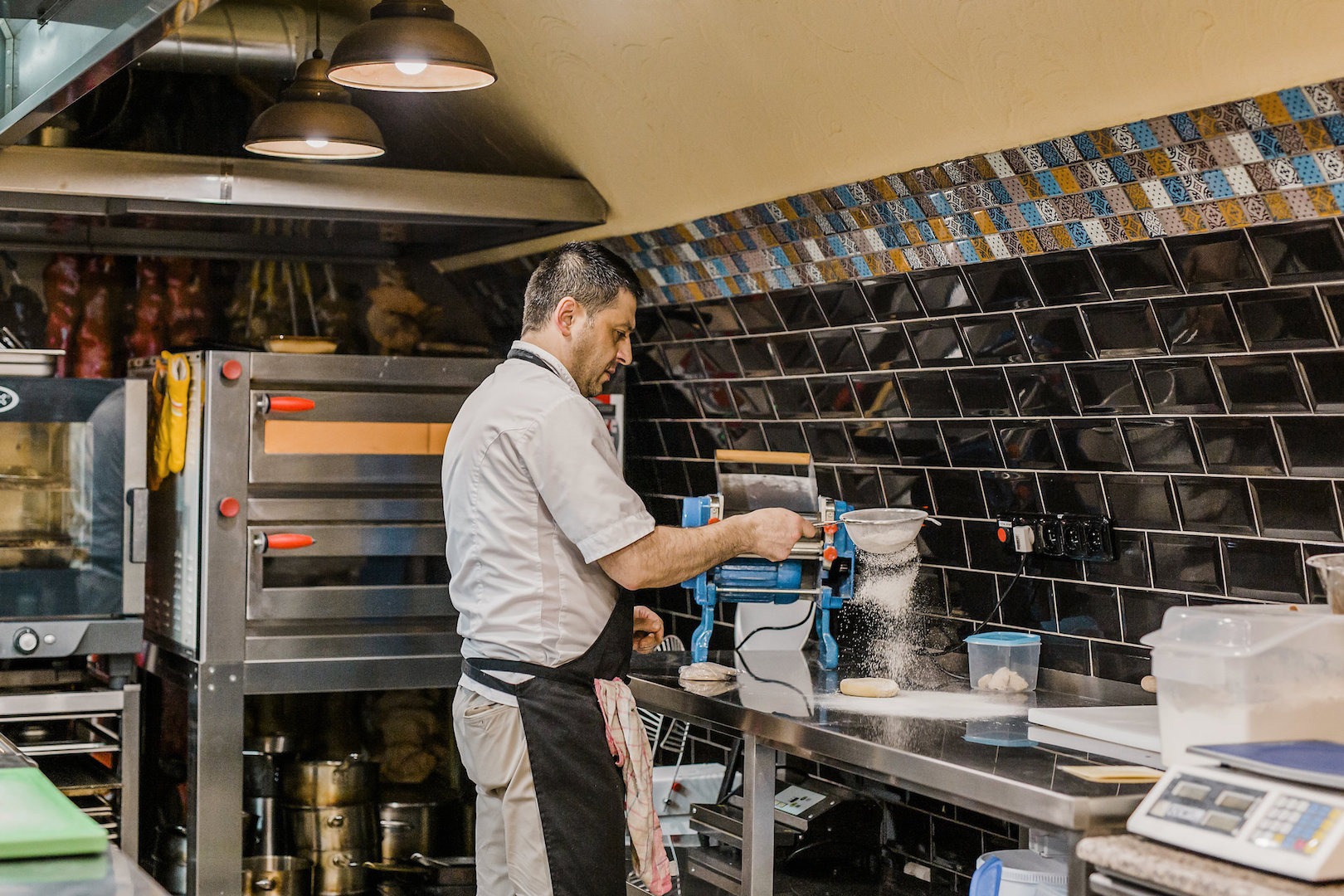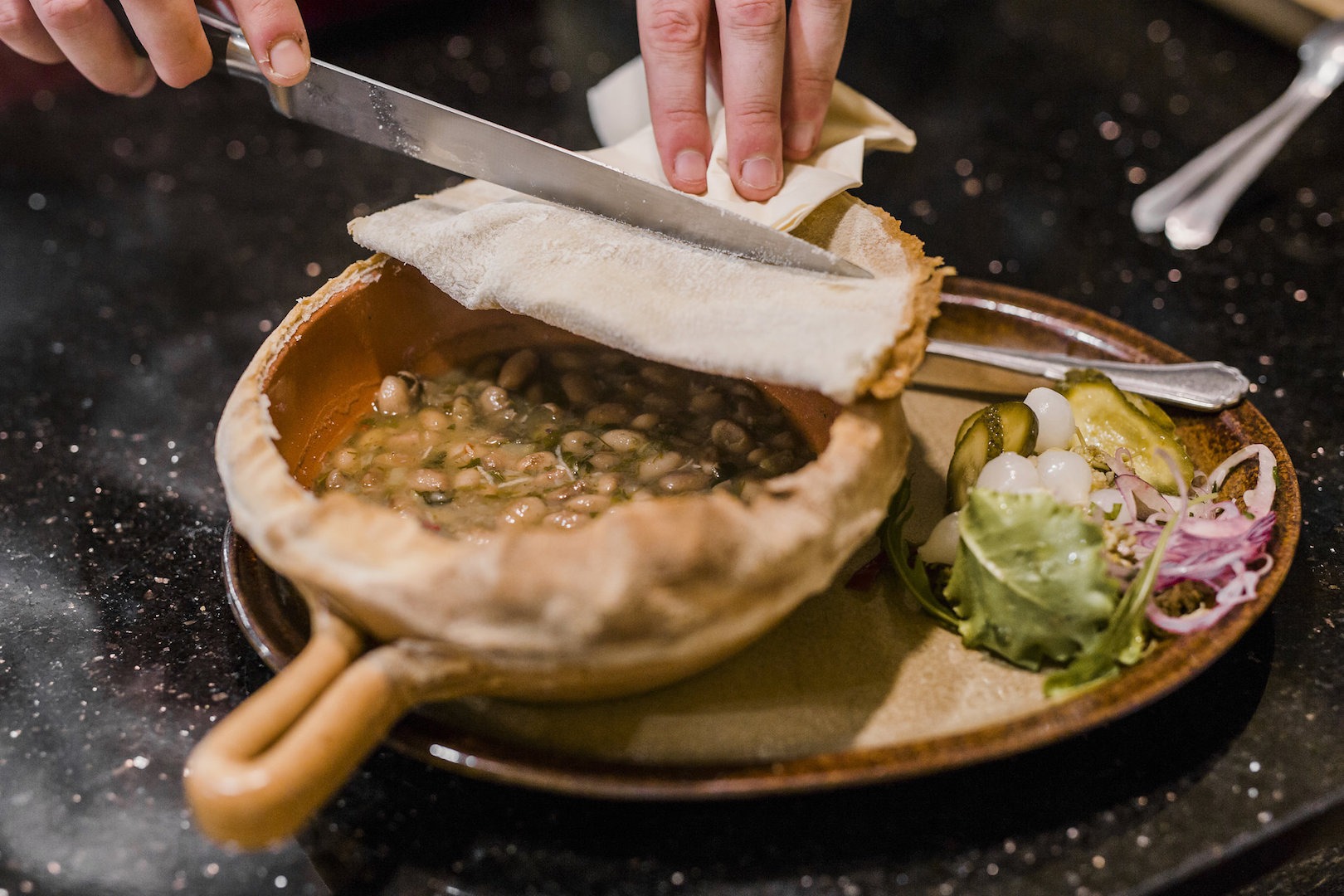 3. Gruziňák / Ioseb Khokerashvili
One of the newest solitaires in the town. Georgian restaurant definitely is an unexpected find when thinking of Slovakia. Did you know the closest one you could find would be in Budapest? Slight templar like underground interior and a unique portal to the dining section takes you through the kitchen itself. You would scarcely encounter someone working harder than here, a chef so devoted, a traditional working time isn't enough for all he needs to get done. Not a word he utters while baking and preparing khachapuri, grilled trout, aubergine leaves wrapped in a walnut pesto and clay bowl full of lentils on cilantro – that's all he cares for. This is the place where you don't order from the menu. Waiters know what to bring for your foodie satisfaction. Don't know where for dinner this evening? You wouldn't mind spending a dime on Gruziňák's cuisine. And they're super nice too: "We'd like to be a pleasant, nice and warming restaurant. What we offer is something different – human contact, chef's soul and professional staff. The metaphorically driven passage through the kitchen only reinforces the authenticity of every visit at Gruziňák."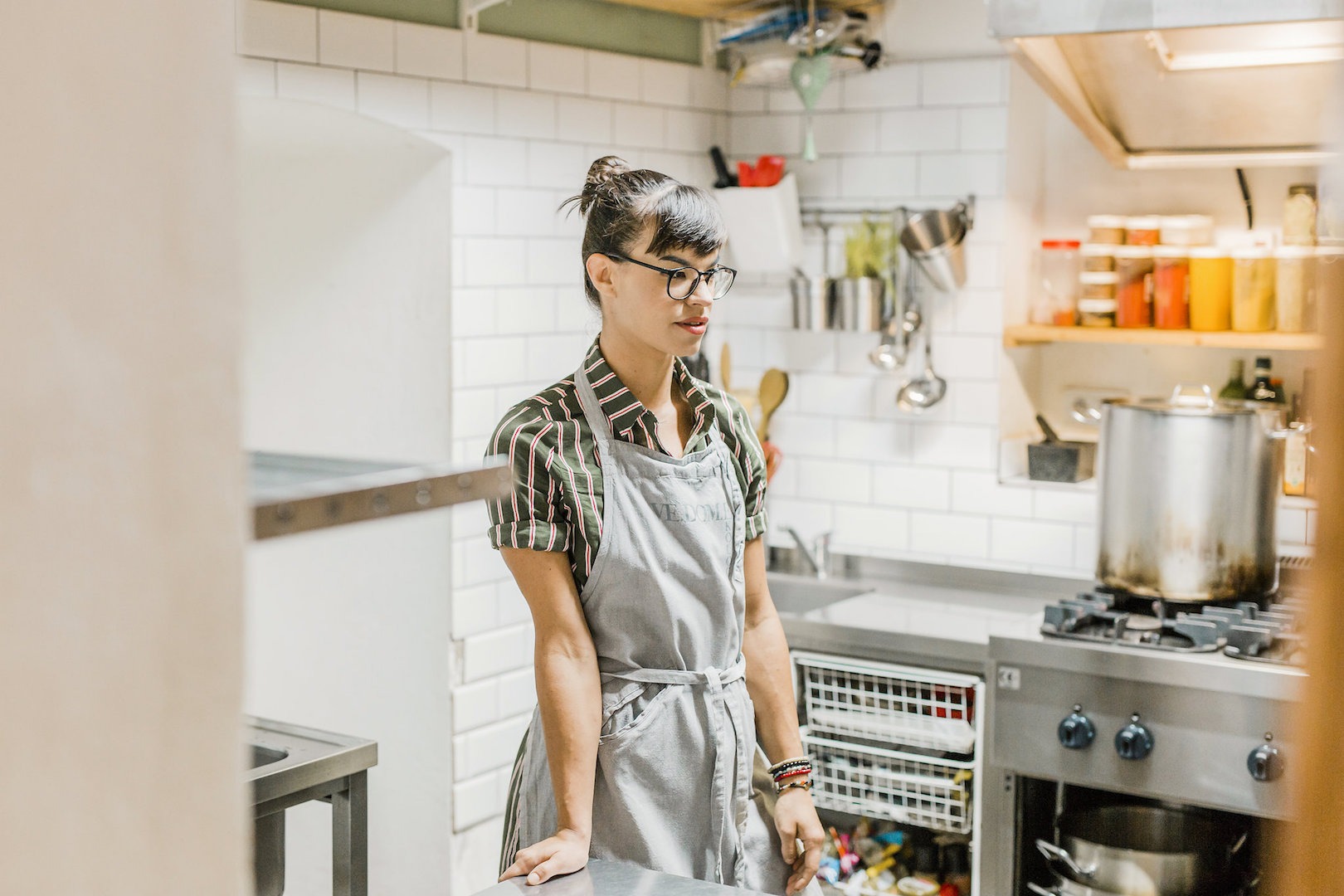 4. VE.DOM.E Vegan bistro / Milica Fischerová
If there's love, even food tastes different. Aware of their vegan beliefs, Milica and Michal lead a charming eatery at Floriánska street in Košice, on the ground floor of the house they actually live in. IT guys from nearby corporates have obviously got accustomed to their daily menus since they're here almost every day.
This young couple has presented their views and conscious attitude towards vegan diet for a few years. Tiny and colorful kitchen hosts over a hundred meals made daily. That only proves an increasing occupancy of the bistro.
Milica told us all about her VE.DOM.E vision and veganism itself: "All of us working here are vegans. We consider our job a creative process and strongly believe in what we do. Very pleasing is to know non-vegan customers repeatedly choose our restaurant. They simply like it here and the food as well. We don't force anyone for a vegan diet and yet there's still high visit rate."

5. Góvinda
Hindi paintings, steep stairs leading to underground level combined with low ceiling angle – watch out, here you encounter the cuisine worth spiritual equilibrium for those eating it. Of course, we're talking Góvinda now, the place where Hare Krishna gives orders to two chefs.
They explained to us the importance of moral purity coming from the one cooking meals: "This food reflects spiritual cleanness of being, in this way we hold our respect to god Hare Krishna. This food purifies the one who eats it. Such awareness is obligatory for Góvinda kitchen. As an addition, we try to cook from our own crops when possible."
Góvinda restaurant branches are currently presented at three different spots of Slovakia. You may find it following the smell of mustard seeds, ghee or Indian spices. Taste peach chutney when you're around. Or just go and buy yourself some nougat cube. We hadn't tried anything near this delicious.

6. Alchymista / Dušan Maget
Former chef of Prague restaurant, Dušan has tried many places for living already. Nevertheless, he decided to open his own vegetarian bistro right here in his hometown, Košice.
Alchymista hasn't been around for even one whole month and yet we could barely find a place to sit when we arrived for lunch. Dušan carries tempeh segedin goulash directly to his customers. This is the kind of a chef who makes time even during lunch peak. Just to ask how much you liked the food he made. It's clear to say that his calm personality and genuine atmosphere are what makes the blue-wooden place heading towards success. He told us about his secret: "I consider my cuisine as something special. There's love, skill and experience added to it. I simply feel the food, ingredients, and harmonical combos occur in my head. I cook vegetarian meals strong in satiety even without meat. Furthermore, I intend to keep the nutrition intake in mind. In this way, people can see how to reduce meat production in society."

Not from Košice? No worries, we've taken care of that. Distance is no problem any longer. Sleep in any of The Invisible Hotel rooms and eat every day at a different restaurant. Life's too short for boring food.
Fotografia – Viktória Janov & Dávid Hanko.