From the Faculty of Engineering to the timeless fashion of the Slovak designer, Ida Sandor
She is an example for young emerging artists who can make art and stay creative even without education. Ida Sandor, today a world-renowned fashion designer, comes from Košice, where she as a teenager at a grammar school worked on clothing design and participated in national fashion competitions during Communism. Surprisingly, she obtained her degree from the Faculty of Engineering at the Technical University. The following article talks about what workplace safety has to do with the design of clothes, what the life of a fashion designer looks like in practice, as well as the sense of style of Ida's clients.
Needles in my hands
Ida Sandor started working on her first models as a student at a grammar school in Košice. She smiles whenever she talks about her beginnings in fashion, it was a magical period for her as she often knitted and sewed during long evenings and produced imaginative designs from atypical materials. Since it was still in the era of Communism, a grammar school student from Eastern Slovakia had very limited access to information. However, she still applied for some design competitions such as Young Fashion Creator, where she presented her original models with entangled bandages. Ida also took part in a similar Golden Fatima contest in 1993, the result of which can be considered as a starting point of her promising career: "Back then, I didn't have many opportunities when it came to fashion design so I tried to think of something else, unique, inimitable. I washed my grandma's old sacks by hand, cut them into pieces and twisted into a dress and jacket cover through a macrame technique. Although I did not win the competition, they awarded me a special prize and published my models in the magazine Eva, which was organizing Golden Fatima. I became good friends with the editor of the magazine till this day and I still have that issue today. Everything is completely different nowadays, all the information is easy to get through the Internet. I had to write letters and wait a long time for an answer – but it also had its charm and pushed me to work using my imagination."
Constructive geometry in fashion editorials
Although Ida Sandor wanted to pursue fashion design at the Academy of Fine Arts and Design in Bratislava after completing her grammar school, a large number of applicants and her lack of experience with painting from the previous school prevented her from starting the programme. Instead, she ended up at the Faculty of Mechanical Engineering of the Technical University of Košice, where she realized that technical subjects had many similarities with fashion design. According to Ida, there are certain things in the designer's profession that cannot be taught anywhere – it a vision, which is later reflected in the artist's work and models: "During my programme Quality and Safety at Work, I was very interested in technical skills such as spatial vision, constructive geometry and mathematics. These spheres have a significant connection with clothing design, sculpture and modelling in general. The designer needs to be able to technically process and create a garment, be able to imagine a model from a specific fabric and its behaviour when worn. My models are technically very elaborated, so I prefer to choose monochromatic materials that show the most progressive thinking and sophistication. This profession also consists of constant testing of new materials that are on the market – it is definitely something that can only be obtained by continual practice. The same goes for the ability to create a unifying collection or to anticipate future trends in fashion. The professors from my faculty still reach out to me and together we consult the final assignments of current students in the field I studied."

"Women from Košice have great taste and that makes me truly proud and happy. I am also grateful to all Slovak women who approach local fashion designers, even when they can afford top fashion designers from all over the globe. They give us a platform to make ourselves visible. I believe that over time more and more women will reach out to Slovak designers."
The ancient technique remains timeless
Since her very first competitions to the present time, the models of this designer from Košice are based on timeless elements, modern and original takes on cuts which are not created according to a plan but rather spontaneously with a strong emphasis on emotion. According to Ida, a designer must mainly have a talent which is reflected in his/her artwork: "It is difficult to call it otherwise than an emotion. Everything around me influences me to react in a certain way. I have an endless pile of ideas in my head, and it is sometimes difficult to pick one central theme for a new collection. In doing so, the designer should keep in mind the distinctiveness and innovativeness of the new models he/she comes up with next while maintaining a trace of their individual identity. My collections are always different; the period that precedes their presentation is the most beautiful time a designer can experience. It is a period during which one lets his/her creativity burst into flames and has the opportunity to play with everything he/she can think of. I create on the go, based on stickers, papers, pieces of fabric in my bags, notebooks or atelier. It is a perpetual process of glueing together different combinations and drawings, out of which a complete collection is created. I also work with a technique called patchwork; it is an ancient technique of cutting, folding and stitching fabrics into irregular patterns. My patchwork is unique because I process silk fabrics and implement these abstract elements on models that were original ten years ago and still speak to my clients. But it is only me who sews these patchworks, I wouldn't be able to give such a tedious job to my tailors."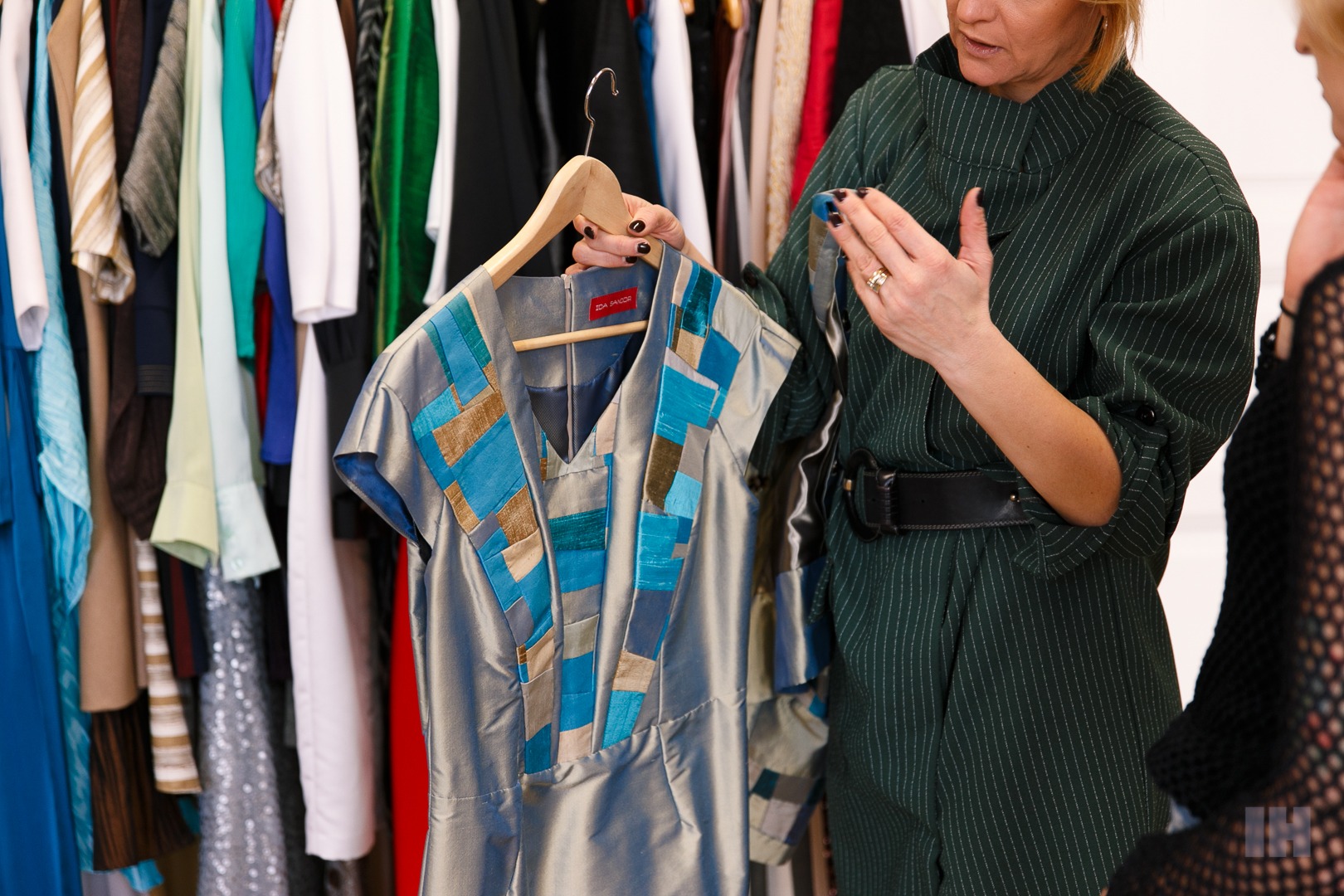 A fashion designer's day
It consists of dynamics, rhythm, energy and several job positions. To be more specific, Ida plays the role of a manager to her tailors, a buyer of hundreds of fabrics and a creative producer of timeless designs. However, her day is most likely to start as anyone else's – with family breakfast and morning exercise. A lot of work allows Ida to delegate tasks that she is not so fond of to others: "I am currently working on an e-shop for my designs, in which I see a great potential. However, it involves a lot of tasks that I am not so good at and, therefore, I like to work with young people on the content, photography or social networks. I like their independent view, depersonalized from the overall design process of a given model or collection. It can introduce a new and impartial opinion in the way that my work is presented. It enriches me and pushes me forward as a designer. I also spend most of the day sitting with clients and tailors, where we discuss the design and technical procedures of sewing the models. In other words, much of the time is based on mutual discussions and consultations."

Clothes which tell stories
Ida likes to wear her models herself so as to get to know how the material behaves and discover all its flaws. The work and success of this famous designer were made possible thanks to her personal approach, which makes her clients come back and order more and more: "There always has to be trust between me and my customer, especially if I have to come up with a dress for a special event. I love these challenges – designs that can change during a day and night, fit into a travel suitcase and so on. Sometimes I have to work only based on a piece of jewellery, shoes, and sometimes I'm free to work according to my own imagination. I like it when my clothes are worn in the streets, my customers keep on telling me how they care for them and still appreciate them after many years. They know that the whole process took some time and was not mass-produced by a machine, but a real designer and tailor stand behind it. It's not mindless fashion shopping; the women I design for want to have something timeless, combinable, of better quality. It is a story that puts together our effort to find the best fit and why many of my customers return."
Ida Sandor is ready to make some very special model just for you. Meet her in the studio located only 1 minute from The Invisible Hotel's Media Art Room.