He makes movies about deaf Roma people and the war in Ukraine. Documentarist Paľo Pekarčík
Paľo Pekarčík comes from Spišská Sobota, but moved to Košice fourteen years ago. As a documentary filmmaker, in his work he portrays stories of Roma communities in Eastern Slovakia – his last film Silent Days (Hluché Dni) has received global recognition at international festivals in Morocco and Karlovy Vary. Now, he's going out to the war zone Donbas in Ukraine, where he is shooting the life of the war victims. Read about the human touch in documentary filmmaking, deaf Roma children, education, empathy and sustainability with Paľo Pekarčík.
Excluded from the excluded
As for his documentary work, Paľo Pekarčík has been addressing the issues of Roma people for several years. His last film Silent Days (2019) was originally made as a practical part of his doctoral thesis at VŠMU. The thesis explored the intersection between photography and film medium from one to another and vice versa. The idea to realize it through a film about deaf children came up while he was going through photos of Roma people living in Slovak slums – Paľo's wife asked him about the tender eyes of one Roma boy. This led to a movie about children who are excluded from the already excluded group because of their deafness: "I am interested in characters on the other side, those who are not very well known. I wanted to simulate a photographic reality, something like a reportage exhibition in a gallery in front of which one can stand as long as he/she likes to. The film is made up of stories of four families told through images in which the film takes place while the camera remains static. The process of making a documentary film is largely based on getting to know the protagonists and their families rather intimately – I talk to them a lot, listen to their problems and share my own. This is quite different from shooting TV media reports where the reporters are considered to be the "messengers of death". The characters of the movie, in this case, the Roma from Slovak slums, agree to such a format because they see the strong emotional value of the film and the authenticity of the documentary filmmaker. They understand that the aim is not to exploit their situation, or to degrade their lives. We get so close that they don't have a problem with me coming to their house with a camera at seven in the morning while they're waking up and having their first cigarette. They know I would not do anything against their will and our relationship does not end with the final credits in the movie. We continue to maintain our relationship, I visit them, help them. In Silent Days, I wanted to show what deaf Roma children dream about, and that they indeed do. They want the same things as we do. However, their frustration cannot be compared with ours, financially speaking. The dreams they have are mostly unattainable."
Ignorance at home and at the Moroccan festival
One of the other reasons why Paľo chooses such topics is to point out the ignorance in the Slovak society. According to him, our relationship with the Roma community is superficial and often lacks knowledge of the basic facts, which can easily become a basis for exploitation for the agenda of the extremist parties and movements. It's a natural response to something that we have negative feelings for. Yet when tracing back the history, violent speeches and actions have only led to terrible consequences. After the film premiered in Košice, Bratislava or Karlovy Vary, Silent Days enjoyed a positive response and was also screened at a major film festival in Morocco: "It was fantastic, I have never experienced a two-hour long discussion after the film is over. Even some people from the UN asked me how it is possible that we have such slums in the European Union. I often ask myself the same question. The best premiere, however, was in my hometown, Košice in Kino Úsmev, when many Roma families came and there was this great lively atmosphere. We went to Karlovy Vary together by bus – this was the first time these deaf children went to a cinema and they watched a movie in which they themselves starred. It was a really amazing experience to see their reactions when everyone applauded in the end. But on the other hand, I don't think I made them any closer to their dreams. It is very complicated, but if one has to concentrate most of the day about fulfilling their basic human needs, such as food, he/she cannot set longer-term goals. In such cases, parents find it difficult to motivate the child towards the purpose of education or work. Their problems are completely different than ours."
Distance and segregation
There is probably no danger that Paľo Pekarčík will burn out, each day at work is different for him and he constantly adapts to new things. Most of all, it is a unique opportunity to come across human stories which are worth shooting and can serve as an example to others: "If you want to do something well, you have to spend a long time on it, otherwise it is impossible. The result can be a fine film, picture, book, anything. The time I spent in Roma slums taught me that I should help. If one sees this desperate situation, the only meaningful action is to help. There is no point in complaining, building a fence – we should try to minimize the negative effect of this situation. It does not matter whether we are talking about empathy, ecology, Roma slums in Slovakia or something else. There are approximately 440,000 Roma living in Slovakia, of which around 100,000 live in these poor conditions. We don't know about the rest, they are scattered in our society, they pay taxes, some are doctors, lawyers, freelancers. The media gives us a distorted view of things, and you can only learn the above-mentioned facts at the lectures of cultural anthropologists. I see as the main problem their segregation, their exclusion from a society that does not know how to address this situation, and they don't even want to bother. We distance ourselves, thinking we have too many of our own problems to care of. Looking at those pitiful circles, one feel helpless and become more cynical. But it is important not to lose your perseverance and continue hoping for better results."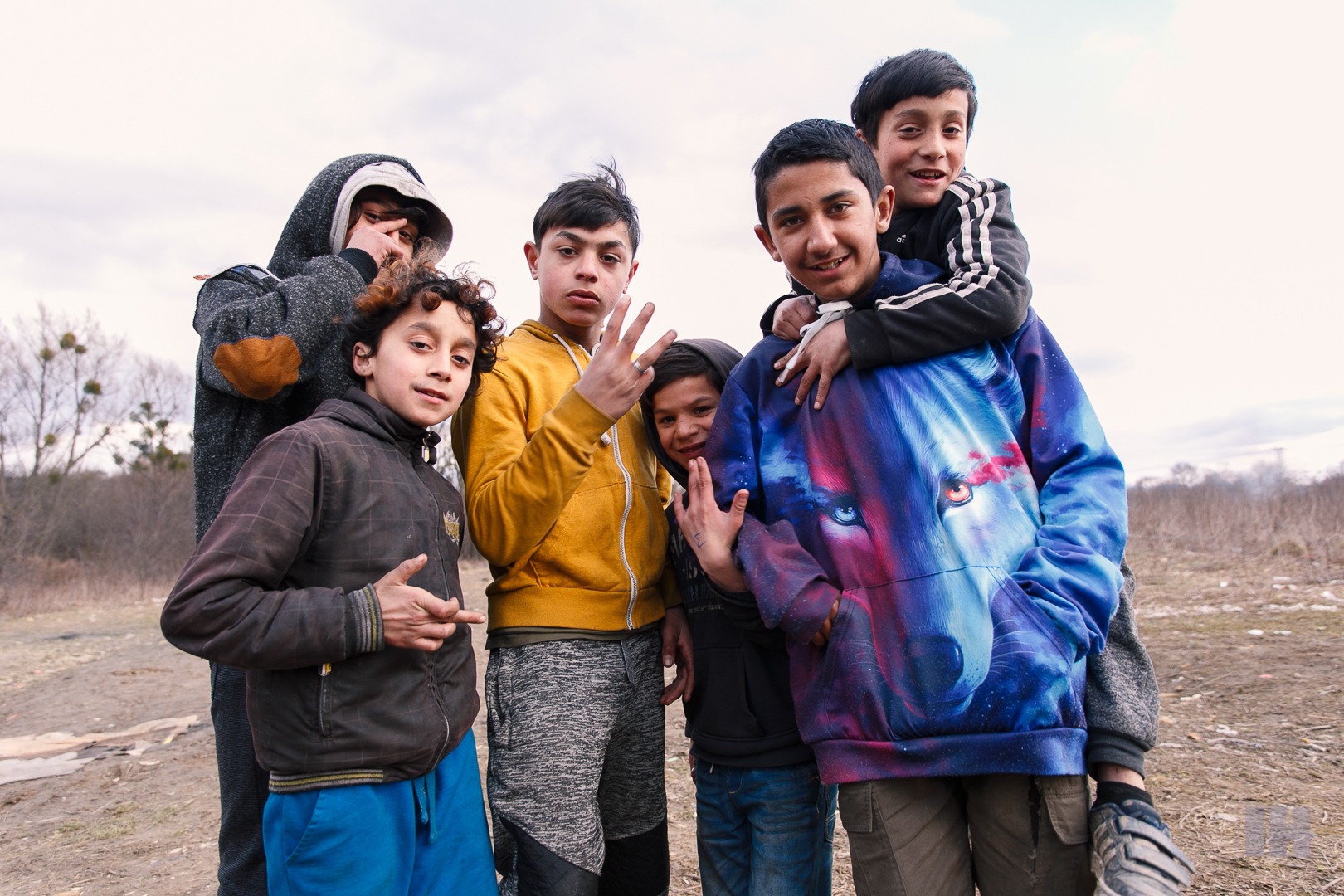 "We live in a time of Instagram culture and self-presentation on social networks. But the East of Slovakia is still authentic enough for a documentary filmmaker. However, this topic must be approached with special care so the situation of Roma people is not misused as is the case with newspapers. I call this "open heart" technique. I come to people and ask them how they are, what their lives are like – it's authentic and honest. I think humanity is the basic thing that must be captured in movies. If it's just construction, it's useless for me."
Tell me, what colour of sound has gunfire?
In addition to Slovak topics, Paľo also focuses on stories abroad. His latest project is filming stories in the Ukrainian war territory, Donbas. Paľo's camera captures the lives of people affected by the war and its vicinity – for example, the bombed outskirts of the city or apartment buildings with bullet holes, made by the separatists when they fired on the housing estates and even hit an art school. Paľo reminisces about one particular experience as one of the biggest mistakes of his documentary work: "When the school was a little bit reconstructed, the local director gave me a tour. A little bit bored, I listened to her enthusiastically saying that fortunately, nothing happened to their piano. I wanted to leave at that moment, but she asked me to shoot children playing musical instruments. I watched this 11-year-old overweight girl with a pink tank top and a ballet skirt, standing in front of the piano and practising above the keyboard, just like when athletes are about to do slalom and they are imagining it in their heads. When I told her to play, I understood how wrong I was – believing that it would be something trivial, I did not shoot with the camera from a tripod, but handheld. It was a real slap in the face; the girl played so beautifully that I got goosebumps. The principal later told me that she was a Ukrainian laureate in playing the piano. Now I know that life writes absurd scenarios that no one can ever come up with. I found out that the girl's family apartment building got hit by a bomb, leaving a hole in three flats, but luckily all of them survived. I asked the girl if she could play the sound of those raids. She pondered for a while and then started playing these crazy smashing tones. She even explained to me how the colour of the gunfire sounds. When I was her age, I wanted to be a pilot and sat in a washing machine. The child's emotional depth was something else. Art can explain what disastrous and terrible things war can do to people."
"I have seen a similar bizarre situation with another girl. Whenever she hears shooting and bombing, she puts on her pink headphones and listens to the most popular Korean group. And she sings it in Korean, too. She walks next to the minefields, washes the dishes – all the activities she doesn't like, she associates with these Koreans. She dreams of getting to this country and is learning their language. This girl is not prevented from fulfilling her dream, though. She can go to Kyiv, where she may find work in a supermarket, save up money, buy a flight ticket and leave. The difference between her and Slovak Roma children is that the latter is hardly ever able to have such opportunities. But the time spent in Donbas and Roma slums was similar – I needed to make bonds with people to learn their stories. I don't know any other way to do it."
Assumptions of an observative documentarist
Paľo also comments on the good level of the local documentary scene; an interesting generation of filmmakers who currently make this type of films in Slovak cinematography has emerged: "It's a lot better than in the 1990s. Today, my classmates and I help each other with our movies. We often meet while competing on Slovak Audiovisual Fund projects. It is obvious that the evaluation committee is on a very high level and I often find myself inspired by projects that are completely different from mine. A documentary filmmaker must be able to predict which shots and situations may be valuable to record. For example, if a neighbour that the family does not like is passing by or when I could not explain to the deaf children where the edges of my camera shots were. If I fail to record something, all I can do is to wipe my tears – the moment will not repeat itself."
Teaching empathy in contemporary education
In addition to shooting, Paľo is also interested in education, which he considers inadequate in terms of developing emotional intelligence and empathy in children. The time is different than it was ten or twenty years ago, but the school system has not changed much in these issues: "When I see young kids playing in the forest, shooting, playing paintball and the like, I see the images from Ukraine. These children do not know what a real war looks like. It contains ghost-like characters with huge circles under their eyes, dirt everywhere, cold, alcohol, damp. These men want to go home or run away. I believe that children and men who play "war" as a form of a game in our country would run home to their mother after a week in the real one. Extremist parties polarize society, a great example of this is the topic of immigrants. I think that if our children were taught more about how to boost their emotional intelligence, we would be able to deal with such situations and accept them more sensitively. The same goes for everything that is outside the borders of our small personal universe, our city, village, fence. I see the problem of Slovak society in its atomization, separation into various circles. With empathy, we begin to understand that we are not the only ones in the world. Compassion will hopefully lead us to sustainability and understanding."
Silent Days (2019) is now available online.