I want to create a technology that will compose my music forever
Tatsuru Arai graduated from Tokyo College of Music with a bachelor's degree in composition. He completed his Master's degree in composition, computer programming and multimedia in Berlin. His main artistic theme is the integration of classical compositions into new technology. He is working on the concept of Hyper Serial Music, an algorithm of music generated by technologies such as artificial intelligence. He has performed at Kinetica Art Festival (London), Tanztage (Berlin), Flow Festival (Helsinki Finland), CTM Transmediale Festival (Berlin), MADATAC Festival (Madrid Spain), ACT Festival (Gwangju South Korea), etc.
Tatsuru will have an artist residency at CIKE in Košice from September to November 2023 as part of the European Media Art Platform (EMAP). CIKE has been a member of the network since last year.
He will work on the production of a site-specific multi-genre artwork titled Face of the Universe together with the Košice-based artist and educator Boris Vaitovič. The resulting work will be performed by the artists during this year's Art & Tech Days and Conference.
How would you define creativity?
I think the definition of creativity is to produce unprecedented value, technology, theory. In fact, I think it is not easy to define creativity because no one can know all past phenomena. In many cases we only create a small part as an individual, a person.
What do you think makes new media art unique?
I studied composition techniques and music history at university in Tokyo and Berlin. Especially during the last 300 years there has been an expansion of compositional techniques to include the acoustic structure of sound, to use a metaphor, it was like the "big bang". I realized that this depended on the industrial revolution and the development of science and technology. I became interested in media art because of the relationship between technology and the history of music/compositional techniques. In recent years, technology has been modernizing almost every year due to the development of science and the accumulation of the past. If an artist has a new idea, a unique media art can be born.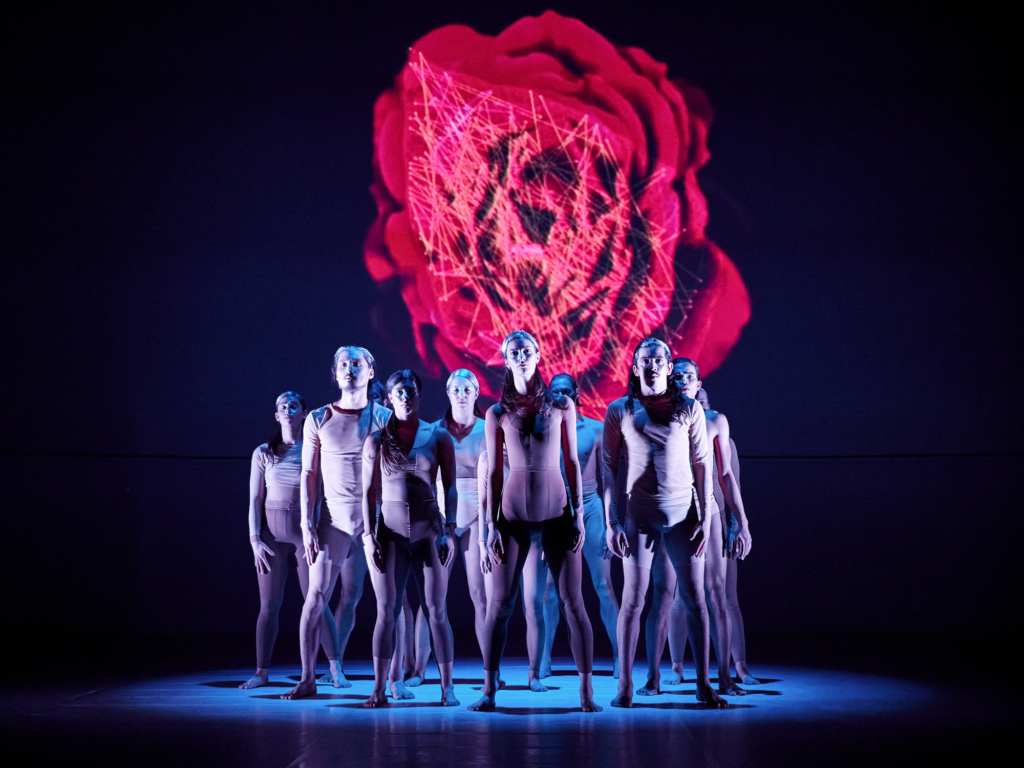 What are the challenges and opportunities presented by the new technologies and media you work with in your work?
I mainly use MAX/Jitter to create sound and visuals, which don't have a lot of AI features yet. I think there may be a lot of opportunities to come in the near future. Personally, what I want to implement takes me 3 years. But it's also a problem on my side, including my lack of technology/knowledge.
I think technical skills and knowledge are the essence to realize creativity and artistic vision. For example, during the Renaissance era, both could be considered almost identical. Even if I have an artistic vision, if I don't have enough technical skills and knowledge, the result it may be related to the quality of my work.
How do you think the relationship between art and technology will evolve in the coming years?
I'm not very sensitive to new trends, but ChatGPT etc. has become a topic recently. These apps don't exactly lead people to the right answer, and if we don't realise how they work, it can have some detrimental effects. However, artificial intelligence will become more common in the arts.
My specialty is hyper-serial music, which I've created, and it's some of the most complicated music in history. I see it as an extension of the traditional art form. My idea is to systematize many of the compositional techniques and create my own system, something like artificial intelligence, but based on my musical technique, technology, and this system would permanently compose my music. I want to put my compositional ideas and techniques into a system that can continue composing my music forever.
What role do you think new media art plays in shaping our understanding of technology and its impact on society?
I think that the development of technology and science are closely related to our society, but they are always two sides of the same coin and depending on how one handles them, they can have a dangerous impact on society.
For example, 78 years ago, the atomic bombs were dropped on Hiroshima and Nagasaki, killing approximately 210 000 people. Since the Fukushima nuclear accident in 2011, I have started to learn about science, technology and energy policy. On the other hand, the development of technology, science and energy technology has contributed to many positive aspects for people.
In my project The Face of the Universe, I say that "the principle of ecosystem was born from the fusion of the sun", I think that human could realize the fusion technology as "the sun on the Earth". The art of new media can show us the limits of both the positive and dangerous aspects of technology. With technology, we might be able to transcend different fields of science and art.
In September you will come to Košice as part of the Europan Media Art Platofm (EMAP) residency at CIKE. What are you planning to do in Košice?
During the EMAP residency program at CIKE, which will start in September, I will be collecting photographs of flowers as part of a survey of the ecosystem around Košice. Using these, my system and A.I. will generate visuals and sound. My goal is to create a space where people can experience the perception of the universe through flowers in towns and cities.
It will be a collaborative work with the Slovak media artist Boris Vaitovic. So far "Face Of Universe" has been a realization of what I can do, but I hope that this collaboration with him will evolve into a new phase of this project.
The Earth and human ecosystems are based on and born from the solar energy of nuclear fusion. On the other hand, when planets are born, they form geometric patterns out of chaos that can form like the shape of a flower. I want and hope to remind viewers of the history of civilizations and ecosystems with the Face of the Universe project.
Invisible Mag is supported using public funding by Slovak Arts Council. The Slovak Arts Council is the main partner of the project.