Machines as external organs of people. The geometric paintings by Ján Vasilko
He was born in Humenné, Eastern Slovakia, and spent most of his childhood in the country close to his hometown and water reservoir Domaša. He projects the images of this environment into his everyday life and profession – abstract paintings. The artist Ján Vasilko has lived more than 20 years in Košice. Read about his insights on the indispensable contact with machines and the creative process of the painter with international recognition.
Idealized memories
Ján Vasilko, originally from Humenné, lived in the villages Víťazovce and Slovenská Kajňa near Domaša during the first six years of his life. His grandfather and uncles worked on local farms and consequently, Ján's memories of the rural childhood found their way into his art pieces for good. Agricultural tools have become the central objects depicted in his paintings. "I wasn't a typical child – I used to paint everything that surrounded me. These included cows, harvesters, tractors, wooden cottages, ploughs. They became an inherent part of my artworks and art world, I consider them idealized memories of my childhood. I keep the country lifestyle close to my heart till this very day – I would like to live half a year in the country and the rest in a city," says Ján.
Modernist thinking at the Faculty of Arts
Ján acquired his academic education as one of the first students of the newly-founded Faculty of Arts of the Technical University of Košice in the Studio of Contemporary Painting led by a professor Rudolf Sikora. Ján recalls his studies with appreciation: "The Faculty of Arts in Košice was just starting at that moment. I remember these years as a period sprung with energy, enthusiasm, eagerness. A great bond between students and teachers developed as well – we would visit all the exhibitions available and had long discussions after each of them. No one needed to force us to attend any exhibition, all of us had a natural interest in getting to know all about the art and the city's institutions that presented it. Nowadays it feels different to me – I think that young students do not share the same attitude, nor do they want to hear the insights of their professors. What I cherished most was the modernist thinking that roamed around the faculty. Since its premises were located in students' dormitories at that time, we could stay in our school 24/7. We formed a strong, distinctive community that enjoyed their atypical studies – it enriched me in many ways both, in my opinions and artwork as well."
The protection of right and liberties of machines
Ján established an important friendship with fellow artist Peter Králik from Michalovce so as to deepen his interest in art with agrarian motifs. Their profound and endless conversations on the topic manifested in their own art group Strana železných which aimed to portray industrial tools since 2003.
"As we became friends, we realized how much similar we had in common. As a joke, we defined our most important principle to protect the rights and liberties of industrial machines. Over the last few decades, the machines have become an indispensable part of people, their external organs, not connected with their bodies. We can't live without a smartphone or a car anymore. The artworks from our group exhibit features of absurdism, Neo-dadaism and Romanticism. We opened our first exhibition in 2004 at Prague Biennale IV., with the topic 'Hardworkers'. We explored a lot of forms and I stuck to the painting and moved from portraying industrial machines. Peter goes on with the agrarian art further."
Disharmony in abstract paintings
Ján implies that he spends his free time watching a lot of documentaries seeking some inspiration for his paintings – therefore, they sometimes reflect themes from the war in Ukraine, Syria or the Arab Spring. "I wanted to capture a certain emotion, disharmony and turmoil. In order to do that, I need to achieve a particular state of thinking and the atmosphere in which I remain while I paint. Once I finish one series and all the variations of the topic, I move on to something else," explains Ján.
"I am interested in learning more about our history and I try to find some parallel relation with my own role in contemporary society. Watching the news with horrible conflicts that are taking place all over the globe, such as the war in Ukraine, we are alert and worry the danger might get near to us. The catch is that we only pay attention to something that may threaten us directly. Even though I live in Košice and work in my studio, my rational mind and critical thinking transcend the style of a Romantic artist who only paints beautiful landscapes, flora and fauna – that has ended a long time ago. Contemporary art and its artists react to what is happening in our society, we express ideas and attitudes so as to capture our history for the future and also present-day generations."
"My greatest success is the fact that I can do what I enjoy and I do not depend on anyone or anything. I make a living through my art and dream."
100% painter
Young emerging artists should, according to Ján's words, work on their tenacity and never doubt their talent. He claims that since he had always known he would end up being a painter, he never actually looked for a regular job. "My path involves a lot of determination, vision and luck, persistence and faith in myself as an artist. Collectors of my work and galleries help me work freelance, the same goes for prizes I won in the past, such as The Oskár Čepan Award (2005) and Strabag International Art Award (2009). In the past, I worked at the Faculty of Arts but now I can fully dedicate myself to painting and manage my time as I wish. I want to paint as much as possible. It takes me several weeks to finish a large painting."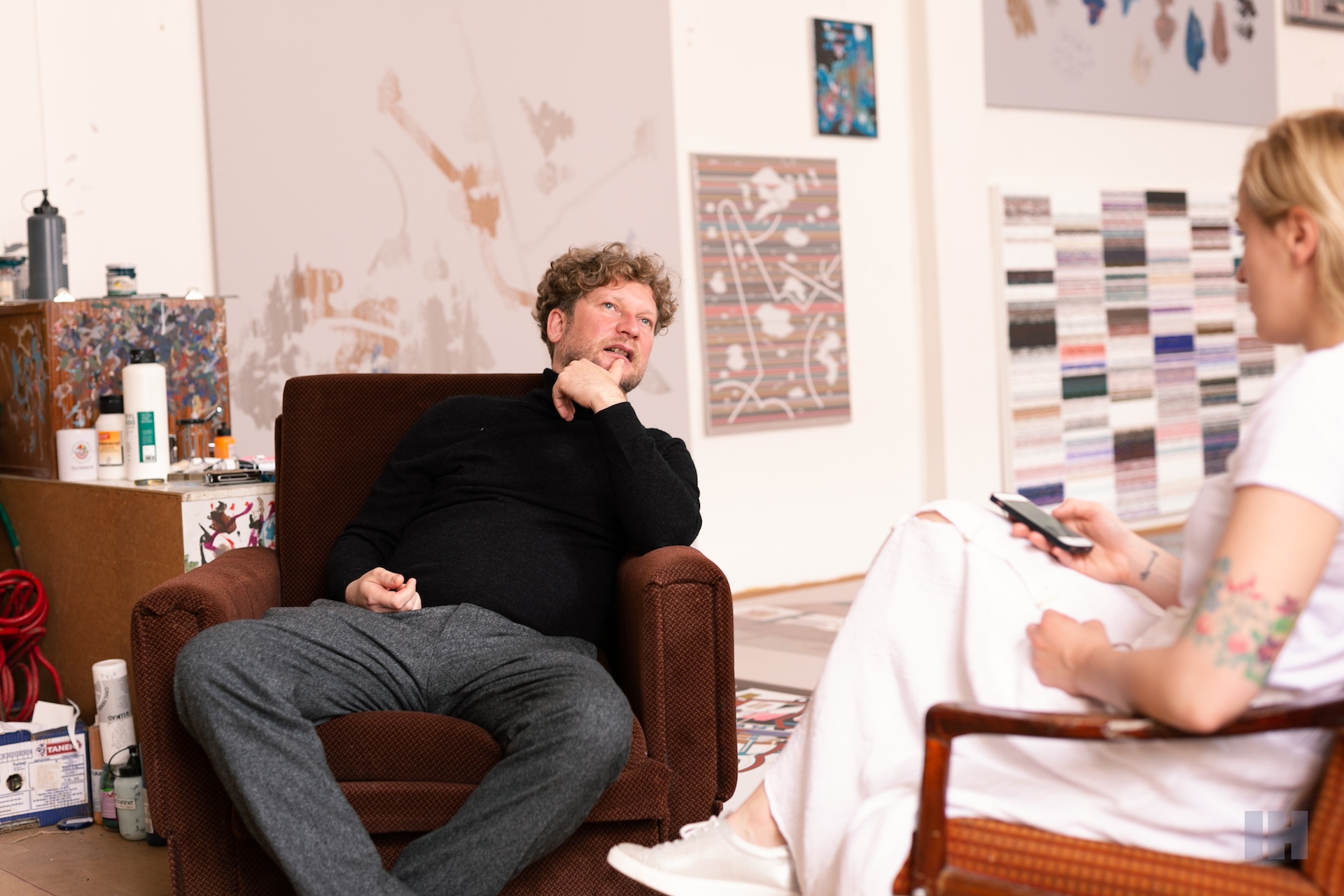 But how to seize that diversity?
Ján's need to observe the world's diversity is reflected in frequent travels both at home and abroad. He admits that the pandemic crisis of COVID-9 has pushed him into rediscovering the city he has lived in for more than 20 years again: "I started to roam around the areas and streets I had not gone before. I enjoyed the city which I thought I had known so thoroughly and its unknown face. I also visited some new villages and places in Eastern Slovakia – close to the Ukrainian border and Tokaj. Every single village has its own beauty. All it's needed is to acknowledge its poetics."
Ján Vasilko lives and paints in his studio on Strojárenská St in Košice. You may find his painting in Kasárne/Kulturpark. Check out the special design room by The Invisible Hotel dedicated to media art right next to his studio.