Our perception of art refines our lives. Director Lucia Potokárová on the future of Slovak State Philharmonic, its audience, and plans
We climb the metal ladder to the building's dome, which hides the original appearance of the synagogue. At the same time, we get a bird's eye view of the concert hall with the playing orchestra. Our visit to the "secret" places ends with a breathtaking view of the old town from the roof of the Slovak State Philharmonic, where its director Lucia Potokárová took us.
The Slovak State Philharmonic was established in 1969, and as such, it has existed for more than half a century. From the very beginning, it was full of passionate young musicians. Their average age at the time of the establishment of the institution was 27 years. "Undoubtedly, the main activity for which we were established, both artistic and social, has its history. If we look at the dramaturgical direction, the period reviews suggest that we have excelled in courage and modernity since our foundation." Perhaps this was due to the local nature. In any case, this feature reflected positively in the development and future of the institution.
Lubomír Čížek, who became the first director at the age of 36, is still considered a visionary. "I dare say that he dictated the artistic direction of our organization for several decades. The criteria he has set for the artistic creation and functioning of the institution are still relevant. The Philharmonic was very lucky that great personalities stood behind its foundations – Bystrík Režucha, Lubomír Čížek, and Ivan Sokol."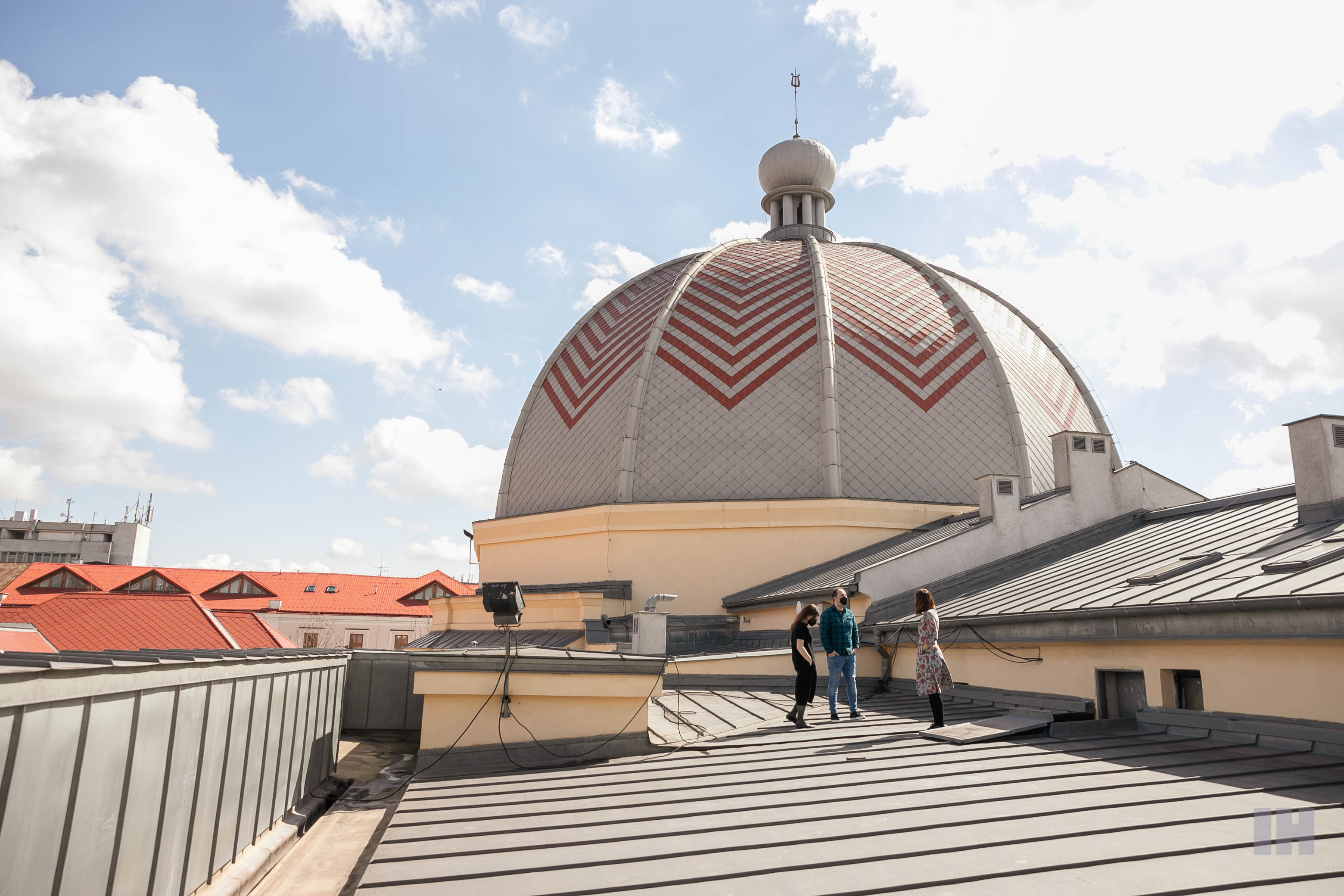 Platform for up-and-coming artists
So how is the State Philharmonic in Košice different from other Slovak orchestras? Since its foundation, it has been very bold in presenting Slovak works and music of the 20th century. At the same time, Slovak and young European interpretive art still has its place in it. Of course, this has to do with the character of the orchestra and certain limitations associated with its size. However, they managed to use their position of the Slovak "number two" to their advantage. "To this day, we build on the fact that we were not afraid to provide a platform for up-and-coming artists and served as a launchpad for their careers. For example, violinist Julia Fischer, tenor Štefan Margita or conductors Jakub Hrůša or Juraj Valčuha, who today are among the world's best, are always willing to return to Košice and collaborate with our orchestra."
Dramaturgical innovation has slowed down in the last two decades. However, Lucia adds that this was a natural consequence of the financial crisis. It also affected the Philharmonic. The resources for building a music archive were scarce, and the possibilities for programming were considerably limited. It so happened that some concert programs were repeated quite often.
"On the one hand, it can help the orchestra to better master the so-called standard repertoire, but at the same time, it puts us at a disadvantage in comparison with other international institutions of equal importance. My goal is to restore the Philharmonic's competitiveness on an international scale precisely with the help of a programming concept. We succeed in bringing new, discoverable works, more demanding opuses in interesting combinations, with which we want to reach the widest possible audience."
Go to a concert in jeans and sneakers?
Lucia recalls that when she joined the Philharmonic, they feared they would have no audience at concerts with 20th and 21st century's music as the public wasn't aware of the authors. At that time it was, for example, Bernstein, Shostakovich, Ligeti, or Stravinsky. "These are excellent works that are sure to appeal to the visitors, and it is interesting to combine them with so-called classics from previous periods. That is why we would like to include authors of the 20th and 21st centuries more and more among the classics of our symphonic repertoire. We try to explain to our audience what kind of music it is and why we choose it. At the same time, it is a way to push the imaginary boundary of what attracts the audience."
It is increasingly common for a person who likes an entirely different music genre to listen to Philip Glass or Arvo Pärt and come to the Philharmonic, even if dressed in jeans and sneakers. As Lucia adds with a smile, this new audience sometimes outrages their employees who cannot help themselves but comment on an inappropriate outfit. "Formal clothing goes hand in hand with the Philharmonic. Yet, we know that we cannot stop time. We try to guide our employees, who coordinate the audience, in their communication with visitors. There is nothing worse than when a person who visits the Philharmonic for the first time is reprimanded for inappropriate clothing. We even consider adding a concert that our musicians would play in civil clothing to our program."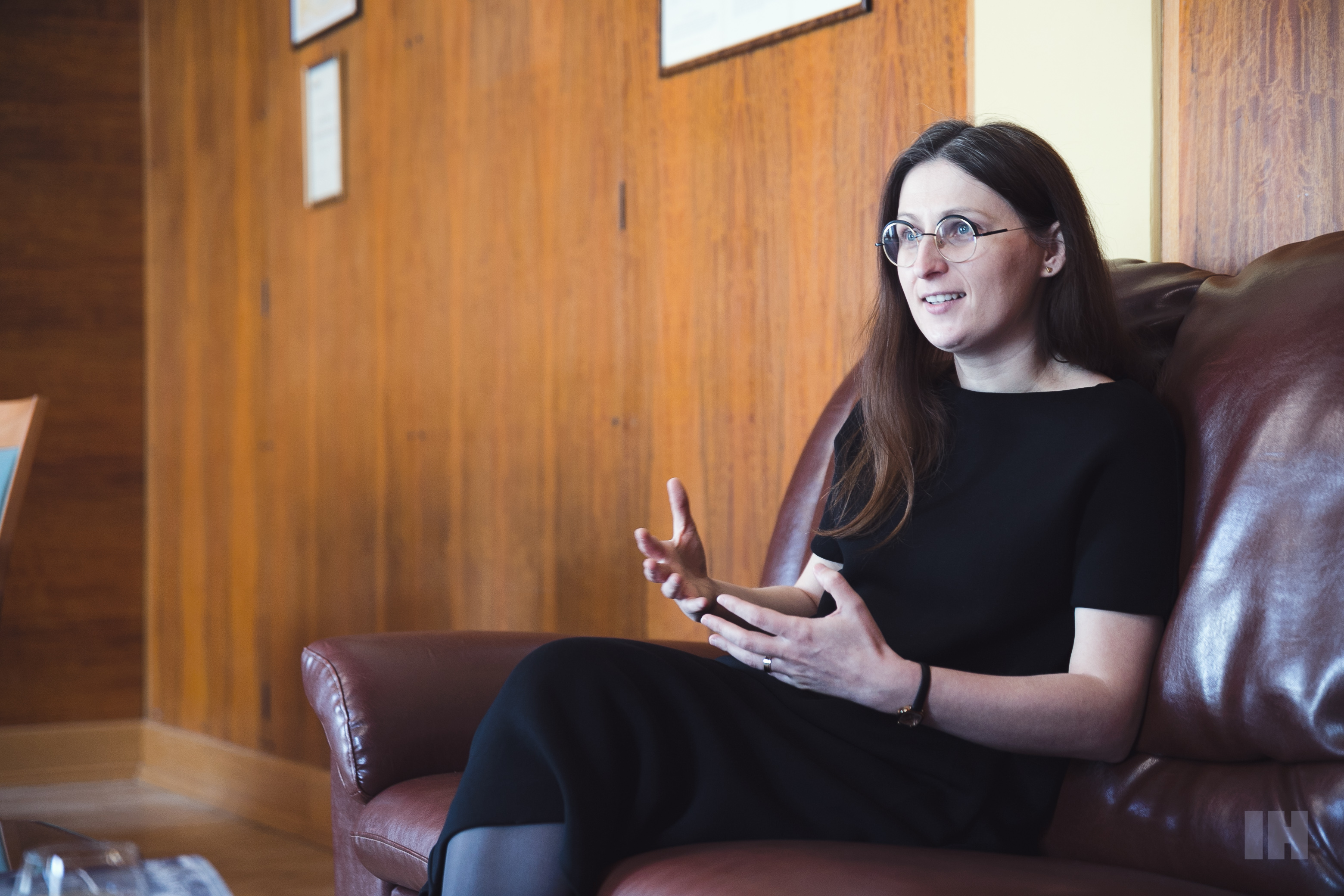 When it comes to experimentation and innovation in dramaturgy, the Ars Nova festival presents the most contemporary music. It is a platform where almost everything is allowed. Various genres combined with visual arts, electronics, dance, or theater. "At the Ars Nova festival, we also present the works of young composers for the first time. For example, we will present a combination of symphonic music and visual art at this year's Art & Tech Days festival, which will take place in Košice in November."
Who knows what it would be like to talk to the founders of the Philharmonic today and what they would have to say about these innovations in its production. Although it is not their main activity, only an ancillary, it reflects a natural trend that we observe everywhere in the world. Symphonic orchestras are getting involved in more modern projects and appeal to an audience to whom they would not otherwise.
Changes in The Košice Music Spring Festival
In the coming years, there should be a change in the financing of the Košice Music Spring Festival, which may help restore its internationality in the true sense of the word. "In the past, we invited foreign guests to our festival – soloists, conductors. We could not bring foreign orchestras to the region (except for cooperation with Miskolc Szimfonikus Zenekar) because it was very financially demanding. This is where we want to advance. Not only for our audience but also for our musicians, for whom it is extremely inspiring to watch the work of another orchestra."
A discussion is currently underway with the Ministry of Culture of the Slovak Republic on the possibilities of financing the festivals of the Košice State Philharmonic. It would significantly increase the chances of aligning the busy program of world musicians with the festival date and offering them better financial conditions. "It will allow us to plan for several years in advance and possibly book an ensemble or orchestra today, which will tremendously enrich the musical scene in Košice. At the same time, it can attract aside from the local audience visitors from across the border, mainly from Poland and Hungary."
Audience development is the number one topic
The so-called audience development, or audience building, is a big topic in the cultural and creative sector in Slovakia and Europe. Everyone agrees that we need to restart our communication with the audience. "It is typical for institutions of our kind that up to two-thirds of the audience are season ticket holders. We know what they want, what concerts they like, and when they come 'out of duty.' However, their number is declining from year to year." According to Lucia, those visitors consider a visit to the Philharmonic to be a part of their life. They have been sitting in the same chair for thirty years, in the same row, and they will not miss a single concert from the season program. Season tickets are even passed down from generation to generation.
After five decades of such operation, the Philharmonic faces a significant challenge – how to actively communicate with a new generation of visitors who want to choose which event they attend. "We are currently thinking about how to set up subscription cycles. Either go the way of a larger number of cycles divided thematically or allow the visitors to put together a subscription plan according to their own imagination, as the Brno Philharmonic does.
"Working with the audience is very challenging for an institution that organizes 70 to 90 events a year. "Our audience comprises different groups of people that we need to reach through various communication channels – from social networks to the print media, posters and leaflets. At the same time, we face the task of filling a hall with a capacity of almost 700 people." The Slovak State Philharmonic is testing various ways of audience development, exchanging experiences with similar institutions, and trying to create an alternative for subscription cycles, better adapted to today's audience.
When a woman plays the lead violin
The term of the last woman directing the Slovak State Philharmonic ended in 1991. Thirty years later, we have a new woman as a director. As she says, she has never had any overly positive or negative experiences as a woman. "I think we have moved in the right direction in this country. In my case, I may have had a better starting position, as I had worked in the Philharmonic before and managed to meet its members. My relationship with people across generations, who represent our institution – from recent conservatory graduates up to retired employees – is excellent and professional at the same time."
The future of the Philharmonic through the eyes of its director
Lucie Potokárová's great wish is for the Philharmonic to become internationally competitive. "We would like to be invited, like other international orchestras of our kind, to prestigious festivals and collaborate on joint projects. It is incredibly motivating to play on the stage where the Berlin Philharmonic played just minutes before you. If you add a successful concert to it, it will positively motivate you for a very long time."
Another goal of the Slovak State Philharmonic is to become more regional. "I am thinking in particular of the Košice and Prešov regions. It is crucial that we also visit cities such as Svidník, Trebišov or Spišská Nová Ves. We want to present classical music as the highest form of art and enrich social life in smaller and more remote cities."
Recording activities should become a regular part of every season in the future. "Until a few years ago, I felt that the era of CDs was over. Today there is the phenomenon of music platforms, which people are increasingly subscribing to." Lucia also sees potential in recording Slovak works. "Another task of the Philharmonic is to create an archive, something tangible that will remain here for future generations. We took a significant step in this direction at the end of 2020 when we recorded the symphonic triptych About Life by Ján Cikker."
An important topic is also education and the already mentioned audience development. A few years ago, the Philharmonic began preparing projects for primary and secondary schools, and they have been of great interest. But the goal is to start educating future visitors even earlier – in kindergartens. Lucia believes that thanks to projects adapted to the child listener, it will be possible to bring classical music closer to the youngest ones, later demonstrating in their relationship to art. At the same time, she dreams of the days when private companies will fight over sponsoring and partnering with them during their events when the partner's logo on the concert poster is a matter of prestige and not money.
Given the current pandemic, it is difficult to plan for the future. But Lucia looks ahead and highlights what the new situation has taught them. "Although it was not easy, each of us had to adapt. We had a period when it was impossible to rehearse at the Philharmonic, and the players practiced at home. The work of a musician is largely about fitness, especially for wind instruments." The mental well-being of each member of the orchestra also includes a regular regime and strict adherence to the daily schedule. Thanks to an excellent team and mutual support, they managed to do it, and the premises of the Philharmonic are now once again filled with music.
We part ways with Lucia in front of the building of the Slovak State Philharmonic, wishing them good health. We have a strong feeling that our first steps after the end of the pandemic will lead us here to one of their concerts.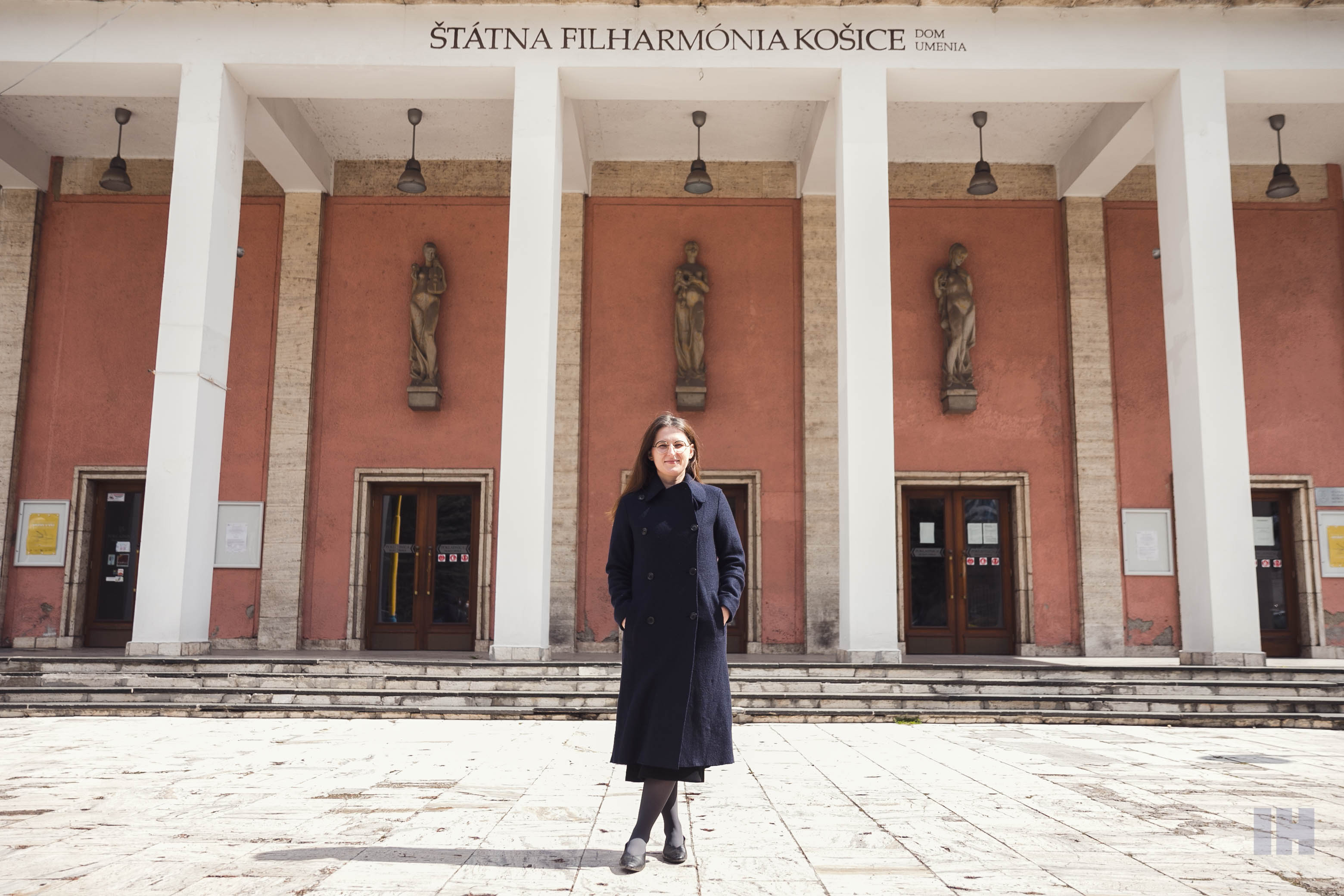 Listen to the symphonic triptych About Life by Ján Cikker on Spotify: