She has been working on bobbin lace for 40 years. Mária Rudášová claims that knotting perfectly relieves the mind
Mrs Mária Rudášová has been spending her free time bobbin-making for decades. It is a special and ancient form of creating a specific type of lace involving the work with small sticks – bobbins. Not surprisingly, she was close to handicrafts since she was only 4 years old. Today, she has been meeting with her colleagues, bobbers, in various cultural and social buildings in the city of Košice for over 25 years to share the same passion for this pastime activity. Last but not least, as a pensioner, she teaches the craft of bobbin lace in ÚĽUV – the Center of Folk Art Production. The following interview talks about the folklore technique, which came to Slovakia from Belgium and what effects such activity has on the human psyche.
A brief history of bobbin lace
Bobbin winding, or the bobbin lace technique, is the creation of knots using small sticks – bobbins – on rollers of various sizes and lengths. The mallets must be turned thoroughly so that the threads do not unwind, and this work can be, therefore, performed skillfully and continuously for several hours a day. Mária Rudášová, who has lived in Košice for several decades, spends time with this pastime activity along with her fellow friends. She points out that back in the old days, during long winter evenings, women often resorted to handicrafts, to pass time effectively and brought something beautiful and at the same time useful to their community.
"Once upon a time, our Slovak women worked on bobbin lace a lot, especially in the central part of Slovakia, such as Špania Dolina, Banská Bystrica or Kremnica. They used to have their designs drawn, but over time they were able to create the pattern even without it. When working on bobbin lace, you can either focus on the design of the object or flange – the endless strip of lace, which is later applied in various ways on apparels etc.
Nevertheless, it is a very antique type of lace – from available sources, we learn that it came to our nearby territory, to Czech town Vamberk, approximately in the period between the 17th and the 18th century. This technique was brought here by a duchess from Belgium. It is also known that our empress Maria Theresa was very willing to support the efforts of her people in the field of handicrafts and folk crafts. In 1761, therefore, she founded the first academy of bobbin lace in Slovakia."
Special sheets to isolate newborns
Bobbin lace is not only exceptional for its ancient history and origin, but also for its longevity. According to the social status, we divide it into peasant and burgher kind, which decorated folk hats or collars. Ordinary threads were used for the technique, as well as flax and hemp fibers, or even nettle. The finest type of bobbin lace is the monastery one, which complements the ornaments and various applications in churches – its design is made only from the finest threads.
"It is known that people from villages and similar settlements used to live together in the past, typically in one single household, which usually consisted of one room only. If a pregnant woman needed to give birth, they isolated her bed from the others with a special sheet – a curtain on each side of the bed where the future mother and newborn could have some privacy. Today, these sheets are exhibited in the museum since they are not used anymore. They consisted of woven underwear joined by wide strips of bobbin lace. Similarly, children's clothing or apparels intended for the baptism of a child was made with the bobbin lace, too."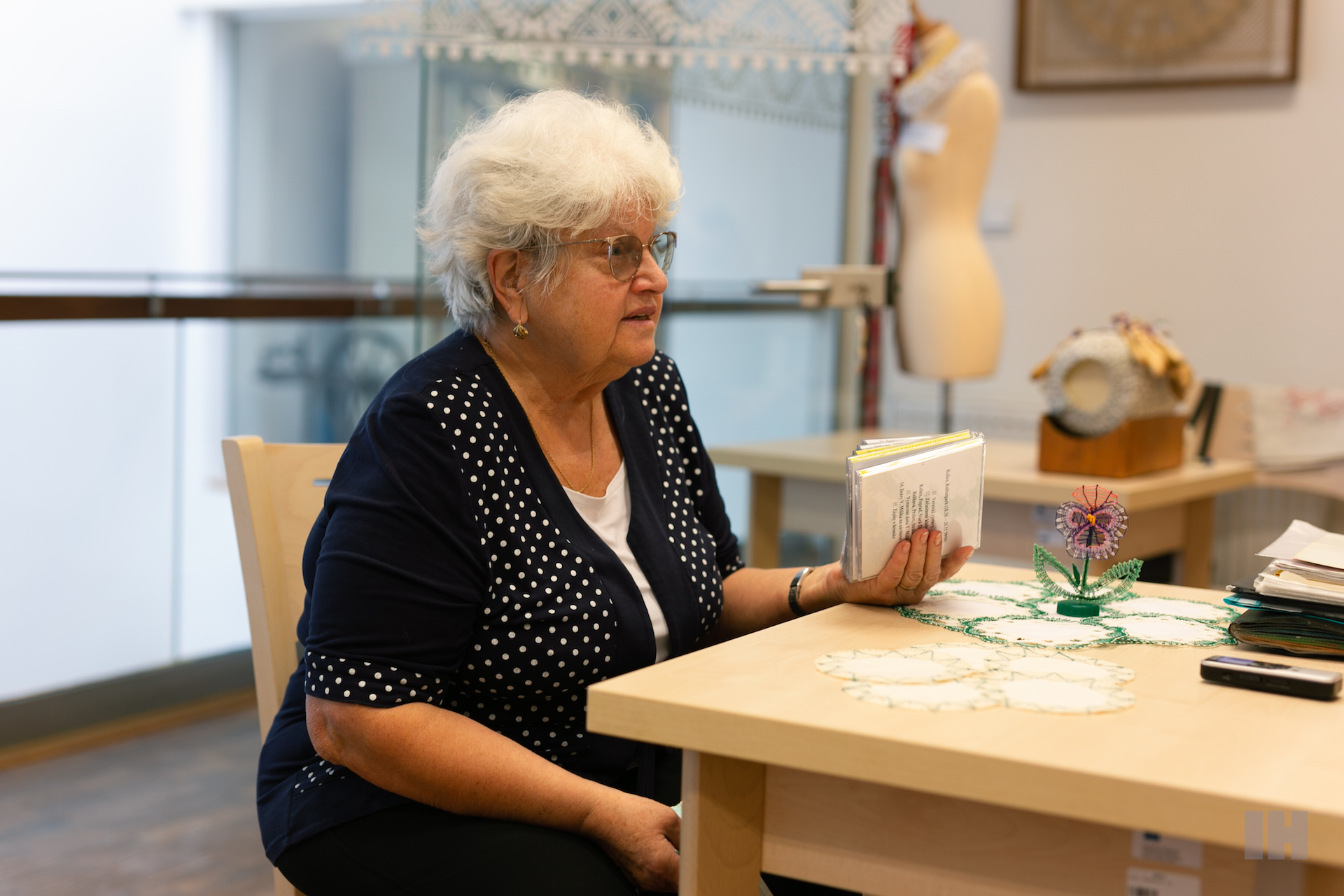 Evening sessions of one metallurgist
And what is the personal story of this famous Košice bobbin lace enthusiast, Mária Rudášová? Her childhood memories are interwoven with a strong relationship with her grandparents, who raised her in Revúca, where she comes from. As a child, she admired the wood-braided chairs, which later in adulthood naturally reminded her of the principle of knotting bobbin lace.
"My grandmother spent a lot of time with handicrafts. I learned to knit and crochet when I was 4 years old. I am originally from the Gemer region, from Revúca, later we moved to Banská Bystrica. I graduated from the Secondary Vocational School in Tisovec with a focus on the metallurgical industry. Like many others, I was brought to Košice because of the opportunity to work for East Slovak Ironworks – the newest and biggest enterprise of that time. I worked there until my retirement, 32 years. I worked in the research field, on metallographic analysis of samples. The greatest thing about my job was the group of colleagues I worked with and have the best memories of.
About 40 years ago, I had some health problems and met a doctor at the hospital. She attended a bobbin lace course organized for paramedics. My new friend showed me everything she learned in the course and later I signed up for myself. It was difficult at first, but over time I improved. For years, I cut out everything I found in magazines in connection with bobbin lace. This course lasted only three months, but it changed my life forever."
"When I had the most difficult moments in my life, I was able to relax while working with the bobbin lace. Many problems would have been much more difficult to handle had it not been for this activity. One has to relieve one's head, reset one's worries. It's extremely important to do something that makes you really happy in life."
A long-term struggle for space for 20 seniors
After the course, a group of about 20 members has been meeting for over 25 years. During this long period, which brings them a lot of joy and the organization of various exhibitions too, they have already moved out from several spaces within the city. Frequent changes of municipal government or other changing conditions forced these female seniors to find a new place for their activities again and again, even after more than two decades.
"We already met near Milosrdenstva Street, in the Association of Seniors at Hlavná Street, or in Kasárne/Kulturpark. I think that the exhibitions we organized there were at a really professional level. During the current COVID-19 situation, we can no longer meet so often and it is really sad for us. On the other hand, I started teaching bobbin lace in ÚĽUV – the Centre of Folk Art Production. We are ageing, some of our members are already in their eighties. However, we have a promised new place in the social and relax centre for seniors on Milosrdenstva Street. We will be able to meet, bobbin, use the library there and many other activities."
Košice bobbin makers also have an international reach
Activities around bobbin-making by Mária Rudášová and her colleagues are not only concentrated in the vicinity of Košice – it has been 20 years since they visited Vamberk together for the first time. It is the aforementioned Czech town, where in the 18th century bobbin lace appeared, later spread to our region.
"We return to Vamberk every year, this year we were unable to travel for the first time because it is not possible regarding the situation with COVID-19. The area is located in Orlické vrchy – exhibitions of bobbin lace are held here every year, every second year an international one. We also got to know the Belgians who visit the city as well. We've been friends over the years, looking forward to meeting each other again. Getting to know people who have the same interest as you and at the same time are an excellent company is a really great feeling. With handicrafts (or any other hobby), you will get to know people better than usual. And when they are of the same sort as you, it's indescribable."