These are 6 exceptional women who run artistic & imaginative workshops in Košice
All of them are different. Yet, all of them have worked hard on their skills and now they offer opportunities to other people to make the most out of their free time. The following article reveals the stories and legacies of those, who organize creative workshops in Košice. From clay, soaps, macrame to art therapy. Meet these 6 talented women who add value to the city in which they live:
The touch of clay & the four elements
The daughter of an academic painter, Ester Šefčíková, has spent almost all of her childhood either in a studio or in Slovak nature. She is the main source of fresh energy during her creative workshops in Košice. The School of Applied Arts, where she studied, showed her the importance of traditional craft techniques. Years later, she decided to spread her enthusiasm for clay among other people. Today she leads creative clay workshops in tea rooms such as Čavango, at festivals and even during birthday parties. She does so based on the principle of 4 elements – earth, fire, air, water, and on the collective unconscious theory by Carl Gustav Jung.
Ester also teaches ceramics at alternative kindergartens and primary schools for children and retirees in specialized facilities. According to her, the experience is the most crucial thing people gain during the workshops: "Machines will never be able to do manual work instead of us. During my workshops, we do all the movements (work) with our own hands. Just the touch of clay is a powerful experience for people nowadays, they often lose their breath and enjoy their connection with nature, the Earth. I can see significant changes in their behaviour only after a few sessions – they become calmer, more grounded, and start to communicate better. This activity also helps to connect the right hemisphere with the left, and the room is full of energy after each workshop. I try to use only natural materials; we work with clay on linen canvas and use a spatula made out of plum, cherry or beech wood. Andrea Čepiššáková, a well-known ceramist from Košice, is the one who introduced to clay and the way in which I organize my workshops today. I wanted to get the clay out of a studio, share it with people and see them grow artistically and mentally thanks to it."
Read also: Come to Košice, we got Way of Saint James here. And we now belong to the European pilgrimage network, too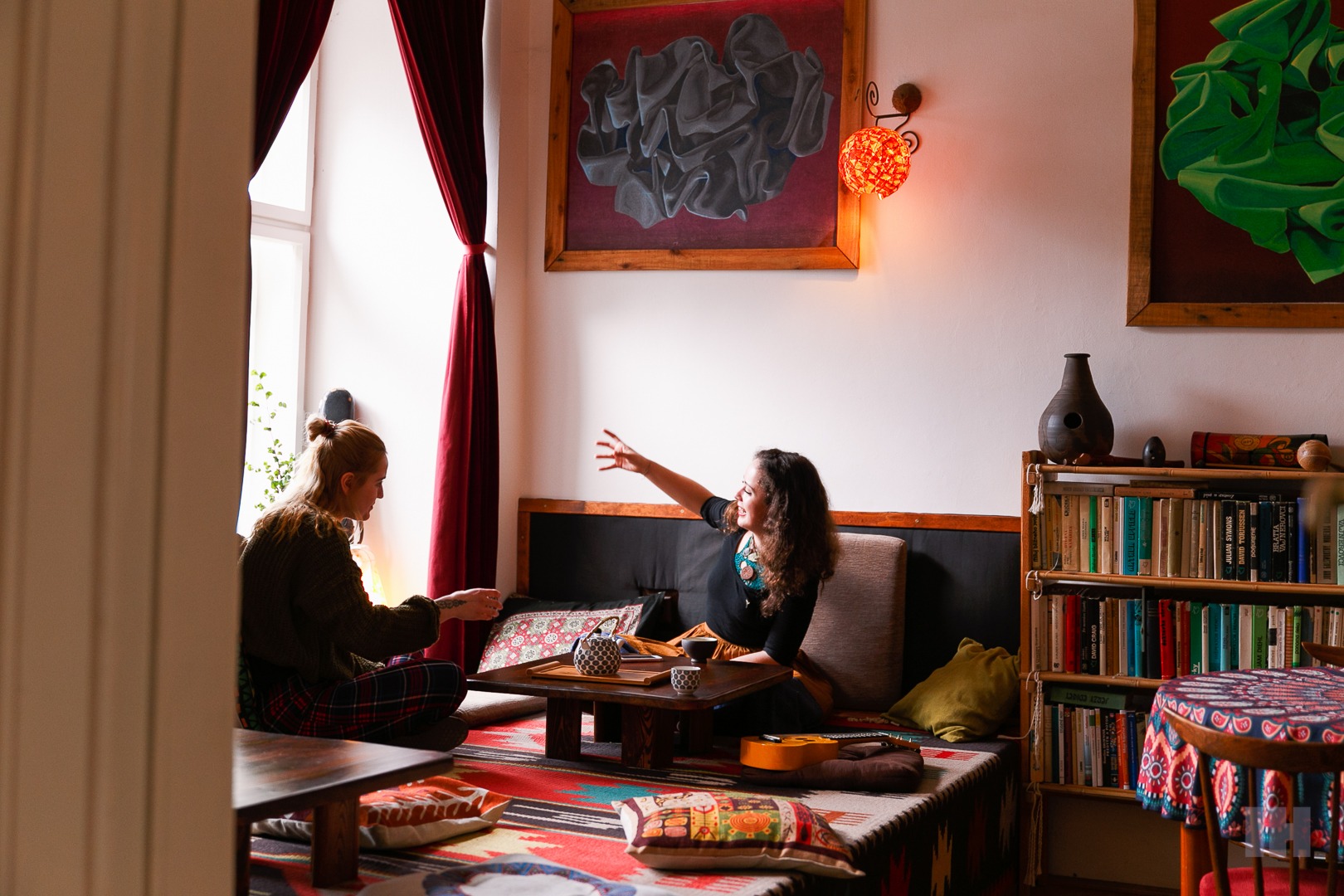 The first art therapy centre in Slovakia
The local pioneer Linda spent her childhood in Dutch schools, where pupils are used to being in one class with disabled children as they are not sent into specialized schools. After graduating from the Faculty of Arts, she attended the Escalator mentoring program organized by Creative Industry Košice. This helped her clarify her vision before opening the first art therapy centre in Slovakia, CHAT. Linda and her activities help children with autism and other disabilities through the method of sensory-based therapy, a methodology developed by Linda herself. In practice, this means that children play and work with edible material, such as sunflower and corn, which gradually stimulates their senses, connects their nerve paths, improves gross and fine motor skills, and helps the children open up and start communicating. Activities at Linda's art therapy centre include Baby CHAT with sensory games for kids from the age of nine months to three years, or Kids CHAT with special art education, where children are led to empathy, diversity and self-love thanks to a child that's been integrated into the group.
Linda's approach inherently contributes to the success of these courses: "I work with children intuitively. Even if you read an infinite amount of information about handicapped children, each one is unique and has his/her own way of reacting. However, sensitive and gentle treatment applies to all of them. Sometimes it can take several weeks to build up the trust between me and a particular child. In my work, I follow the needs of children as well as their parents – at CHAT, we create a platform where we want to demonstrate our support for the parents who have children with disabilities." In addition to children's workshops, Linda also trains teachers at elementary and specialized schools. Since 2019, she has been cooperating with the dance-movement therapist Zuzana Romanová, with whom she shares the workspace. Together they aim to enhance the artistic support of the mental health of children and adults in Košice.
Check out the video about Linda's CHAT here!
Macrame refuge
Miroslava Hrušková is a well-known name when it comes to decorations – she has decorated a large number of weddings, parties, balls, and similar events over the past twelve years. She even made decorations for her own wedding. Since last year, she resides in a beautiful space called Designed by Flowers Studio right next to the Jewish synagogue on Zvonárska Street. Here, under the original Moorish ceiling, she creates fantastic handmade objects and leads workshops.
Miroslava recognizes the importance of the social aspect of creative workshops – today, she teaches people how to make creative products from macrame, flowers or live moss: "Working on handmade products is a form of mental hygiene. I know that we are living in a hectic time, and I really have to rush to do all the things I want to as a mother of two children. But finding two hours a week for myself is not impossible. My customers come to me only to find out that they can create these beautiful objects themselves and teach the same technique to someone else or use it at home. It is also a way of creating original gifts that they can later give to their loved ones. All of us can benefit from escaping from the online to the offline world, meeting new people and having fun during some interesting activity for a few hours."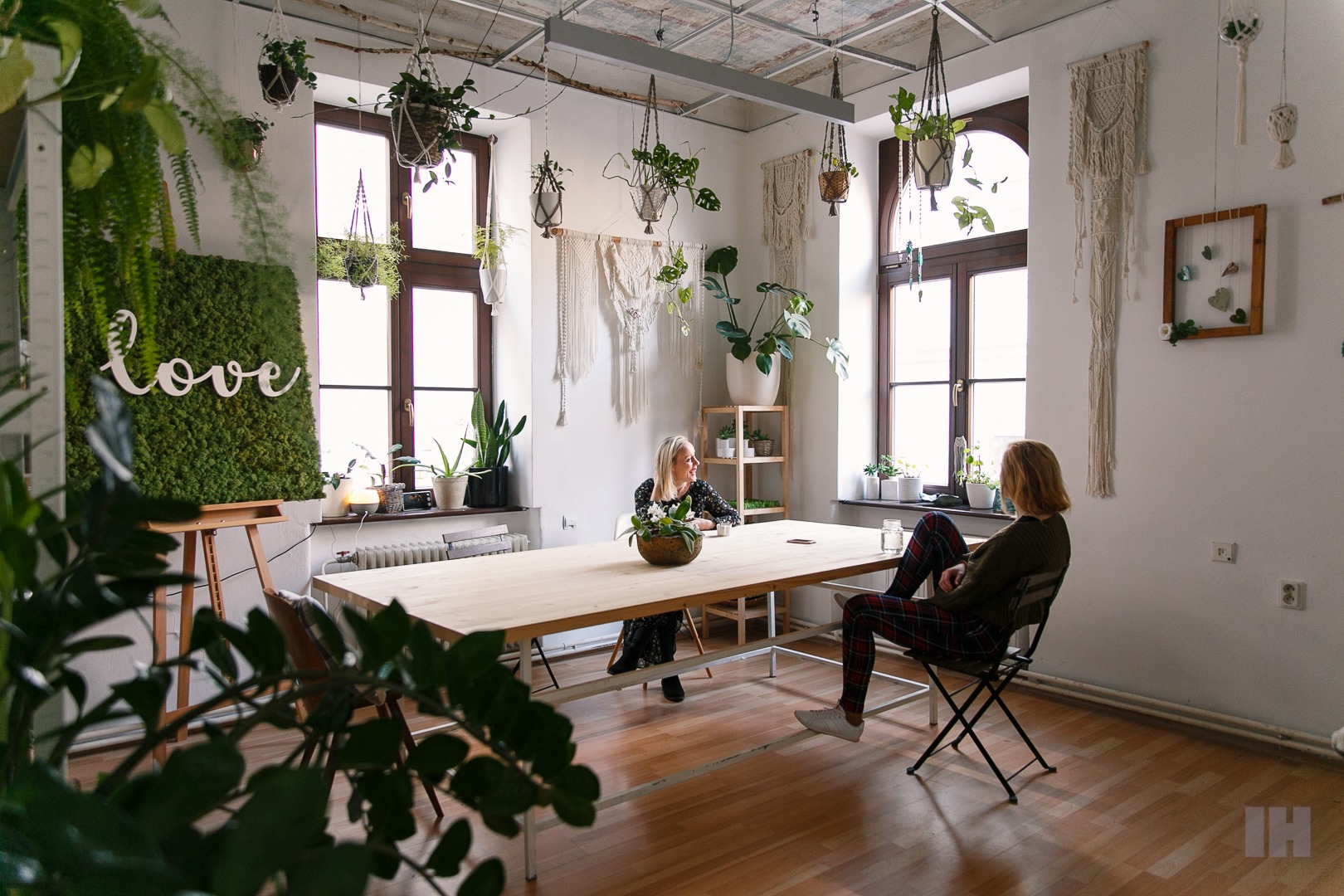 Confectionery for your body
She studied laboratory methods and for a short time, she worked at the Department of Immunology in Košice but working in a lab was not creative enough for her. A few years back, Monika Bullová decided to experiment with the production of handmade lip balms from beeswax – today she also sells handmade soaps, face creams, masks or gels. For all fans of natural cosmetics, she organizes discussions and productive workshops called BylinKE once a month at SPOTs in one of the Košice's neighbourhoods (the next one is on March 5). During the course, participants learn how to mix their own cosmetic formulas using only natural ingredients such as shea butter, coconut or almond oil and essential plant extracts.
Monika is currently working on the launch of her own e-shop: "My plan is to certify all my products and sell them on the website and in bio-shops. Mixing fragrances brings me great joy – especially if there is so much interest in natural products like I see here, in Košice. Trials and failures have always been part of my experiments, but I had never felt as creative in the lab as I feel during my workshops where I can directly interact with people. Each month, I also invite a guest and together we discuss the health effects of cosmetics on the human body."
Follow Monika's Instagram – Fressia. Body Confectionery
Free thinking emerges from creativity
Jana Poláková has been working in the field of fashion design in Košice for several years now. Apart from working on her own collections, she devotes her time to developing creative potential in youth. In cooperation with the Košice Cultural Centers, Jana runs Fashion Kidlab on a weekly basis. It's a workshop for children from the age of five where they can practice various textile and art techniques. The year-long course has a central theme that the participants use in their works and present at the final fashion show at Kasárne/Kulturpark. The main success of Kidlab is the presentation of the final works during a professional fashion show at the Košice Fashion Week where the children experience how the business works.
Through fashion, Jana wants to raise a creative interest in children: "I try to show children that we can create a vast majority of things by ourselves. When creating fashion pieces, they look at the world with different eyes and take inspiration from what surrounds them. I observe how they become liberated in their minds, become responsible for their works, they are able to defend them and they are not scared to experiment. These children discover new things inside themselves that can help them develop. In the beginning, they don't even have to know how to draw – they just need to want to work on themselves and enjoy it. The rest will come during the workshops."
Košice Fashion Week 2019, Lívia Kasakovská Jenčušová
Feel your body from within
The civic association Space of Contemporary Dance (PST) at Tabačka presents the concept of contemporary dance to everyone who wants to explore dance and discover the abilities of his/her body. Katarína Rampáčková and Michaela Sabolová, among other things, organize the Move Fest festival in May, during which the audience can witness a series of untraditional performances. Contemporary dance is indeed about both art and dance, whereby the dance develops through the research, which is further shaped by the choreographer.
Michaela from PST explains that their association and workshops dealing with an innovative form of movement emphasize the experience felt during a performance, which can reflect a certain societal process or an internal conflict: "The audience often misunderstands the contemporary dance performances. However, we try to explain to them that in some cases this type of performance does not have to be necessarily understood. We point to the actual experience and the similarities we find in it, the realization of something that is familiar to us, something concrete which we take home from such a performance. PST focuses on the somatic approach in dance, the perception of a body from within. Through dance, we try to show how we can get to know our own body, which we perceive as a pulsating organism which interacts with our mind. Body movement also motivates us to observe our surroundings and society. We also invite foreign lecturers to our workshops because they can bring unique approaches to Košice which are trendy in the field of contemporary dance at the moment."
Body Recognition, Diana Dobrescu
Body Recognition, Diana Dobrescu

Diana Dobrescu
Ready to discover something new? Experience the feel of 2000 coins wrapped up onto the walls of a special vault chamber. Book your Golden Treasure room with The Invisible Hotel.