How to work from home by an art therapist, actors or fashion designer
It is said that if you do not learn at least one new skill during the coronavirus period at home, you have lost your opportunity for personal growth. How do artists from the biggest city of eastern Slovakia feel about this two-month phase associated with the pandemic? In the third edition of the series Tips by people from Košice, you'll find the responses of actors of the NA PERÓNE theatre, an art therapist, a renowned fashion designer and a ceramist.
Ida Sandor / fashion designer
I look at the slowdown during this period positively. I think it's great how people from our country stick together and approach the emergency situation with responsibility and follow the restrictive rules. The best we can do is to keep calm and trust the experts, who claim that each crisis eventually brought about some improvement.
As for my work, I only got to rest for a few days – me and my team started sewing facemasks and I personally worked behind the sewing machine until I was exhausted. We even used fabrics that I had ready for my next collection and sew ergonomic facemasks made of quality fabric and many of them were distributed for free. Among other things, I try to develop new skills and knowledge, mainly in languages ​​and marketing since we will launch an e-shop for my brand in the future.
Linda van Dalen / art therapist
We closed the CHAT art therapy center even before the order was announced since we didn't want to take any chances. Suddenly, my calendar was empty for the upcoming days and I didn't know how long this would last. At first, I started working on tasks that I had been postponing for a long time, and I realized that I could finally do the things I really wanted to do such as reading, exercising, taking care of myself, eating regularly and cooking. I understood that I no longer wanted to live at the hectic pace of a stressful lifestyle I had until then.
Since my work revolves around meeting people and kids in person, I can't do therapies online. Nevertheless, I focus on activities related to the functioning of the center now, such as accounting, vision and mission. It is also important to become less attached to our work so that we can look at it realistically from a distance. The current situation creates ideal conditions for growth and important decisions. I think that every end is the beginning of something new and we can grow thanks to such challenges. We should do our best and take care of ourselves with love.
Jana Wernerová / actress
As everything around us began to slow down, I started to feel the same happiness and joy as when I was little. For example, I was moved by the blossoming cherry tree in front of our house and I couldn't take my eyes off it. Now, I feel that everything is going back to "normal". We didn't go anywhere for a few weeks and when we had to leave the house recently, there were a lot of people and cars everywhere. That's the reason for my mixed feelings about what's coming next.
With a few exceptions, my boyfriend and I try to get up and go to bed at the same time – we don't want to mess up our biorhythm. Every day we set clear goals for the day and we try to be as productive as possible. As actors in an independent theatre, we focus on the script of the new performance and spend a lot of time talking about the vision and new theatre space. We are also teachers at the conservatory and we teach online, so we keep in touch with our students. As life partners, we spend a lot of nice time in our garden, we plant, dig in the clay, and although we found it difficult to admit at first, we are not afraid to rest. While this may sound like a cliché, I believe that diving into ourselves can help in this situation. It may not always be pleasant, but one can come up with something interesting about oneself while doing it.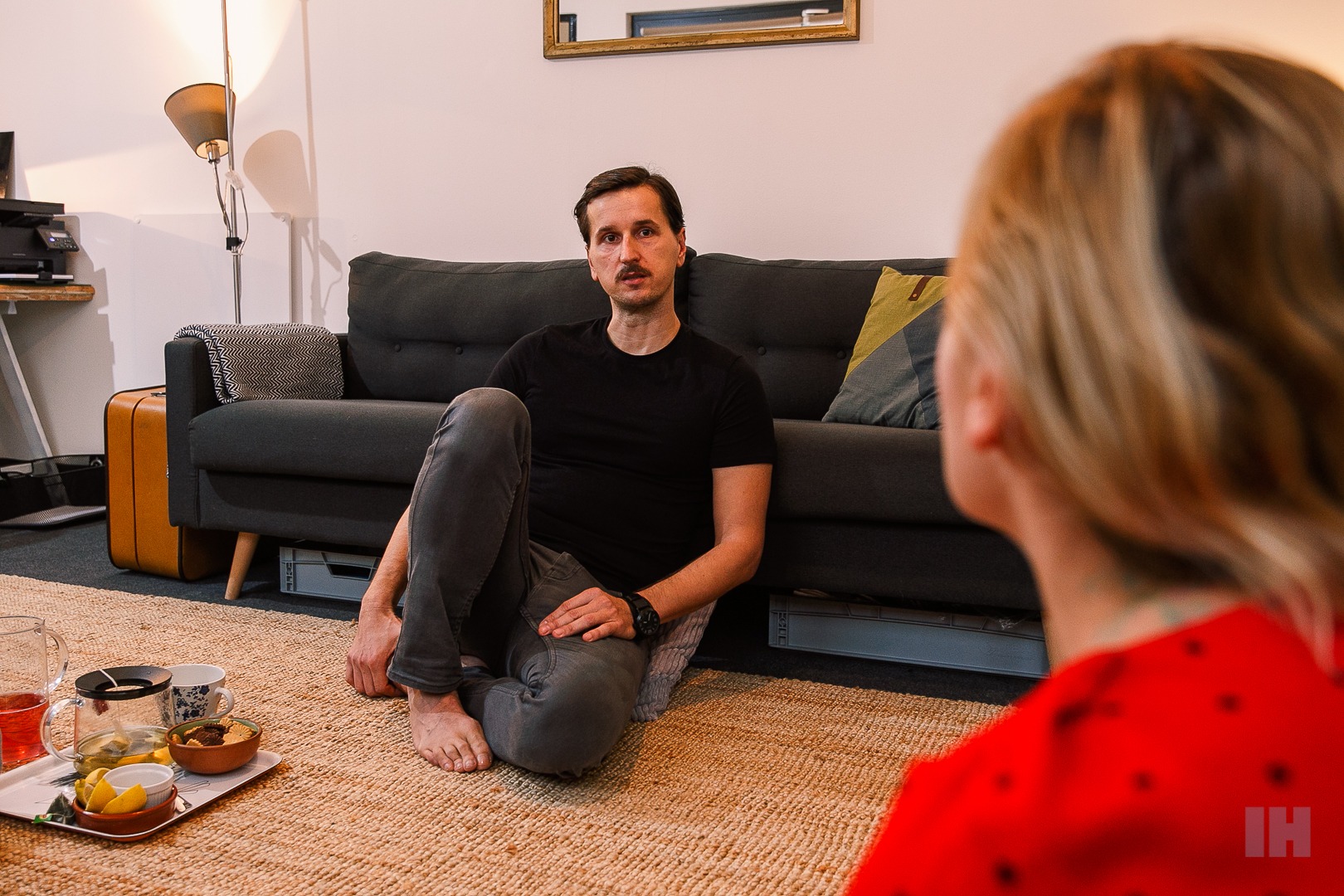 Peter Kočiš / actor
The total slowdown thanks to the coronavirus pandemic has made me enjoy the opportunity and space to return to the things I liked to do but thought I would never return to. I try to look and observe things around me more – which used to happen rarely before. I try to perceive and engage all the senses and look at things differently. In addition, I was lucky to stay home with my girlfriend, who is also a part of my artistic life, so we can continue to create our performances and I believe that when all of this is over, we will be able to invite our fans to our new show. In my opinion, one of the effective tools to overcome this period is laughter and humour and not taking everything too seriously.
Ester Šefčíková / ceramic workshops
As I could not continue with my work due to the pandemic, I temporarily left for nearby Hungary, where I am staying with my father, an academic painter, in the middle of Slanské Hills. I grew up in this environment and my ceramics studio still remains in its original version – I create art or utility ceramics every day and study the history of art as well. I am also preparing for the new school year so that I can offer more to children in kindergartens and schools where I teach.
I feel that the coronavirus and the related measures have made the devotion for activities people had felt before even stronger. For me personally, it is a matter of getting to know myself introspectively. I also believe that the ancient cure for everything is the surrounding nature which helps us to survive even during difficult times. In addition to ceramics, I make a living by selling extracts from medicinal plants, so I highly recommend collecting herbs that are currently growing and which treat viruses as well, such as the pulmonaria or nettle.