Want to become a legendary tourist guide? Meet Milan Kolcun on the top of Košice Town Hall
The master of spoken & written word. The fan of history in Košice, searcher for interesting personalities, host, producer, author and the most famous tourist guide in the city. Working in this field for 27 years has brought him knowledge about the people and Košice itself like nobody else has. Learn more about his talk show Bez šepkára, new GlosatorsKE, commented tours along the streets with fruitful stories embedded within them and his way to success:
---
3-minute radio tours
Milan Kolcun studied Slovak, Russian, English and Spanish language at the Faculty of Arts, Prešov, Slovakia. Even though his future lead to the profession of a teacher for a while, he also worked as a newsreader at Czechoslovak broadcast. The milestone of his career came with winning the contest at the first private Top radio, founded in 1993. Despite not having studied mass media programme, to get into the field of radio and culture required a true zeal for such job: "Radio hosts as we were felt like miniature superstars back in the '90s, people could sometimes recognize us only thanks to our voices. It was there at Top radio where I came across the idea to have a radio programme about Košice of 3-minutes length. They later came out to be quite popular and somebody had an idea to transform them into books. Until this day, a total number of eight Potulky mestom Košice (Tours in the city of Košice) have been published."
400 people per weekend
Since there were fewer tourists in Košice in the past, the famous tourist guide found a new focus group to orientate his product at – he and Laco Korán from MiC (Information city centre) founded the most well-known 1-hour event which gained immense popularity across 16 years since its first opening. Attending visitors are mostly Košice residents but those from other cities are more than welcome as well. These walking tours started in 2003 and gradually reached 400 visitors per weekend, now divided into 15 turns for each group. The price for a well-educated professional on the topic of Košice history complemented by funky commentaries equal 2,49€ (free for those under the age of 18): "We wanted whole families at our tours. Even though the number of people has been rising over the years, we never refused to take more people on a tour. We have not been aided through grants nor any other form of advertisement besides posters and local newspapers. Two-thirds of our regulars are the same supporters of ours, the topics frequently change and are not repeated a lot." Tour guides from Prešov have also come to check out this new way of delivering the city's treasures. Today, 8 Slovak cities offer similar tours to the ones of Milan Kolcun such as Objavovanie Prešova (Discovering Prešov) or Tours in Bardejov.

Easy touring
So why has this form of tourist experience changed into a local brand? What's so different about them exactly? 16 years have come and gone since his very first tour and Milan Kolcun is now the one who knows infinite ways ho to please his audience. The key, according to him, is not to stay too academical or to say too much of what one is not able to remember. Visitors cannot comprehend such load of unnecessary stuff: "Professionals seem to have a feeling that when they do not describe something to all its details, they fail. It's not like that, however, people become bored and their attention goes someplace else. I give them one interesting fact after another. Our walk is not about remembering all the things I say about the city, it is about the experience. Something like this old Town Hall we are now standing on – we won't forget we were here together and maybe even the age of the building – 105 years. The information I select is based on loose expert's point of tourism, to make my visitors enjoy it and focus on what is worth remembering."

Half-prepared talk show in Košice
While presenting various artistic objects within the city, a completely new idea popped into the head of the famous tourist guide – why not to show those whose stories are worth spreading to the wider public? Milan Kolcun says that it is a completely different kind of story about, for example, one of the most Slovak recognized sculptors Ján Mathé when being told by his wife Eva. In this way, Milan has been able to invite several dozens of important personalities to his talk show Bez šepkára in the State Theatre of Košice: "I enjoy introducing people in my show and, at the same time, I practise dialogue featuring traits of humour. I invite people from Prague, Bratislava and also Košice. When it comes to preparing for the show, I like things to be ready only half the way. The topics that make my guests the happiest are those that I note down and ask later. These are the moments when they become the kings and queens of the stage, it's their moment to shine. The crucial part is to choose some celebrity and to offer 4 additional people for the audience. Now, our tickets get sold out within a few days from releasing them."
Read also: World-class artist – the life of a sculpture legend Ján Mathé from Košice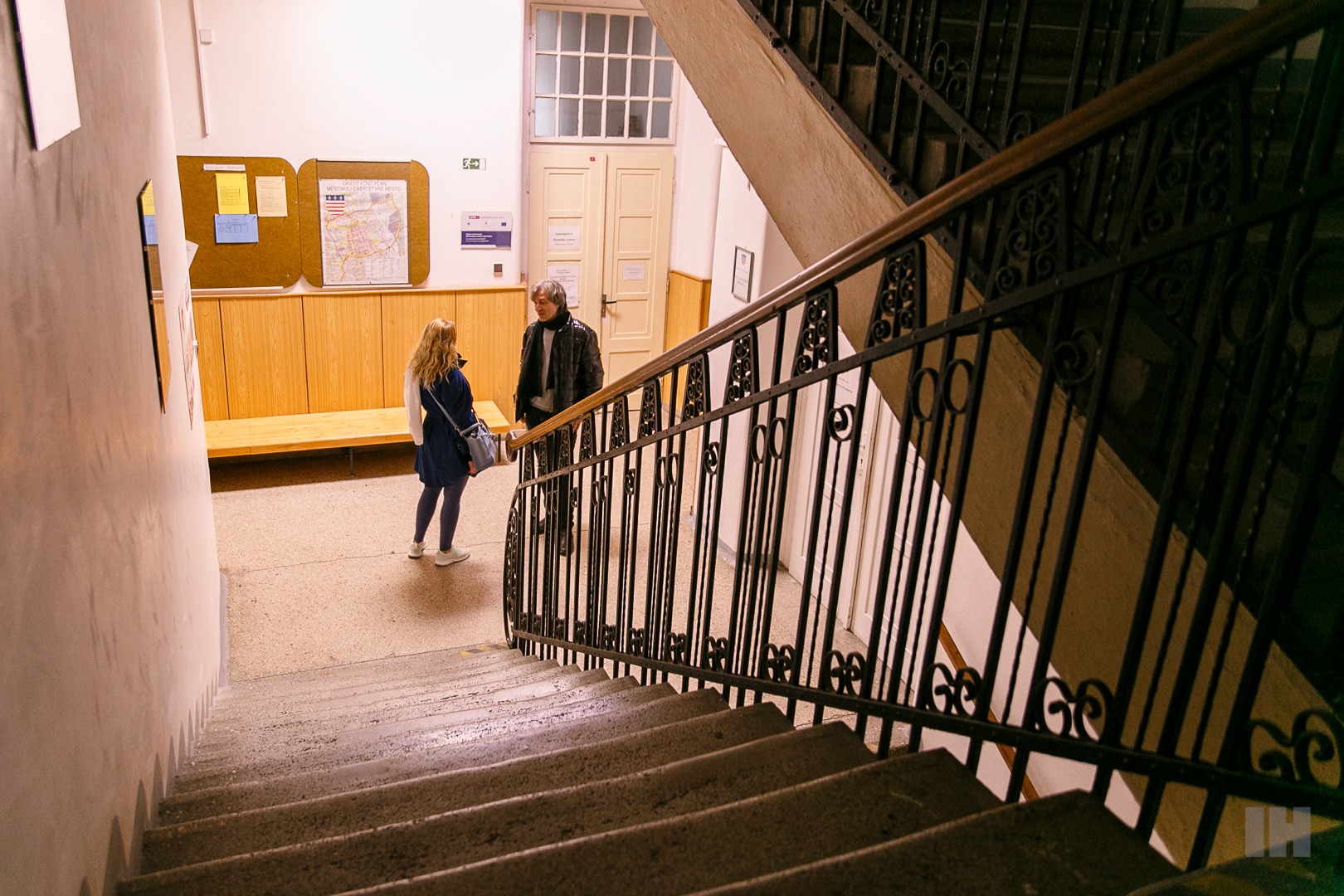 New format – GlosatorsKE
As if not enough, after all the books, novels, talk show, radio shows and walking tours, Milan Kolcun has established a new entertainment evening programme taking place at local Kino Úsmev. Glossators from Košice discuss topics about the city with categories such as Where is it, what is it?, Where was it, what was it? or also fictional Where would it be, what would it be?. The versatile host/producer/tourist guide also includes some mystifying content into the show where each guest guesses which topic was only made-up. The format of GlosatorsKE reminds of the famous talk shows played on TV channels worldwide. According to Milan, the show is for "everyone who wants to have a good laugh and enjoy what smart people have to say about current happenings in their city."
The newest GlosatorsKE is coming up next week in Kino Úsmev on the 11th of December!
Waking tours in Košice are available in Slovak, English, Russian and Spanish language every first weekend of the month. If you'd like to check out the upcoming talk show Bez šepkára, the tickets for its March edition are still on sale. Don't wait up though, the next week's GlosatorsKE is definitely worth your visit.
Want to discover Košice with a real expert? Milan Kolcun can talk about glass windows in the greatest cathedral of Slovakia for one whole hour. Book your room with The Invisible Hotel (for example The Black & White Room) and we'll arrange your tour for you. Let us know!