Where to go for dinner this fall? Don't miss on these 5 restaurants in Košice
Košice is known for its high concentration of bars and restaurants in the city centre and on its outskirts. This is a selection of five restaurants that offer an unusual menu, have become popular stops for locals and tourists, and present a professional level not only in their menu but also the service and home-made products. Stop for dinner at Contro, Villa Regia, Nico Caffé, Yama and Ohnisko.
Contro / Hlavná 45
The name of this restaurant comes from the Italian word contra, which in translation means the opposite. In this spirit, the Contro is run by its owner Matúš Ščerba, who wished to open the place with a family and cosy environment, where traditional Slovak and Italian dishes are served in a slightly different, opposite way. For example, there is a classic sirloin steak on the cream on their menu but from beef sirloin with Tyrolean dumplings. However, the most popular menu items are fish specialities, from steaks and tuna tartare to calamari and mussels. These come in three variations – tomato sauce, cream and white wine. The Contra regularly hosts themed events such as Prosecco nights, and various food and wine tastings, such as in the past the Italian fish San Pietro.
When asked why Contro has become a popular place for dinner in Košice, Matúš emphasizes the effect of the right emotion in the first place, which remains in the customer long after the visit. "There is no secret behind it, we are simply doing it because we love it. People remember how they felt in our place and they want to come back. We try to prepare as many ingredients as possible ourselves – we bake our own rosemary bread and tortellini di zucca. This typical Italian dish is filled with pumpkin, parmesan and amaretti biscuits. However, we still want to do things a little differently, so we make them salted with sage and butter or in sweet variation as a dessert. On our menu you will also find veal stuffed cabbage leaves with arborio rice, baked with tomato pulp. We want to serve good food in a family business, and that really is a great feeling."
Villa Regia / Dominikánske námestie 3
This year, Villa Regia is celebrating its 18th anniversary on the market, of which the restaurant's kitchen has been led by an experienced chef during the last two years. According to co-owner Erika Garajová, their regular clients are business travellers, foreign guests and Košice locals. Villa Regia specializes in seasonal menus, which include local ingredients from the given season as much as possible. The current autumn menu, therefore, includes duck feasts, first sour wine, also known as Federweisser, pumpkin and its various uses. During the winter, meals are often prepared from beetroot. Spring is typical for the asparagus season, strawberry dishes, rhubarb or lamb meat (if ordered in advance).
One of the popular dishes of Villa Regia customers is the foie gras appetizer – duck liver topped with red wine with cinnamon and star anise. "We offer our foie gras with goat cheese croquette. This appetizer used to be just a seasonal speciality on our menu, but it had such strong success that we started preparing it even out of season. Among other things, as part of seasonal offers, we bake our own potato bread and prepare home-made compotes, sterilized vegetables as a side dish to ribs and knees, jams, dips and the like. For 18 years, our sour mushroom soup mačanka has also been a popular dish, and it is also available all year round – foreign tourists who are overwhelmed by its taste."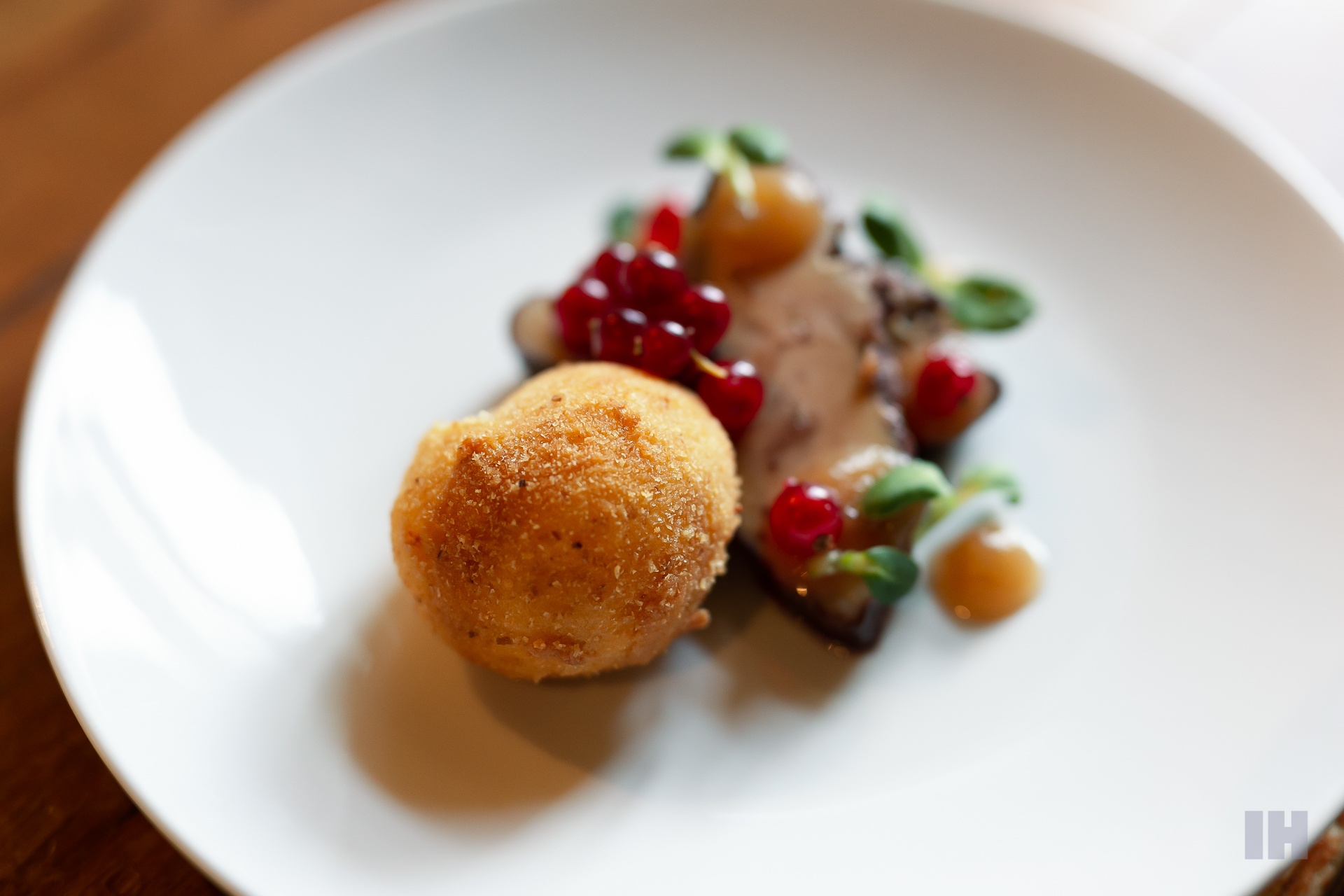 Nico Caffé / Kuzmányho 1
Many residents from Košice got used to visiting the corner opposite the Old Town Hall. Today, the bistro Nico Caffé has been here for more than a year, established as a franchise of the bistro in nearby Prešov. Nico Caffé's cuisine focuses on the Pan-Asian menu, including Vietnamese and Thai soups, Thai curry with homemade naan, fried rice, roasted pork fatback in a salt crust with rice noodles and Indian butter chicken. Among other things, toasts made from home-made leaven bread, brioches and pancakes are served here for breakfast.
Barista and co-founder Viktor Štefančík points out the fact that at Nico Caffé they are first and foremost trying to make everything on their own – their nomadic beer Kuzmánka is just one example or Kavejo coffee roasted in Liberec from two 100% Arabík. Moreover, they also serve their own pastries. "We want to be as self-sufficient as possible, so we plan to open the Kromka bakery soon. We didn't know what would happen in Košice, but many of our customers have known us in Prešov for several years, so we risked it. We have been here for more than a year now and I must say we are doing quite well. I like this corner of Kuzmányho Street, right next to the busy crossroad. It's noisy here, but it's nice to sit and feel the urban atmosphere, which works great with the type of our bistro."
Yama – Culinary Plac / Námestie L. Novomeského 7
The long-known space of the original discos has had its new design since November 2019 under the name Yama – Culinary Plac. This business is managed here by two married couples, one of them is Alexandra and Ján Hollí, who wanted to provide the city with an extraordinary restaurant/bar with music events, an interesting program and quality gastronomy. After six months of renovation, Yama opened anew, but due to the coronavirus situation, they had to focus mainly on delivering street food and mixed drinks in plastic bags with hashtag #limopredospelych (drink for adults). Yama regularly hosts Thursday quizzes, musical concerts by popular Slovak and foreign artists, as well as dinners and cooking schools.
"People see us as a company that provides full service – quality food served in an unconventional way, professionally mixed drinks, a rich cultural program. At the moment, we are very happy that Šuhajíci pri panvici – Janík Lenhardt and Fero Sedlák are staying to work in our kitchen. They are associated with excellent gastronomy and modern design. They use exclusively domestic ingredients, thus supporting local growers and breeders. Just these days, we have introduced a new menu, in which guests will also find a traditional sour mushroom soup mačanka or Slovak doughnuts – we've only had positive feedback on these so far. For us, Yama is a family business that has always been my husband's dream, so we dedicate all our time, energy and effort for its continuous improvement and progress. With this approach, I believe we will keep the regular customer who will appreciate the level that we try to offer in Yama in all possible means," says Alexandra.
Ohnisko – Fire Dining & Brew Bar / Gorkého 9
The author of the project of one of the freshest Košice restaurants is Michael Thiry in cooperation with the bar management by Ondrej Ujheli and Róbert Vasiliak. During the Ohnisko's two-month operation on the premises of the former restaurant of the Hotel Rokoko, they managed to find a large group of supporters and fans thanks to their menu and a wide selection of natural wines and craft beers. At Ohnisko, most dishes are inspired by Nordic cooking methods and Asian flavours, straight from the Josper charcoal grill. Therefore, they do not divide dishes into appetizers, main dishes and soups, but they recommend ordering different dishes and sharing them with each other. It is a new eating concept that focuses on quality dinners, homemade low-alcohol fermented lemonades and predominantly Asian style service.
"In the future, we plan to change our menu also according to the seasonal ingredients that we can buy from local suppliers. We have already prepared a large supply of fermented ingredients for the winter, which regulate the intestinal flora and are much more saturated with nutrients. Among other things, we try to get as close as possible to waste production, we have our own beer produced in cooperation with Pivný Rauš, beef steaks are matured in our special room and we also offer a wide range of gin in combination with seaweed, black cherry tomatoes or seawater. One of the popular dishes that has resonated with the label Ohnisko in Košice is aspic or jelly pho – phospenina. Of the less traditional things on our menu are French oysters and eel. We believed that this city was ready for a restaurant which focused on evening service, so we combined a quality bar with a wide range of craft alcohol and fire cuisine," says Róbert Vasiliak.
Stop for dinner in Košice. The design rooms of The Invisible Hotel, located a few minutes from any of the mentioned restaurants, will provide a non-traditional accommodation in the city center.