Although we meet them regularly on the street, we do not know their story. These are the characters without whom Košice would not be Košice
Although some would like it that way, fortunately, we are not all the same. Those who are different enough become unforgettable. That's why each city has its own characters. They don't need any marketing; they can do without PR, yet they find themselves in the spotlight. At least on the street. By their appearance or action, they break down the peaceful (small-town) bourgeoisie. Half of the local population knows who they are.
Veď kto chodieva po košickej Hlavnej ulici, pozná našu Milku, ktorá od vás popýta peniaze a v prípade, že jej nevyhoviete, vytiahne na vás rómsku kartu ("Ale Cigánom by ste dali, hej?"), prípadne vám môže aj vynadať. Pri konverzácii poskytuje anglickú i maďarskú mutáciu. Tú istú Milku ešte v ten istý večer zazriete pri nejakom DJ-ovi alebo v kaviarni s cigaretkou.
After all, who walks through Košice's Main Street, certainly knows Milka, who asks for money from you and, if you do not comply, she draws a Roma card on you ("But would you give it to the Gypsies, huh?"), or swear at you. She speaks both English and Hungarian. You can meet the same Milka in one evening at a party with DJ or in a café having a cigarette.
I was always pleased to see on the street a man who, when he was cheerful, greeted everyone around him. With his hands, verbally, smiling, gesturing… he didn't miss anyone.
A certain character is also a gentleman from Prešov with one crutch, who talks to passers-by. Small talk topics are very variable and highly unique, but it must be acknowledged that he is informed. For example, he knows that I host my talk show, Without a Whisperer, in the theater. He once asked a couple this question: "Do you know what is on in the theater today? The show with the bike or something else?"
It was always like that
In the 1980s and 1990s, the salesman of the evening paper was a guy who had a steady place in front of a Prior and shouted, "Kshii Ecer!". He once surprised the local inhabitants when he ran a half marathon or marathon. I don't know which one anymore, that's how amazed I was. People lovingly called him Fantomas. The locals also gave a nickname to the shabby Lambada. Because that's the way, he walked. And Mrs. Winter was referred to like that because she wore the same clothes all the time, ignoring the changing seasons. She was a very cultured lady, anyone who did not talk to her should regret it.
Back in the 1980s, you could meet Tonko on the street or in trams, announcing the exact time. On request, but especially without request.
The café life in the 1970s would not be complete without the character of Apík from Košice, which was a kind nickname for Mr. Karol Pohanka, who was extremely peculiar. He frequented his regular table in cafes like Carpano and Imperial. He used to foretell for a liquid reward and also claimed that he was a scribe. He gave himself the stage name Džemáro. He did some funny things, for example with a white cane and sunglasses, he entered the ladies' toilet. He allegedly cursed at the police only in the winter, only to be imprisoned to save money on heating at home (he used to live on Šrobárova Street).
Since I can't remember the 50's, I will help myself with a quote from Erika Füle's book Butterflies in a Hat. "Just walk down the promenade, and you will meet at least two or three of them. Lady with a parrot in a cage will tell you your fortune for a few coins. The crooked, ragged old guy claims to be the illegitimate son of the last Austrian emperor. The drooling fatty regularly sits in the park in front of the theater and scorns at everyone – and you, you're a spy, too!"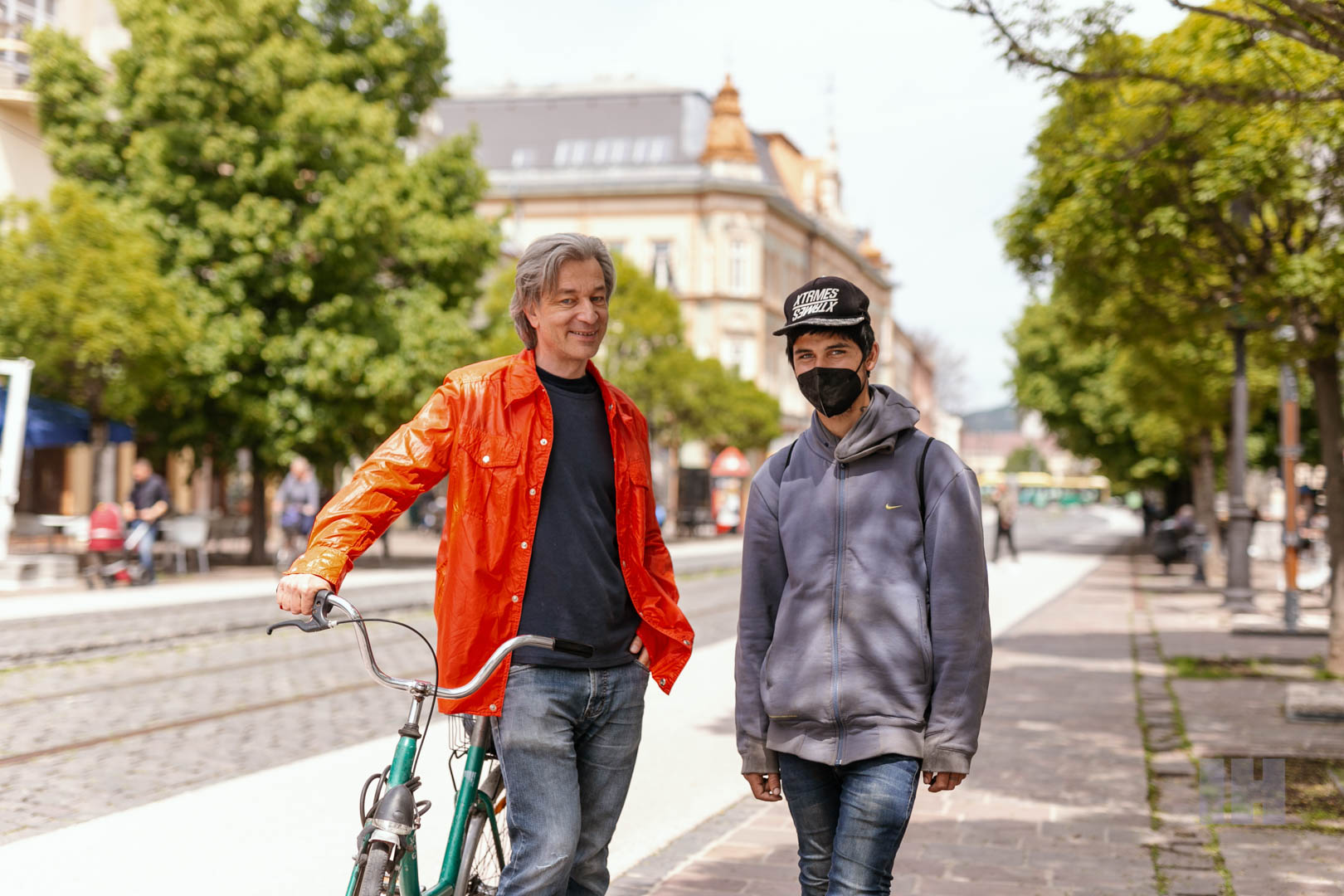 Inventory
If you walked down the street and they were not in their usual places, or if they did walk by you, then something would be off. Maybe just subconsciously, you would feel the streets would be less colorful. If that happened again, sooner-later, someone would ask, "I haven't seen X. Y. in a long time. Don't you know what happened with him?"
After all, what kind of Main Street would it be if the guide Mrs. Marta was not sitting in front of the tower of the largest Gothic cathedral in Slovakia, political commentator Peter Schutz did not walk along the sidewalk near its walls, or what would be the market in Dominican Square if the bearded and benevolent Bulgarian Stefan Pejcev was not selling his goods on it?
In the spot where Main Street crosses with Mlynská Street, there is a stand with handmade straps and other things from Arthur from Peru. It is also possible to observe him working directly on the street, so you can make sure that his products do not come from China.
Musicians
When I guide Czech or Slovak tourists around Košice and from a distance, I see Petr Ľalika with a guitar. I wave at him and tell my group: "Now close your eyes and listen to Miro Žbirka!" That's when Peťo starts singing Biely kvet, and he sounds even more like Žbirka than Žbirka himself. He even started in the competition Czechoslovakia has talent, as evidenced by his number proudly glued to the guitar. However, his repertoire is much wider, so he will immediately play the song requested by my tourists. At this point, we are dancing tentatively and contagiously on Main Street. You can find Petr (even in winter!) playing on the corner of Main and Zámočnícká Street, or on the corner of Main and Zvonárská Street.
From Rožňava, a non-stop smiling Mr. Gabriel comes to Košice, who plays an electric guitar with playback, and people ask me who the great musician is. He is sitting in front of the former Baťa shoe store. And I noticed the regularity: if I give him change, many of our group of tourists or even friends with whom I am walking along Main Street will do the same. The grateful look that gives us, in addition to the great music, tends to be from the category of unforgettable.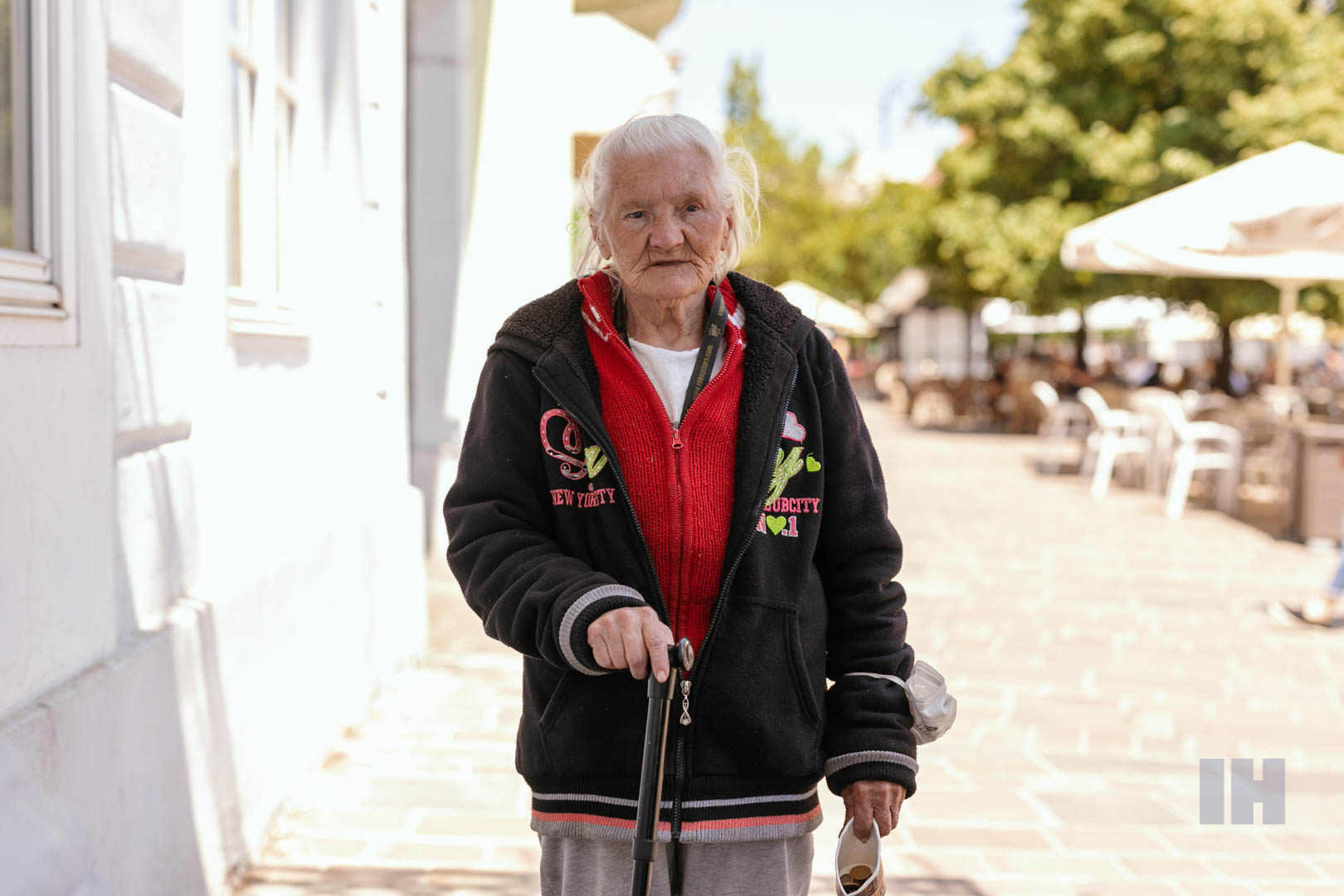 You can already hear someone playing on Mlynská Street. Most cross-country skiers will settle on this connection between the center and the station: Heligonkár from Mukachevo or harpist. However, they usually last only one season. A mini-band used to play in this spot, which consisted of a fascinating clarinetist with a red nose called Píšťalka and accordionist Mr. Ernest with gelled hair. However, Mr. Ernest also plays solo, and when interviewed by the local newspaper, he said, "I play for the joy of the people, the Lord God in heaven, and for myself, to earn some money for food and cigarettes."
In front of the Aida ice cream parlor, two long-haired guitarists play in such a way that even a deaf person would show up. They are identified as singers of the otherwise multi-member group 2VoiSis (formerly KonTakt).
Across the street, on the corner of Poštová and Main Street, the violin performance is even more prominent because of the acoustics in the underpass. It is the only place in the city center where the music does not stop playing, even when it's raining. A solo violinist in glasses plays here.
Roma band consisting of father and sons. It's obvious they learned to play from each other. They play with ease, nicely, uniformly.
And even further, today, in front of the seminar, but actually in a random place, a couple is sitting-standing. The lower, gray and long-haired lady is singing, her partner accompanies her playing on the ridge…
Some time ago, Košice artist, activist, and guide Igor Kupec got the idea to unite these street musicians into an occasional band. Their unique concert took place once in 2013 (where elsewhere) at Tabačka Kulturfabrik.
Beggars
One of Košice's most famous legends pays homage to beggars. Its motif is based on a statue on one of the houses on Main Street. It looks like a guy lifting a hat. It is said to be a beggar who has begged all his life until he had enough money to build a house on Main Street. However, various publishers of this legend modify it in their own way. For example, the statue mocks other rich people with its facial expression because the guy got rich and managed to pay for access to the VIP club in the city. Writer Erik Groch modified this legend even more beautifully – the beggar therefore had so much money because he was generous himself. Every day, he distributed something of the amount he collected to other beggars, who only collected small amounts. For his generosity, even in such a situation, God blessed him with abundance.
Although the Košice legend of the beggar is not true, as it is documented that a rich Košice merchant Béla Strasser built the house, thanks to it, our city has one more interesting story.
Well (not only Košice), beggars are a source of stories even today. If you help them, you may be hearing their real, non-legendary stories, but I'm not saying that some aren't making them up. (I met one who begged while sitting in a wheelchair in front of a science library. After a while, he got up and pushed the wheelchair away.)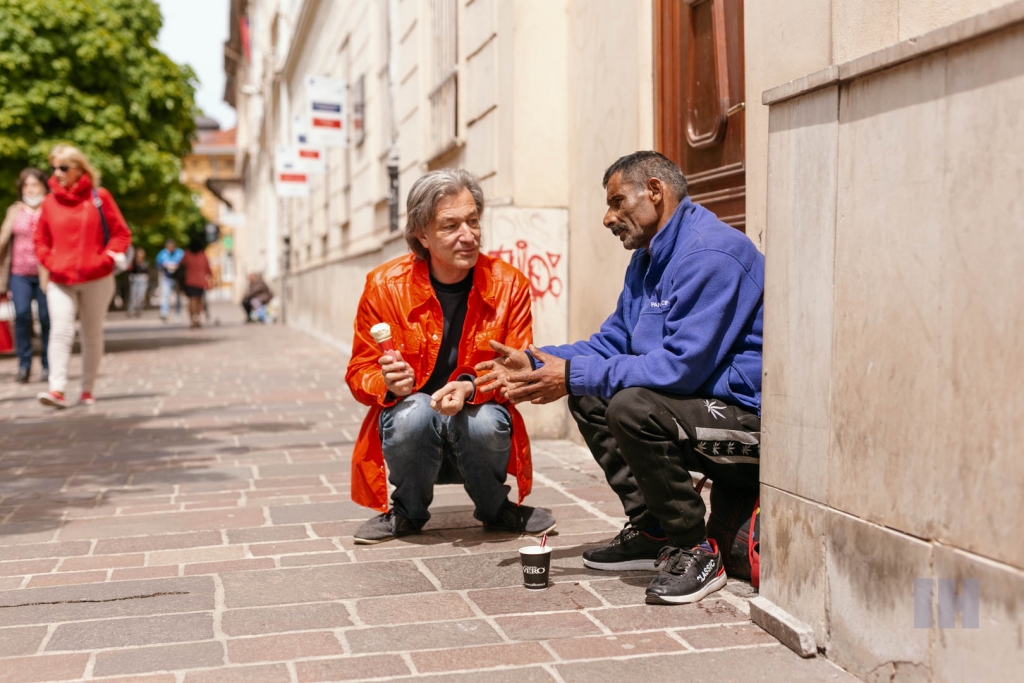 You don't have to support our beggars with change. Sometimes it's good to go shopping with them. You will get an excuse and time to talk to them. They usually know well which goods are on sale.
Back in time, I went to the then TESCO on Main street. A beggar addressed me on the way. I told him I'd buy him whatever he needs; he just needs to tell me what it is. After a while, he tells me: "Bread!" So I started walking away to buy him bread when I heard, "Butter as well!" And after a moment from a greater distance, I hear: "Beer too! Kozel is fine."
Another beggar asked pensioners for change. They didn't give him anything. Instead, they replied anxiously, saying, "We don't have enough for ourselves!" The beggar turned, and you could hear him say, "So, this is what I have to deal with?!"
What will beggars buy with my money – alcohol, cigarettes, or food? I don't care. After all, I also drank and got drunk. I've already smoked some cigarettes. They are as free as we are. Priest Peter Gombita, who knows many such people in Košice, told me in my talk show Without Whisperer: "If your family and children did not care about you, if you did not know where you would sleep at night and whether you'll have enough money to buy food, most of you would start drinking as well…"
If you don't want to contribute or shop for beggars, you can lend them something. That's why I lend a bike to Roma children when I don't need it for a while. (For those who have prejudices: Yes, I still have it.)
Pope Francis, a contemporary practitioner of the faith, encourages us when he says, "Do you give alms? Great! But will you look them in the eye? And will you talk to him too?"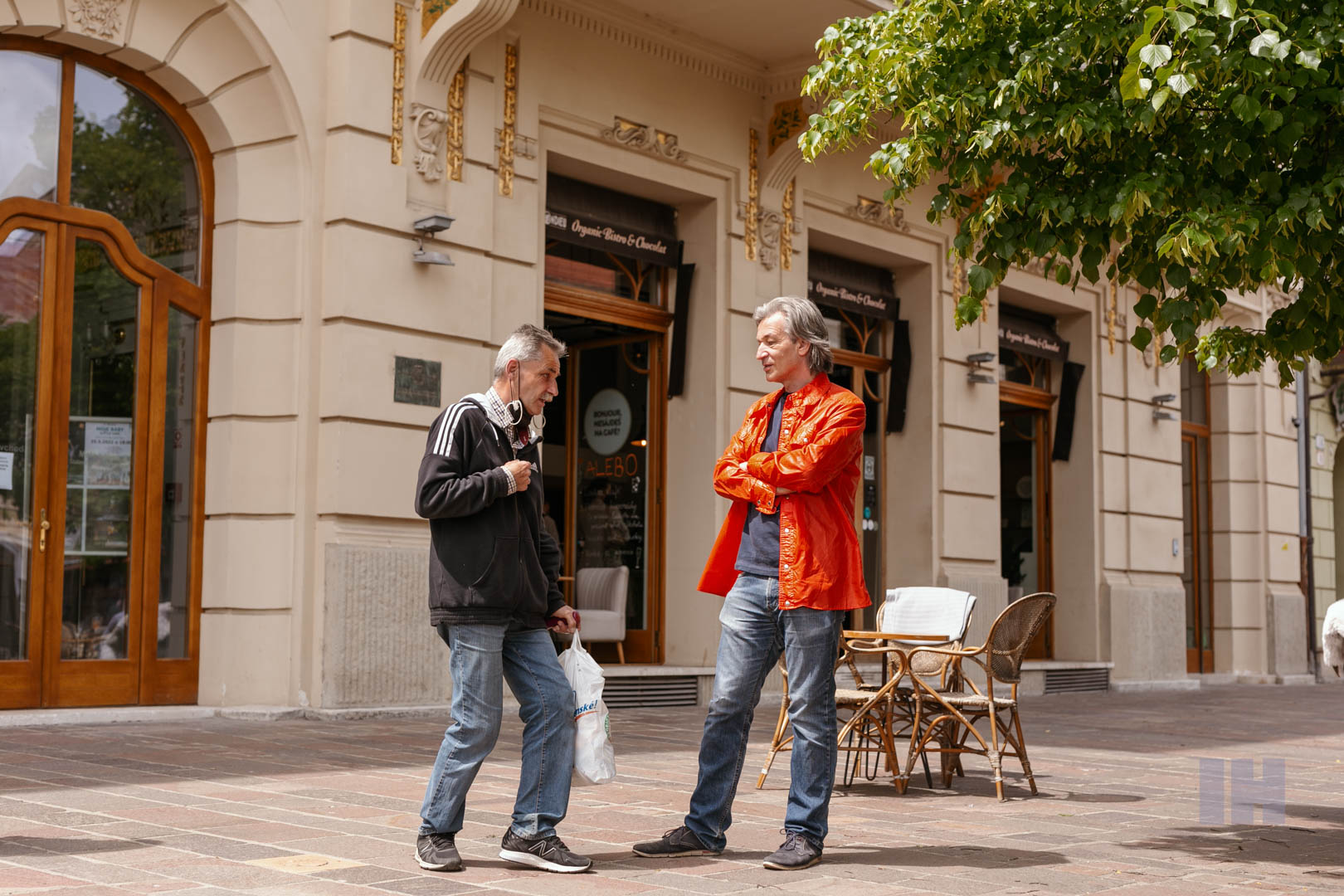 Homeless
In the supermarket, a can of meat is rolled on the ground. The saleswoman is right next to it, and the question of who threw it on the floor is directed at the three homeless people, who are already at the cash register and have a bottle of wine in the basket. "That was not us, ma'am," one of them replies, glancing at the basket. "We are vegetarians…"
I appreciate their sense of humor and wonder if I could think of something funny in such a situation. Being constantly suspected is not much fun. Or, conversely, constantly ignored. I think even more of them when I feel self-pity for myself. Just their home in the park. Few people take them for granted. That they (also) belong there. After all, they must be somewhere. But almost everyone attacks the weak. When teenagers drink in the same park, the same people prefer to avoid them by a radius of the whole park.
Our earthly world is not perfect. It cannot be because each one of us has our own vision of perfection. I don't know if you're interested in mine, but every park bench in it is accessible to everyone. Especially after the year of the ECoC (2013), when there was an increase in benches in Košice's parks, there's really one for all of us.
And when we go around the people with this fate, it is good to get talk to them sometimes. Or even get to know each other. Join them. Although they do not sell NOTA BENE magazine. Any of us can become the way to their eventual return to normal life. At least in their version of the perfect world, people don't stray away from them.
Milan Kolcun je spisovateľ, prekladateľ, dlhoročný sprievodca po Košiciach a spoluautor konceptu Potulky mestom Košice. Moderuje pravidelnú talkshow Bez šepkára na Malej scéne Štátneho divadla.
Milan Kolcun is a writer, translator, a long-term guide through Košice, and co-author of the concept of Wandering through the City of Košice. He hosts the talk show Without Whisperer on the Small Stage of the State Theater.