Infinite ways how to bike in Košice
Two wheels get you farther. It's been a long journey to find those we looked for – old bikes from socialism era, meetings at the Kuzmányho / Škultétyho corner, coffee at the end of Hlavná Street, bicycle shops, sneak holes of the nearby Bankov forest, glaze-painting, dusty carpets spread on clay hills and common suburbia kids. All of that happened in order to portray bicycle communities of Košice. Discover more about the locals who prefer wheel-moving. Moving on feet gets boring.
City cycling / Dutch Bikes / Mišo Bradovka
Right at the end of Vítezov dvor you'll find a wooden table surrounded by Dutch-designed bicycles. Four guys are chilling out here and greet with an instantaneous friendliness. The owner of the Dutch Bikes shop Mišo Bradovka explains how city cycling works in the historical centre of Košice with a slight rock 'n' roll background. He'll show you all the bikes he's got here, you can either buy or rent them. The friendly attitude is one of the reasons why customers come here so often.
An unofficial Dutch Bikes club emerges thanks to these guys hanging out in front of the shop: "City cycling increases every year, I can see that in the number of customers who come here, both local and foreign ones," Mišo says. While riding around the old town, people and kids point at tall bicycles. No wonder the Hlavná Street is the pride of the city. Mišo believes that as well, adding: "The beauty of historical centre obviously enhances cycling experience as such. A Dutch bike a comfort to observe the city, old town and its buildings."
Rent a Dutch bike from Mišo. Join city cyclists admire the historical centre of Košice.
Trail cycling / KE.CY / Zoran Bosák
The morning begins at a Bankov parking lot with Zoran Bosák. Proudly, he explains the formation of KE.CY, the civic association he and other fans of forests trails established together. Their intention was to collectively work on single track construction in the nearby forests of Košice. Zoran's talk shows determination and proves that an intense effort leads to success. High-numbered participation at single camps organized by KE.CY and current trail route status in the city confirm it.
"Košice has the second-largest city forests in Europe. KE.CY obtained permission to work here in Bankov area. We consider it as a display of our idea now, it's here where we wanted to show what single tracks actually are," he says after multiple descending down the sharp curve of the KE.CY single track. "Some people in our team are certified trail builders under the International Mountain Bicycling Association (IMBA) who give lectures on how to compose single tracks. It's essential to keep a certain angle so water erosion is avoided, or forests don't suffer from drainage. One cannot artificially counteract the woods zone or let the trail lose its quality over time. We use only natural material that we find along the way."
Participate at a single camp organized by KE.CY, they take place regularly. Get more info here.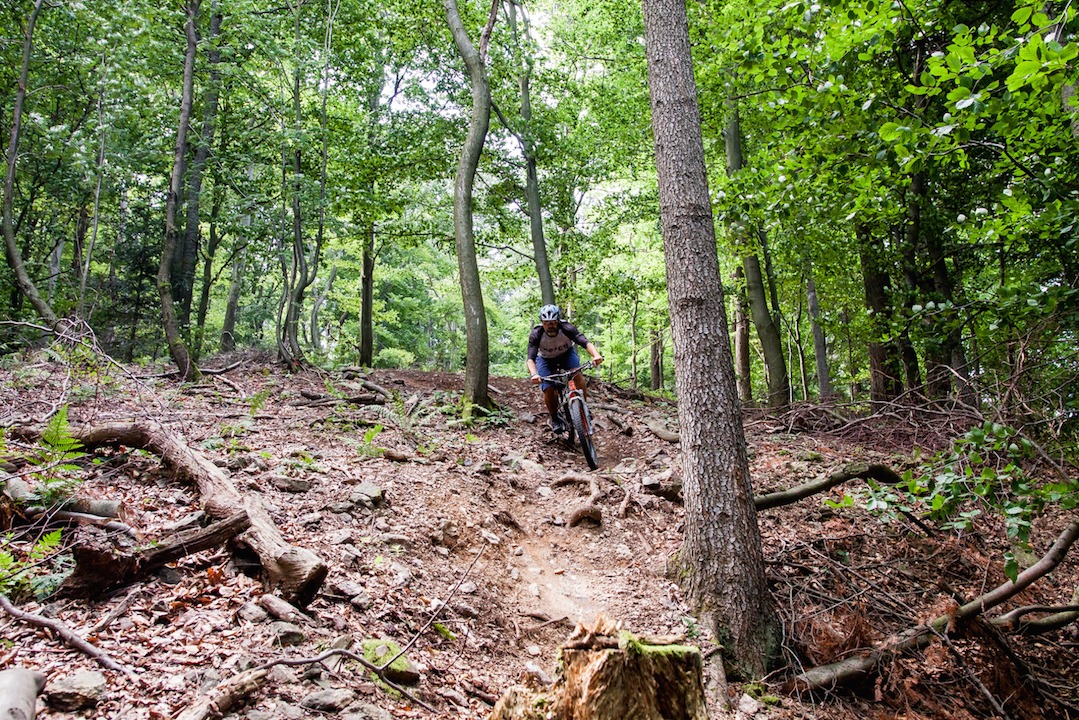 BMX / Bikros Furča / Mišo Tomčo
Where can you get more romantic sunset than from the hill of Furča neighbourhood? We're coming here during that pink light hue and it's immediately clear how well the Bikros photos will look. Of course, no one has counted with children cycling school when five-year-old dazes with his crazily coordinated ride through wavy mounds and high curves. Not worried, he says he fell a few times.
There are more boys around, though – the official BMX Košický šarkaň club couch Maťo Maurer gives them the feedback and orientates them along with the race. Later comes, however, tenfold Slovak bikros champion, Mišo Tomčo. He describes the development of the BMX cycling in Košice in which he's been an important figure for almost twenty years now: "A lot of kids come here from this neighbourhood, cross country cyclists also. Everyone is welcome. The BMX in this city somehow connects us all. We also organize a race once a year, and Slovak championship took place here few times as well," Mišo says.
If you want to try BMX in Košice, contact members of the Košický šarkaň club.
Freestyle cycling / Dirt Park Drábová / Martin Boršč
Just a few metres behind a neighbourhood. Right next to pump tracks, the story of how the civic association Enjoy the Ride has evolved is told by one of its co-founders, Maťo Boršč.
Thanks to the association, he and other volunteers have been able to work on the Dirt Park construction on the KVP premises since 2012. "Because of the grants we've obtained, we could build a foam rubber pool, gazebo and other parts of the Dirt Park. Freestyle ride was acknowledged as an official Olympic sport last year and, thus, we'd like to open a school to train kids here. We want to make a mark and leave something after us. For that, we must show parents that this kind of sport is as dangerous as any other. It's some sort of gymnastics. Gymnastic on a bike. That's why one needs to practice a hundred times on foam before trying out for real," Maťo explains. The association is planning to broaden its grounds on an adjacent meadow, now separated by a fence. A lot of effort and energy is required so they are constantly in need of a helping hand.
Interested in the Dirt Park Drábová advancement? Get up and boost its growth.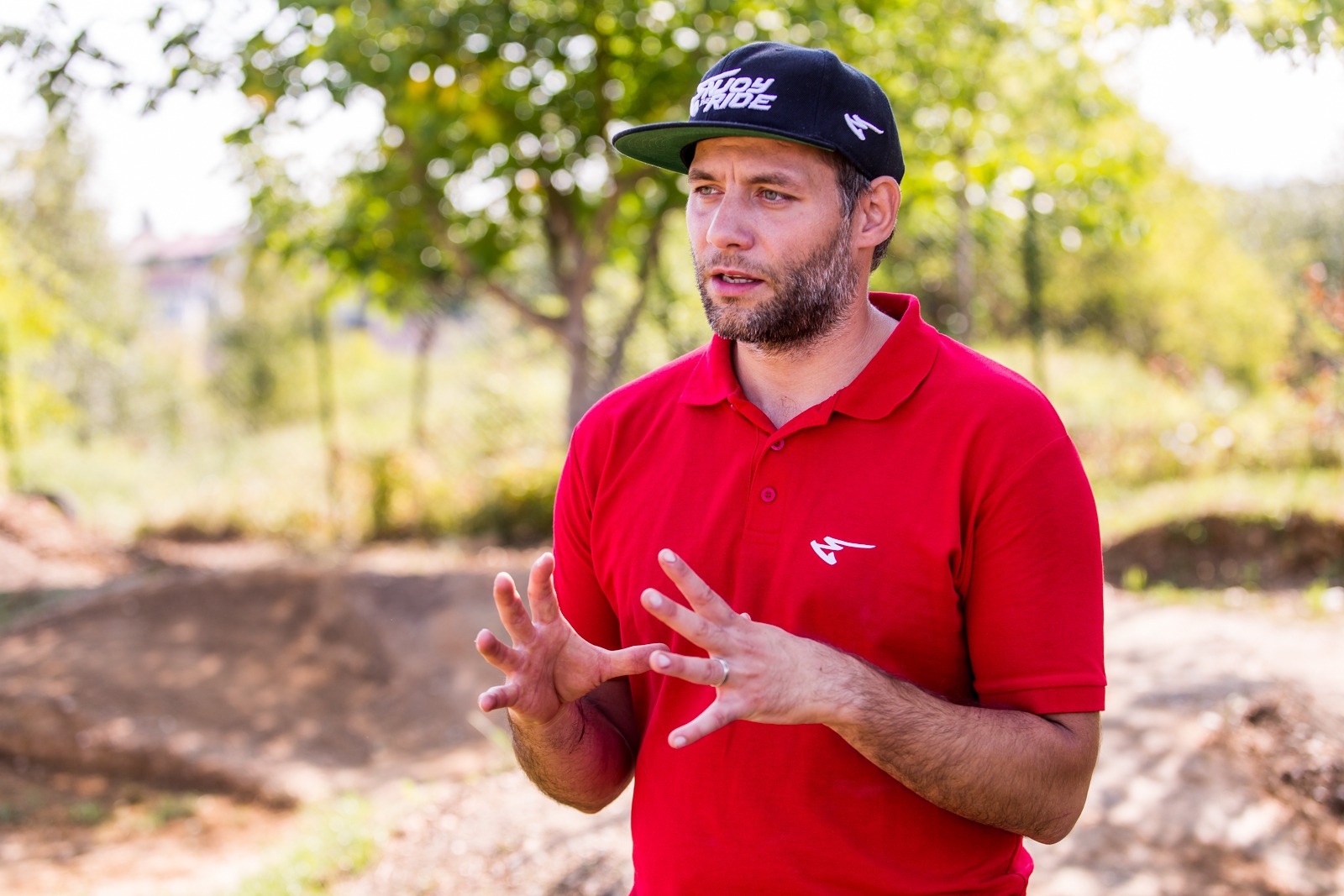 Fixies / Jaro Matej
When considering cyclists' types in Košice, this one definitely stands out from the crowd. Fixie bike comes in a different manner than you're normally used to, teaches to anticipate possible outcomes and prevents from hitting brakes. Stop pedalling and fixie will kick you up. This makes such urban style cycling so adrenaline-driven. Jaro Matej's contact was given to us through recommendation as 'the oldest fix biker of Košice'.
He, the unofficial Dutch Bikes group and us – late evening/night cycling along the abandoned Štúrova street, rusty crane, red flashlights and thin rubber tires adding to the authentic fix experience. While the girls and boys are racing with each other the photographer captures them from all angles the post-officer kind of bike allows him to. "Fixie is not a bike with advantages, rather the opposite. You have to do everything with your feet, speed up, slow down, skid. Frontal brake is only a matter of safety," Jaro points out. "All depends on the fixed gear one applies, sets. Typical routes for fix cycling in Košice are at Podhradová, Moyzesova street, along Mlynský náhon, to Barca, Terasa. The ideal way is to bike on a Friday evening with not many cars around."
Add yourself to fix community of Košice. They'll gladly accept you among themselves. No brakes.
Join any bike community you want. Book your room with us. The Invisible Hotel guests get introduced to anyone representing the city, cyclists included. You'll also get a discount when renting a bike in Košice so let it all get to you. We're all wheels. Special credits for the article production go to Bicycle Garage and Tomáš Holub.